The Ambassador magazine page that you are attempting to access is reserved for NIAF members. To enjoy the full issues of Ambassador Magazine, we invite you to login or become a NIAF Member.
Not a NIAF member?  You are missing out…
CLICK HERE to read a feature from the current issue of Ambassador magazine: "What Drives Rocco Mediate?"
CLICK HERE to read a feature from the Winter 2014 issue of Ambassador magazine: "Vantage Point Capri."
Here's a sampling of what you'll find in recent issues of Ambassador: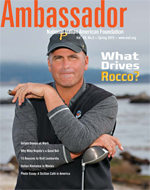 Get into the swing of Ambassador's Spring 2015 issue with the cover story "What Drives Rocco?"— a fascinating profile of professional golfer Rocco Mediate, along with a sidebar look at the Italian American link to the links. And don't miss our profile of business magnate and horse owner-breeder Mike Repole. There's also a mesmerizing photo essay "Portrait of a Sicilian Café in America," a tasty story about Gelato Genius Gianluigi Dellaccio, and features on "15 Reasons to Visit Lombardia in 2015" and the Antinori wine empire in Italy.
This issue's regular departments include the always colorful shopper Bottega NIAF; our NIAF on Location report on Finding Italy in Chicago; the Paesani "Persons of Interest" section's six mini profiles; the Cinema column on Italian Love and Marriage in classic films; book reviews in Between the Pages; even a cheesy Crossword Puzzle (Italian cheeses, that is); plus lots more!
---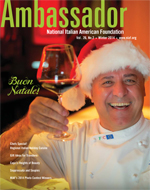 Get into the holiday spirit with Ambassador's Winter 2014 issue! Its centerpiece is our annual Holiday Chefs Special featuring something new this year: 10 regional Italian holiday recipes shared by five acclaimed chefs and culinary experts! Stuck on your gift list? Check out our feature "Holiday Gift Ideas for Travelers to Italy." Also in this issue: A step-by-step account of Capri's two most stunning vantage points; a look today's wine-making connection between historic renaissance men—America's Thomas Jefferson and Italy's Philip Mazzei; a meaty story about soppressata making in Calabria and Pennsylvania; and the winning photographs from the NIAF 2014 Photo Contest.
Besides the magazine's regular columns, including our dazzling shopper spread Bottega NIAF, behind-the-scenes reporting in Cinema and books reviews in Between The Pages, this issue offers an insightful Q & A with John Maggio, the writer and director of the upcoming PBS documentary "The Italian Americans," and coverage of NIAF's Anniversary Gala last October!
---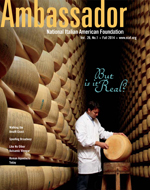 Ambassador's 2014 Fall issue is the real deal, even if some of the culinary products described in the cover story, "Knocking Off Made-in-Italy," aren't. Is that prosciutto at the supermarket real? The parmigiano at the restaurant? The story's about what we're losing when counterfeiters imitate Italy's most traditional and valued foods.
Also featured are the stories about hiking the Amalfi Coast; finding paradise in the Sabina Hills farming olives; Roman aqueducts in Italy today; Chianti Classico; plus a profile of "Forbidden Broadway" creator Gerard Alessandrini.  In the departments, you'll find a diversity of fascinating people in our Paesani section, a Ciao Italia kitchen lesson on aged Aceto Balsamico Tradizionale, an interview with the director of the new documentary "Ivory Tower," book reviews including the new and delicious "How to Eataly"; chic gift ideas in Bottega NIAF; and much more!
---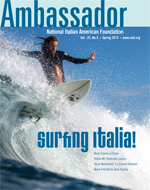 Ambassador's 2014 Spring issue makes some waves with its cover story about surfing in Italy and the making of the new documentary about Italian American surfer Chris Del Moro's search for the perfect wave and his heritage. Also featured are the stories of stone carver Luigi Del Bianco's contributions to creating Mt. Rushmore and his grandson's crusade to secure Luigi's place in history; novelist Alan Champorcher scouting high-drama scenes for his new novel set in Rome; and pioneering wine importers Maria and Neil Empson of Empson & Co. Don't miss the story on how three Italian brothers are building amazing wood-fired brick pizza ovens in suburban Maryland for America's restaurants. And, in the departments, there's chic and fantasy products in Bottega NIAF, Easter recipes in Cia Italia, mini-profiles in Paesani, books you'll want to read in Between the Pages, plus cinema and sports!
---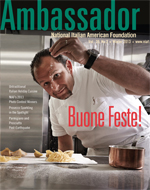 The 2013 Winter issue of Ambassador features the always popular holiday culinary spread—though with a twist. This time, with Washington's remarkable Chef Fabio Trabocchi leading the way (see the cover photo), five Italian chefs give their take on "Untraditional Italian Holiday Cuisine," along with some wonderful recipes! Wash that down with the feature spotlighting Italy's most happening bubbly—Prosecco. And don't miss the stories on the making of a documentary about visionary architect Paolo Soleri, the Palentine Hill architectural digs, and a year-later review of the impact of the 2012 earthquake in Italy on the parmigiano, prosciutto and balsamico industries. In the departments, check out the latest bling and things in Bottega NIAF, the profiles in Paesani, plus more books, cinema and sports!
---
Check out the 2013 Fall issue of Ambassador magazine for features on Bruce Springsteen's tour last spring through Italy and his Italian roots; the hot Italian American ex-patriot agriturismo trend in Italy; ancient and modern pottery in Squillace; the rise of Nebbiolo wines beyond exquisite but pricey Barolos and Barbarescos; and a search for cannoli perfection. And make sure to turn to our brand new departments: In NIAF on Location, members and friends lead you through the Italian highlights—best Italian restaurants, festivals, markets, museums, etc.—in their hometowns; NIAF Bottega is a colorful splash of great Italian-style designs, finds and products; and Paesani offers short profiles of NIAF's persons of interest. Plus, the regular departments and so much more!
---
The 2013 Spring Ambassador's cover story explores Calabria's finest beaches—worth considering when making your plans to visit Italy! Other features include stories on Baseball in Italy, the white truffles of Alba, and a family history search that unexpectedly found past heroics. Get to know the Archivist of the United States in our profile of nation's Chief Collector, David Ferriero. And the issue's columns include Ciao Italia on artichoke cookery, an overflowing Books section, On Film on the great Italian actress Anna Magnani, On Sports on Mike Piazza and the World Baseball Classic, an Opinion page by John Viola, and the Crossword Puzzle.