Check out the 2017 Ambassador Peter F. Secchia
Voyage of Discovery students exploring
NIAF's Region of Honor, Sicilia at
http://niaf.tumblr.com
View Trip Itinerary (pdf format)
The Ambassador Peter F. Secchia Voyage of Discovery Program is sponsored by the National Italian American Foundation. This all-expenses paid trip for Italian American students covers round-trip airfare between Italy and America and two weeks of programs.
To learn more about the history, CLICK HERE!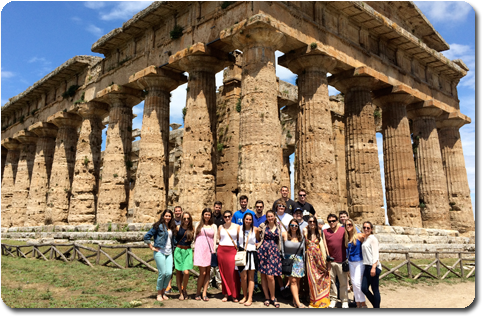 2014 Voyage of Discovery Students
PURPOSE
To strengthen the Italian American identity by bonding young Italian-Americans to the country, culture, and heritage of Italy; to help them gain an understanding of their heritage and a pride in preserving that heritage for the next generation; and to understand the historical significance of Italy and the current contribution Italy is making to the US and the world.
The trip also offers students the opportunity to perform community service in areas of need during their stay in Italy.
The 2018 trip itinerary will include educational lectures, service opportunities, meetings with government officials, business leaders and visits to government offices, international businesses, museums and other cultural attractions.
TRIP INFORMATION
Trip Date: June 2018
Trip Destination: NIAF's 2018 Region of Honor
Questions? CLICK HERE (pdf format)
Eligibility Requirements:
Students must be members of the National Italian American Foundation.  Not a member?  Sign up here.
Participants must be between the ages of 18-23 at the time of travel (Summer 2018)
Students must attend a college/university full time for the semester preceding the trip (Spring 2018)
Students must be of Italian heritage
Students must not have previously visited Italy
Students must be a United States citizen or a permanent resident alien.
Eligible students will be asked to participate in a Skype interview
THE TRIP INCLUDES:
Round-trip airfare between US and Italy
Hotel accommodation (hotel accommodations are 2/3 same-gender participants to a room)
All meals except where noted on the itinerary
Motorcoach transfers
Escorts and tour guides
THE TRIP DOES NOT INCLUDE:
Domestic flights to/from international departure city
Items of a personal nature and spending money
Meals not included in itinerary
OTHER IMPORTANT INFORMATION
Processing fee and deposit policy
Students Selected to Participate: Proof of student status and a $150 non-refundable processing fee and current credit card will be requested of only those students accepted into the program. Any non-refundable costs incurred by NIAF before or during the program will be charged to the student's credit card. Additionally, any costs incurred due to violation of the "Code of Conduct" resulting in early termination of the student's participation in the Voyage of Discovery program will be charged to the participant's credit card.
Before travel, students will be required to purchase a student travel insurance.
Application Status: CLOSED
Deadline to Apply: Sunday, February 4, 2018, 11:59 pm EST
Date of Notification for all applicants: Friday, March 2, 2018
Participant Acceptance Deadline: Friday, March 9 2018