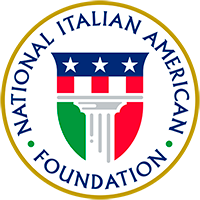 About

Join

Events

Programs

Culture

Support

Ferrero is a premier sponsor of NIAF. Learn More

Ambassador Magazine Vol. 27 No 3

Ever consider taking your bambini along on your Italian vacation? Check out the firsthand, happy-ending account of two parents who did, and what they learned, in the new Spring issue of Ambassador! The magazine also features a professional photographer's easy tips for taking better photos in Italy; a fascinating story of a Nashville couple's efforts to restore a forgotten Tuscan church; and an uplifting profile of PBS TV's "Genealogy Roadshow" genealogist Mary Tedesco and her personal journey into her Italian ancestry. NIAF President John M. Viola writes a captivating historical tale of Salvatore Catalano, a Sicilian hero who helped Thomas Jefferson's upstart U.S. Navy take on the Barbary pirates. Wine aficianados shouldn't miss the story of the Sonoma winemaking Trione family. And there's more in the departments, from NIAF on Location's visit to Providence and Bottega NIAF's great new products to Ciao Italia's fava bean recipes and Cinema's look at the Italian films of a little-known '60s master director. The best of Italian American culture is found here!