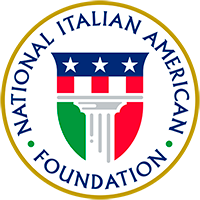 About

Join

Events

Programs

Culture

Support

Ferrero is a premier sponsor of NIAF. Learn More

Presidents George W. Bush and George H.W. Bush Kick Off NIAF Convention Weekend **Frankie Valli and the Four Seasons's performance of

FOR IMMEDIATE RELEASE 

Contact:   Elissa Ruffino (NIAF) 202/939-3106 or elissa@niaf.org

---

(WASHINGTON, DC—October 25, 2006) President George W. Bush made a surprise appearance at the National Italian American Foundation's (NIAF) pre-gala show featuring Frankie Valli and The Four Seasons on Friday, October 20, continuing a three-decade tradition of every U.S. president attending the Foundation's gala weekend. The event was part of NIAF's 31st Annual Convention, which was held October 20-21 at the Hilton Washington & Towers.

Following his introduction by NIAF Chairman Dr. A. Kenneth Ciongoli at the event attended by more than 1,000 guests, President George W. Bush remarked "…what this country must always do is be a land of dreamers and doers; is to reward hard work and honor faith and family… Italian Americans inspire that greatness of America every day…" Later that evening, Valli, a legendary singer and NIAF gala award recipient, and The Four Seasons entertained attendees with their popular hits. Patrizio Buanne , one of Italy's hottest new singers, opened for Valli.

Earlier on Friday at a noon luncheon, former President George H.W. Bush gave the keynote address with his wife Barbara, in attendance. The current president's father also received the Foundation's "One America" award for his commitment to improving the lives of other human beings. Jack Valenti, former president and CEO of the Motion Picture Association of America (MPAA) introduced the nation's 41st President, who spoke about the importance of partnerships and how they improve the quality of lives and communities.

The NIAF 2006 gala awards recipients included: Supreme Court Justice Samuel Alito Jr., whose NIAF Special Achievement Award for Public Service was presented to him by colleague JusticeAntonin Scalia; actress Anne Bancroft, who was posthumously inducted into the NIAF Italian American Hall of Fame, with Mel Brooks accepting the award on her behalf; Catherine Reynolds, chairman of the Catherine B. Reynolds Foundation, who received the Special Achievement Award in Education and Cultural Affairs from Chicago Mayor Richard M. Daley; president and CEO of Chrysler Group Tom W. LaSorda, whose Special Achievement Award in Business was presented to him by baseball great Tommy Lasorda; and Raffaello Follieri, chairman and CEO of The Follieri Group, accompanied by actress Anne Hathaway, who received the Special Achievement Award for Humanitarian Service.

Alda gave an emotional tribute to Anna Maria Louisa Italiano, who later changed her name to Anne Bancroft, calling her the "Italian kid from the Bronx" who "never left who she was." Brooks, Bancroft's husband of more than 41 years, called her a "great artist [and] fabulous mother" who "was so Italian."

Ciongoli introduced one of Italy's highest ranking officials, Senator Clemente Mastella, Italy's Minister of the Judiciary. Other notables in attendance included Italy's Ambassador to the United States H.E. Giovanni Castellaneta, U.S. Ambassador to Italy Ronald P. Spogli, House Minority Leader Nancy Pelosi, Congressman Rick Renzi, President of Georgetown University John DeGioia, Senator to the Republic of Italy Renato Turano, and Prince of Venice and Piedmont H.R.H. Emanuele Filiberto di Savoia. Lawrence Auriana, founder and portfolio co-manager of Federated Kaufmann Fund and a NIAF board member, was this year's dinner chairman.

Celebrities at the gala included actors Alan Alda, Gina Lollobrigida and Tony LoBianco; baseball greats Yogi Berra and Tommy Lasorda; singer Jerry Vale; and media notables Sam Donaldson,Robert Novak, Bill Schneider, and John McLaughlin.

This year NIAF awarded more than $1.7 million in scholarships and cultural grants to students across the U.S. and Italy. Recognizing the younger generation, NIAF organized its 10th annual youth gala, which attracted more than 300 young Americans of Italian descent from 20 states. While the youth gala participants were finishing their dinner, Alda, Hathaway and Follieri made an appearance to joke with the younger crowd. Afterwards, the young adults, along with many gala attendees, enjoyed a post-gala dessert reception provided by Roma Foods.

The weekend also featured a legal panel covering the topic of "Judicial Independence," with Justices Scalia and Alito. Other events included NIAF's signature celebrity auction and luncheon featuring couture gowns by Italian designer Renato Balestra, the Foundation's Council 2000/Youth Networking Breakfast with guest speaker Tommy Lasorda and a presentation of the fourth annual NIAF Teacher of the Year Award to Josephine Montella, a teacher of Italian language and culture at Herbert H. Lehman High School in the Bronx, N.Y.

NIAF also hosted a travel conference, "Italy's Thermal Waters, Wines and Food." NIAF guests also enjoyed Piazza d'Italia, a two-day best of Italy exhibition, featuring a Saks Fifth Avenue fashion and beauty presentation, wine tastings, a cooking demonstration by executive chef of Cuisinart Fabrizio Bottero, a book signing by Italian journalist and author Beppe Severgnini and a Maserati Quattroporte.

Italy's Region of Campania was this year's sponsoring region from Italy. Proceeds from the weekend events will benefit NIAF's scholarship and education programs. The gala closed with a chorus of "God Bless America" led by Sergeant Antonio Giuliano.

NIAF is a non-profit organization based in Washington, D.C., and dedicated to preserving the heritage of Italian Americans. Visit our Web site: www.niaf.org.