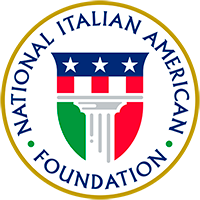 About

Join

Events

Programs

Culture

Support

Jimmy Kimmel, Nancy Pelosi, Carla Gugino, Connie Britton, Brought "Amore" To More than 2,000 Guests at NIAF Gala

FOR IMMEDIATE RELEASE

Contact:   Elissa Ruffino (NIAF) 202/939-3106 or elissa@niaf.org

---

(WASHINGTON, D.C. — October 28, 2009) U.S. Speaker of the House of Representatives Nancy Pelosi delivered a powerful speech to more than 2,000 guests attending the National Italian American Foundation's (NIAF) 34th Anniversary Awards Gala on Saturday October 24, 2009 at the Hilton Washington. Pelosi spoke about her pride in her Italian heritage, helping those from the earthquake devestated region of Abruzzo and the great work of NIAF in L'Aquila, Italy. A former NIAF Board Member, Pelosi received a NIAF Special Achievement Award in Public Service in 2007.

Jimmy Kimmel, host and executive producer of ABC's "Jimmy Kimmel Live!," celebrated his Italian heritage as the evening's master of ceremonies. He kicked off the evening with entertaining jokes about his ethnic background.

Connie Britton, actor next starring in "Women in Trouble," presented "her best friend who is an accomplished actress with integrity and grace" Carla Gugino with a NIAF Achievement Award in Entertainment at the black-tie gala. "Its truly an honor and surprisingly emotional to receive this award from my best friend," Gugino said. Gugino spoke of her father's explanation of two kinds of people – Italians, and those who wished they were Italian. She knew being Italian was special. Gugino also referred to an incident in Hollywood when they asked her to change her surname. "I thought of my Italian father and how sad he would be," she said.

Lidia Matticchio Bastianich, chef, restaurateur, cookbook author, philanthropist and Public Television cooking show host, came to the podium to receive a NIAF Special Achievement Award in Humanitarian Service. NIAF Vice Chair Patricia de Stacy Harrison presented the award. Bastianich was introduced as an American success story who continues to advance the mission of NIAF.

NIAF's Regional Vice President Jeff Capaccio, Esq. described his dear friend U.S. Secretary of Homeland SecurityJanet Napolitano as a rare individual who stands up to challenges. Napolitano received a Foundation's Special Achievement Award in Public Service.

This year's NIAF Special Achievement Award in Business was awarded to Massimo F. d' Amore, CEO of PepsiCo Americas Beverages. Sharon Percy Rockefeller, presented the award and introduced a surprise video from his father in Italy who was unable to attend the gala. In an emotional delivery, Mr. d' Amore explained there were two beautiful things in life — family and culture. To his father he exclaimed, "you have done everything for me."


Massimo F. d'Amore
Headlining for NIAF's Friday Night Entertainment, renowned Italian singer and songwriter, Antonello Venditti, performed his latest hits from albums "Che Fantastica Storia è La Vita" and "Dalla Pelle al Cuore." Venditti was introduced to more than 1,200 guests by NIAF General Counsel Arthur J. Furia, Esq. This year, Venditti celebrates 40 years in the music business with ten million copies sold throughout his career. The next evening, he received a NIAF Special Achievement Award in Music by Massimo Cellino, an Italian Soccer League executive.

During the evening, NIAF President Joseph Del Raso Esq. spoke about U.S.-Italy relations and NIAF as a major advocate for the Italian-American community in the nation's capital. NIAF Secretary John Calvelli introduced a video about the Foundation's efforts to help displaced students from L'Aquila, who are now continuing their studies at Sierra Nevada College in Nevada. This video was produced by RAI International under the direction of Piero Di Pasquale. Secretary of State Hillary Rodham Clinton also addressed the guests in a video highlighting the U.S. Department of State and NIAF's Public-Private Partnership disaster relief.

Notables in attendance included Supreme Court Justice Samuel Alito, Jr., CNBC's Maria Bartiromo, Washington Redskins' Vinny Cerrato, Hon. Louis Freeh, Indra Nooyi, chairman and CEO of PepsiCo., H.E. Giulio Terzi di Sant'Agata, ambassador of Italy to the U.S., and several Members of Congress and high-level White House and Administration officials in addition to sports and television personalities.

This year NIAF awarded more than $1,000,000 for student scholarships and cultural grants across the U.S. and Italy. Recognizing the younger generation, NIAF organized its 13th annual youth gala, which attracted more than 300 young Americans of Italian descent from 20 states.

Dott. Giovanni Chiodi, president of the Region of Abruzzo, was the keynote speaker at a noon luncheon honoring the region and its people for their reconstruction efforts. He was joined by Italian students Ilaria Salvati and Eugenio Tella from the University of L'Aquila. They are continuing their academic studies at Sierra Nevada College while L'Aquila's university is rebuilt.

NIAF Chairman Jerry Colangelo encouraged guests to bid on one-of-a-kind sports memorabilia during NIAF's Celebrity Luncheon and Auction. Items included an autographed NFL football by Dan Marino and Tony Romo, a coin toss at a Redskins vs. Denver Broncos home game as well as a chance to have your youngster on the field at an NFL training camp with ESPN National Correspondent Sal Paolantonio.

Other weekend events included a NIAF Council reception with book reading by Colangelo "Return of the Gold: The Journey of Jerry Colangelo and the Redeem Team" at the Foundation's headquarters and the Foundation's Council 2000/Youth Networking Breakfast. During the breakfast Harrison,outlined the importance of Italian values to help us thrive, while Paolantonio spoke about the importance of promises we make to ourselves and others. The breakfast also included a presentation of the seventh annual NIAF Teacher of the Year Award to Rossana Caringi, who teaches Italian at Westlake High School in Thornwood, N.Y. Caringi spoke of her goal to inspire students with a love of the Italian language and culture.

NIAF guests also enjoyed Piazza d'Italia, a two-day best of Italy exhibition, featuring LM Wines, the official wine sponsor, Lavazza Italian Coffee, PepsiCo, Colavita/Perugina, Trello Chocolates, Gilda Tonelli luxury items, Forzieri Fashions, and Del Grosso Foods.

Proceeds from the weekend events will benefit NIAF's scholarship and education programs. Archbishop Pietro Sambi, the Apostolic Nuncio, closed the evening with a benediction. Mark your calendars for October 22-23, 2010 when we celebrate NIAF's 35thAnniversary Convention Weekend.