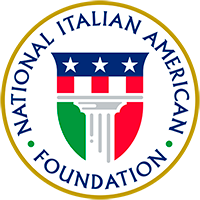 About

Join

Events

Programs

Culture

Support

Ferrero is a premier sponsor of NIAF. Learn More

37th Anniversary Gala 2012 Review

Standing before the packed International Ballroom at the Washington Hilton, Mike Piazza stepped up to the podium showing the same grace under pressure as the 12-time Major League Baseball All Star used to stepping up to the plate.

"I am so proud to be here and I am so proud to be an Italian American," Piazza told the 1,500 cheering guests who shared the same sentiments as they celebrated their heritage and culture, and recognized contributions of Italian Americans, at the National Italian American Foundation's 37th Anniversary Gala Awards Dinner.

 Photos by Kenneth Rictor Photography
CLICK HERE to view all photos

The room brimming with heartfelt pride quickly filled with laughter as Piazza told how he was recruited to be the evening's master of ceremonies. He said he'd been asked if he believed in the United States of America and the Bill of Rights. He assured that he did. And free speech? "Of course!" "Good," came the punch line, "because that's what you'll be giving" at the Gala.

Moments before, Gala Chairman and NIAF Board member John F. Scarpa warmly welcomed guests and reminded them of their personal responsibility and NIAF's core mission. "Someone allowed us to be who we are," he said of his own ancestors and all Italian immigrants who left their homes to make a new and better life in America, "and we have to pass that on."

To officially kick off the evening, Italian singer and songwriter Giada Valenti sang a spirited Italian National Anthem and actress and singer Christina Carlucci followed with a classic U.S. National Anthem. Monsignor Peter J. Vaghi of the Church of the Little Flower gave the invocation.

The NIAF Anniversary Gala annually celebrates the foundation's unique mission of helping to strengthen ties between Italy and the United States. This year, NIAF welcomed Italy's Minister of Foreign Affairs Giulio Terzi di Sant'Agata and Italy's Ambassador to the United States Claudio Bisogniero to introduce "2013—The Year of Italian Culture in The United States." Sponsored by the Italian government, the project will promote Italian culture across the United States with events highlighting Italy's contribution to the arts, science and technology. "Italy and America will always stay united," said Terzi, who reported that U.S. Secretary of State Hillary Clinton recently said "Every year in the United States is the year of Italian culture."

Next, NIAF Secretary John F. Calvelli introduced NIAF's 2012 Region of Honor, Calabria, with a video showcasing the region's many quaint towns, beaches and ports, and products. President of Calabresi nel Mondo Foundation Giuseppe Galati spoke briefly of the region.

Promising that as NIAF transforms its mission in the coming years, it will become "your neighborhood," NIAF President Joseph V. Del Raso and the Foundation's Chief Operating Officer John M. Viola stood together at the podium as Viola added, "Now more than ever, it is our job to make sure the mission of service is all that we do."

As guests savored a lovely antipasto of cici bean salad, grilled peppers, and arugula with shaved Prosciutto, provolone and Calabrese olives, a primo course of penne pasta and sauce, and a main course of roasted veal, NIAF Vice Chair Patricia de Stacy Harrison presented Marco Simeon, director of government and international relations at RAI, with the NIAF Special Recognition for International Media Relations.

First to be honored during the Awards Ceremony was Letizia Moratti, president of Friends of San Patrignano. Presenting her with its Special Achievement Award in Philanthropy, NIAF recognized her efforts to fund and promote Italy's largest drug-abuse rehabilitation center as well as San Patrignano's innovative approach and remarkable success rate. Calling the center "a magical place," Moratti dedicated the honor to the volunteers at San Patrignano.

In accepting the NIAF Special Recognition for Academic Contributions on behalf of the Accademia Nazionale dei Lincei, the oldest scientific academy in the world, the Accademia's President Lamberto Maffei said the revered institution, founded in 1603 and listing Italian mathematician, astronomer and philosopher Galileo Galilei among its membership, is "old but very alive…."

Accepting the NIAF Special Achievement Award in Business, Mark Del Rosso, chief operating officer and executive vice president of Audi of America, appeared with his 11-year-old son Anthony and said, "I'm just an Italian kid who grew up playing stick ball in the streets of Jersey City, N.J."

NIAF then awarded the Special Achievement Award in International Business to Giovanni Ferrero, chief executive officer of the Ferrero Group, maker of Nutella, Ferrero Rocher and other internationally known confectionaries. Former Ambassador Francesco Paolo Fulci, president of Ferrero SpA, accepted the award on Ferrero's behalf.

Geno Auriemma, head coach of the Women's Basketball at the University of Connecticut, put smiles on faces not only because he led the 2012 U.S. Women's Basketball Olympic team to a gold medal but because he can tell a joke. Indicating the head table behind him, he said, "I'm sitting next to (U.S. Supreme Court) Justice (Samuel) Alito and he gave me one of those Get Out of Jail cards. So I'm good wherever I go around the country." But the recipient of the NIAF Special Achievement Award in Sports also had a serious message: "The respect we have for each other and we have for our families . . . that's what is important."

NIAF presented its final award, the NIAF Special Achievement Award in Science and Technology, to Ralph Izzo, chairman, president and chief executive officer of Public Service Enterprise Group Incorporated (PSEG). "We need to build that next generation of family ties," Izzo told the audience, "and for that very reason I want to thank my wife of 28 years."

Among the special guests and dignitaries at the gala were Princess Beatrice of Borbone of the Two Sicilies, U.S. Supreme Court Justice Samuel A. Alito Jr. and NIAF Vice Chair Louis Freeh, former director of the Federal Bureau of Investigation (FBI) and U.S. Rep. Tom Marino.

•••

During the two-day Gala weekend, NIAF hosted a full schedule of activities and events. On Friday, October 12, the day began with a meeting of

NIAF Regional Vice Presidents and Area Coordinators

from across the country, from New Orleans and California to Pittsburgh and Philadelphia, addressing the question, What does the future of NIAF look like? Showing a map of how NIAF plans to overhaul its existing regional structure, NIAF Chief Operating Officer

John Viola

said, "I think our future is in localized activity that's accessible and plays relevant roles in people lives."

NIAF's Conference on Immigration, hosted in conjunction with the National Italian American Bar Association (NIABA), discussed recent developments in immigration law relating to travelers, illegal aliens and undocumented foreign workers. Panelists included attorney Joseph Sena, one of the nation's top immigration lawyers and NIABA board member; Kuyomars Golparvar, section chief of the Department of Homeland Security's Immigration Law and Practice Division, and Francesco Isgro, senior litigation counsel in the Office of Immigration Litigation at the U.S. Department of Justice.

The Victoria J. Mastrobuono Education Luncheon hosted a panel discussion, "Science and the Economy- Academic and Corporate World Partnerships in the 21st Century," which covered topics ranging from bolstering science education to "MOOCs," massive open online courses. Moderated by Mel Schiavelli, executive vice president at Northern Virginia Community College; with panelists Lamberto Maffei, president of Accademia Nazionale dei Lincei; Emilio Bizzi, Massachusetts Institute of Technology Institute professor; and Iris Palmer, education policy expert at HCM strategists.

On Friday afternoon, some guests enjoyed a free screening of director John Turturro's Passione, a lively documentary about music and Naples, while other guests sat in on a breast cancer conference "Bridging Research and Clinical Medicine," moderated by NIAF Board Member Dr. Antonio Giordano, president and founder of Sbarro Health Research Organization Inc. Speaking about the latest preventive strategies for breast cancer at the conference were leading cancer center researchers, including Dr. Fabiana Perna of the Memorial Sloan-Kettering Cancer Center in New York; Giuseppe Russo of the Sbarro Institute for Cancer Research and Molecular Medicine at Temple University in Philadelphia; Biagio Mataluni, president of the Oleifici Mataluni in Italy; and Dr. Massimo Christofanilli of the Fox Chase Cancer Center in Philadelphia and recipient of this year's Giovan Giacomo Giordano NIAF Award for Ethics and Creativity in Medicine Research.

During the afternoon, guests gravitated to NIAF Central, a gathering spot at the hotel of Italian and Italian American vendors, including Mike's Deli, the original Arthur Avenue Italian Deli, with owner David Greco serving Italian sandwiches and foods; Perillo Tours showcasing NIAF's 2013 Heritage Travel Program; Roots in the Boots genealogist Aliza Giammatteo; Rosetta Stone language programs; and Peroni Nastro Azzurro serving Italy's finest beer. Nearby, the Italian Trade Commission featured "Made in Italy" excellence at the Italian Lifestyle Lounge.

A popular event that attracted 150 guests was the Calabrian Wine Tasting, featuring fine wines from the region Calabria as well as a selection of Calabrian-inspired hors d'oeuvres from David Greco. Guests learned about Calabrian food from "My Calabria" author Rosetta Constantino, about Calabrian history and culture from award-winning author and food writer Amy Riolo, and about Calabrian wines from restaurateur and sommelier Luigi Diotaiuti, owner and chef of Al Tiramisu restaurant in Washington, D.C.

Topping off Friday night was an evening of Italian dinner, open bar and dancing with "A Little Moonlight" featuring the jazz singer Steve Tyrell and his band entertaining guests with jazz and classic crooner standards.

Saturday morning began with NIAF's philanthropic roundtable, Italian Americans and Philanthropy in Italy—a Three Case Study of Italian American Giving in Modern Italy. Moderating the event, NIAF Chief Operating Officer John Viola said, "Every year we award a Special Achievement in Philanthropy . . . One of the ways to best utilize an award like this is come together and talk about giving and the strategies of giving." Lending information and insight into model nonprofit organizations that NIAF supports was Sergio Zini from the earthquake-damaged Cooperativa Sociale Nazareno in Modena, Italy, the first recipient of funding from the Italian Relief Fund formed by NIAF in 2012 and supported by many sponsors and contributors. Also on the panel were Letizia Moratti, president of Friends of San Patrignano, Italy's leading drug-addiction rehabilitation center, and Princess Beatrice of Borbone of the Two Sicilies, representing Arte Nostra, dedicated to promoting and restoring the treasures of Southern Italy.

On to the Celebrity Auction Luncheon, one of the Gala Weekend's premier events featuring bidding battles and an Italian buffet luncheon with sparkling white Italian wine. Guests inspected more than 130 auction items and packages, including some top attention-getters such as the sporty 2013 Fiat 500 Abarth and a VIP package to Super Bowl XLVII in New Orleans. Among the many high bidders were former NIAF President Salvatore J. Zizza who won the Fiat, NIAF Executive Vice President Dr. John Rosa who went home with the Super Bowl package, NIAF Vice President Joseph Della Ratta who won the Orient Express package, and Mark DiBernardo who's going to Sorrento, Italy, for a stay at five-star Grand Hotel Excelsior Vittoria.

Saturday afternoon, before guests headed off to prepare for the Gala evening's receptions and Awards Dinner, Fred Gardaphe, professor of English and Italian American Studies at Queens College, hosted NIAF—Ieri, Oggi, Domani, a panel discussion that focused on the history of the Foundation, its plans for 2013 and how the NIAF is evolving to meet the needs of Italians and Italian Americans. Midway through, the discussion turned into a lively and passionate "shareholders" meeting involving many in the audience. Panelists included NIAF Board Member Anita Bevacqua McBride, NIAF Secretary John F. Calvelli, NIAF Vice President Patricia De Stacy Harrison, NIAF Historian Ex-officio Dominic Massaro, and NIAF's Chief Operating Officer John Viola.

••• The Gala Dinner and Awards Ceremonies came to a close before 10 p.m., setting a record for brevity and efficiency. Mike Piazza brought NIAF Chairman Jerry Colangelo to the podium for the final time during his tenure as NIAF chairman to officially end the evening.

"For all my life, I have been so proud of our Italian heritage…," said Colangelo, "and NIAF always will be a vehicle for giving something back."

He then invited everyone to attend the Chairman's After Hours party, featuring Chicago singer Tony Spavone. The party quickly turned into a rollicking sing-along with NIAF Chief Operating Officer John Viola leading the crowd at the Hilton's District Line Bar in some old Italian favorites late into the night.