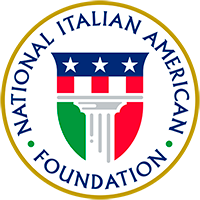 About

Join

Events

Programs

Culture

Support

36th Anniversary Gala 2011 Review

President Barack Obama joins more than 2,000 guests at NIAF Gala
October 29, 2011           

President of the United States Barack Obama delivered a moving speech celebrating the 150th Anniversary of Italian Unification and recognizing the contributions Italian Americans have made to the United States to more than 2,000 guests during the National Italian American Foundation's (NIAF) 36th Anniversary Awards Gala at the Washington Hilton, October 29, 2011.

"I am honored to be here to celebrate National Italian American Heritage Month and to commemorate the 150th Anniversary of Italian unification," said President Obama, who entered the ballroom to a standing ovation. "And I want to congratulate . . . all of you who are doing so much work to keep that heritage alive for the next generation."

To laughter and applause, President Obama confessed, "I do not, in fact, have any Italian ancestry. Not all of us are that lucky. I can't sing like Frankie Avalon…. I can't cook as well as any of your grandmothers…. Michelle won't let me have seconds or thirds anymore. So all I've got to offer is a last name that ends in a vowel. Nevertheless, it's good to see so many amici!"

Looking out into the packed International Ballroom, the president said, "I see many proud sons and daughters of the old country.…"

Earlier, in introducing President Obama, House Democratic Leader Nancy Pelosi recalled that 50 years ago, President John F. Kennedy marked the 100th Anniversary of a unified Italy, saying that "All of us, in a large sense, are beneficiaries of the Italian experience…." In March, she added, another new young president of the United States, who also is "an inspiration to many and a hope to the world," recognized Italy's 150th Anniversary. "We are deeply honored tonight that President Obama is gracing us with his presence…."

More than 2,000 guests rose to their feet as the president walked across the dais greeting NIAF leadership, and prominent political and entertainment notables. Referring to Pelosi, the president said, "I am biased. I think Nancy was one of the best Speakers of the House this country ever had. She was no doubt the best Italian American Speaker of the House we ever had…."

And, in his only political statement of the evening, he added, "And she will no doubt be the best Speaker of the House again in 2013."

The president called out to the many Italian Americans in positions of leadership, in the Supreme Court, Congress and in his Cabinet, including some of those in attendance at the Gala, such as Secretary of the Department of Homeland Security Hon. Janet Napolitano.

The president also welcomed the special guests at the Gala from Italy, including Italy's ambassador to the United States Hon. Giulio Terzi di Sant'Agata; Hon. Amato Berardi, member of the Italian Parliament's Chamber of Deputies; and President of the Province of Salerno Edmondo Cirielli. And he acknowledged the U.S. Ambassador to Italy David Thorne.

Later in his speech, the president commented on the history of Italian immigrants coming to the United States in search of opportunity. "They came with little," he said. "Very few were wealthy. But they came with an unwavering faith in God, an unfailing commitment to family, and an unlikely hope in the possibilities of America – the belief that in this country, you could be prosperous, you could be free, you could think and talk and worship as you pleased. It was a place where you could make it if you try.

"And it wasn't always easy…. But they did not wait for anybody to hand it to them. They built new lives for themselves, and at the same time they ended up building an entire nation. They enriched our heritage and our culture with their own. They helped forge the very promise of this country—that success is possible if you're willing to work for it. And those efforts built a better America for all of us."

Before President Obama arrived, NIAF Chairman Jerry Colangelo thanked guests for coming "from everywhere in the states and other parts of the world. You should know that your participation allows us to do the important work of our mission, which includes a number and important youth educational and cultural programs …."

Adding that NIAF "provides a voice for Italian Americans throughout the United States," Colangelo acknowledged the presence of Italian American Congressional Delegation members U.S. Rep. John Mica and U.S. Rep. Michael Grimm, as well as the many special guests and business and entertainment honorees joining them on the dais. "Italian Americans are leaders in many fields and tonight we celebrate that," he said.

Following remarks by Gala Convention Chairman Dr. Thomas M. Scalea and Gala Dinner Chairman Gabriel Battista, guests loudly welcomed the evening's mistress of ceremonies Maria Bartiromo, the Emmy-Award-winning financial journalist who is anchor of CNBC's "Closing Bell with Maria Bartiromo" and anchor and managing editor of the nationally syndicated "Wall Street Journal Report with Maria Bartiromo.

Bartiromo thanked guests for coming to the Gala "in this challenging economic moment…." Connecting hard times past and present, the NIAF Board member said, "…We all know that it's times like these, challenging times, that we must remember what's most important in our lives—our health, our family, our friends and being good to one another."

Recalling her childhood and Italian American family roots, Bartiromo added that on a trip to Italy this year she had the profound experience of visiting her grandfather's town and seeing "the actual block where my grandfather grew up on in Salerno."

The Gala program turned its attention to a commemoration to the courageous efforts of Italian Americans and everyone who made sacrifices, even gave their lives, to help others and protect our country during the 9/11 disasters, noting the presence in the audience of the New York Police Department (NYPD) Columbia Association, the New York City Fire Department (FDNY) Columbia Association and Rev. Raymond Nobiletti, M.M., pastor of the Church of the Transfiguration, who gave the invocation and was also a hero of 9/11.

Guests grew respectfully quiet and somber during the showing of a heartrending and poignant video commemoration, "The Power of One: 9/11 Unity and Hope," composed by the famed Italo-Australian singer Alfio.

Secretary of the U.S. Department of Homeland Security Janet Napolitano then spoke. "Last month's anniversary of the attacks on September 11 was a time for all of us to remember the nearly 3,000 victims of that terrible disaster, the survivors and their families," she said. "It was a time to thank law enforcement, first responders and our military personnel, not only for their sacrifice in responding to the attacks, but the work they've done since 9/11 to serve our country and protect our citizens.…"

Napolitano also recognized "the extraordinary contributions" made by Italian Americans as law enforcement professionals, firefighters and first responders. "Read through the names of those who were lost on 9/11," she said, "and you see the heroism, dedication and ultimately the sacrifice of many, many Italian Americans."

The program turned to the evening's eight honorees, each of them preceded by a video introduction.

Calling her "the face of modern Italy," NIAF Vice Chairman Hon. Patricia de Stacy Harrison presented President of Confindustria Emma Marcegaglia, who received the NIAF Special Achievement Award in Women's Leadership.

Hon Amato Berardi then presented Hon. Santo Versace, president of Gianni Versace S.p.A., and chairman of Fondazione Operation Smile Italia Onlus. The emotional Versace accepted the NIAF Special Achievement Award in Philanthropy, adding that NIAF had posthumously honored his brother, Gianni Versace, in 1997, and now he was grateful and honored to receive this award.

Next, NIAF President Joseph V. Del Raso told guests of the special dinner that took place at the National Archives on Thursday, Oct. 28, which "assembled military leaders from the United States and Italy" and celebrated the bravery and commitment to freedom of American and Italian military forces. Organized by NIAF Board Member Anita Bevacqua McBride, the dinner was co-chaired by Gen. Peter Pace, USMC (Ret.), a NIAF Board member, and NIAF vice chairman Vincent Viola, who presented the Gunnery Sergeant John Basilone Award for Distinguished Military Service to Gen. Raymond T. Odierno and his son, U.S. Army First Lieutenant Anthony K. Odierno (Ret.).

Telling guests of the mentoring and training Veterans Day Workshop earlier on Thursday that brought together returning armed service veterans with business executives and entrepreneurs, Del Raso thanked legendary NFL coach Dick Vermeil, who was on the dais, and others for their commitment to helping young veterans, then brought guests to their feet in applause for veterans and wounded warriors present at the Gala.

"You have our heartfelt thanks for your service and sacrifice for our nation," he said, before introducing as the representative at the Gala from the Italian government, Italy's Minister of Youth Policy Giorgia Meloni.

Returning to the honorees, Nicola Arena, chairman of Mediterranean Shipping Company (USA) Inc., presented Claudio Bozzo, president of the Mediterranean Shipping Company (USA) Inc. Bozzo, received the NIAF Special Achievement Award in International Business. The enthusiastic Bozzo talked of his wife and children, and of his career starting in Italy and moving to the United States before working his way up through the ranks at MSC to become its president.

NIAF Board Member Matthew DiDomenico Sr. presented Paolo Scudieri, CEO of Adler Plastic S.p.A., a company his father founded in 1953 in Ottaviano, Italy, which manufactures car interiors. Scudieri was awarded the NIAF Special Achievement Award in International Business.

Next former U.S. Sen. Hon. Alfonse D'Amato stepped to the podium to present Minority Leader of the Ohio Senate Hon. Capri Cafaro, who once interned in D'Amato's Senate office. Receiving the NIAF Youth Leadership Award, Cafaro remarked it was an emotional day for her because her grandfather, William M. Cafaro, was honored at the 1996 Gala. "Now, 15 years later, here I am receiving this award on the exact same dais," she said.

Presented by NIAF Vice Chairman and former FBI director Louis J. Freeh, Hon. Frank J. Guarini, former U.S. Representative and NIAF Chairman Emeritus, received the NIAF Lifetime Achievement Award in Leadership. "In the past, I've been the presenter of awards so it seems strange to receive one," said Guarini. "I'm very proud of what NIAF has achieved over the years…and the way [it] has given leadership to the Italian American community."

Music legend Frankie Avalon, whom President Obama earlier pointed out that "he looks just the same," presented his longtime friend and Rock and Roll Hall of Famer Dion DiMucci, recipient of the NIAF Special Achievement Award in Entertainment. Dion got the audience clapping initially with a few lines of song, before telling guests that while he's been inducted into the Rock and Roll Hall of Fame, this award "is just so personal, it's my DNA, it's to my bones, it's the expression of the heart…."

Calling the next honoree "a class act," Robert Pisano, Chairman of the Motion Picture & Television Fund and former president of the Motion Picture Association of America, presented The NIAF Jack Valenti Institute Award to Frank G. Mancuso Sr., former chairman and CEO of Paramount Pictures and Metro-Goldwyn-Mayer Studios.

Speaking of the influence on our lives of culture and heritage, Mancuso said, "Where we came from, the values we were taught, the role models that we followed … they are all elements of our experience [and] they're why you're here to tonight, 2,500 strong, gathered here to celebrate our heritage and our culture….and everything that is Italian."

Closing the evening, Maria Bartiromo, her voice just about spent from the long evening, invited all to attend the Chairman's After Hours Event featuring performances by Christopher Macchio and Salvo Randazzo immediately following the gala.

Notables in attendance included actors Joe Pantoliano, Tony LoBianco, David Faustino and John Doman; singer and actor Robert Davi; Italian fashion model Fabio; MLB all-star Mike Piazza; ESPN's Tony Reali; General Manager of the Washington Nationals Mike Rizzo; and Virginia Attorney General Ken Cuccinelli. Actress and singer Christina Carlucci, a student at New York University Tisch School of Arts, sang the United States national anthem, and singer and songwriter Giada Valenti, who was born and raised in Venice, Italy, sang "Fratelli d' Italia, "Italy's national anthem.

Throughout the weekend, NIAF Executive Vice President Dr. John P. Rosa, NIAF Secretary John Calvelli and NIAF General Counsel Arthur J. Furia were on hand to welcome dignitaries and guests, as well as to encourage bidding on one-of-a-kind auction items during the Foundation's Celebrity luncheon and auction—one of the highlights of the Convention.

Held Saturday afternoon in the International Ballroom, the Celebrity Luncheon and Auction featured more than 140 items up for bid, everything from restaurant excursions and trips to Italy to sporting events and even an automobile! Singer Elio Scaccio entertained during the luncheon.

Highest bid item at the auction was a brand new 2012 Chrysler 300S AWD Sedan, a generous donation from the longtime NIAF supporters at Chrysler. Bidders were able to see the exact automobile up for auction in the Expo Hall where the beautiful and sleek Chrysler was displayed for the weekend. After feverish back-and-forth bidding that reached the car's full MSRP, former NIAF President Salvatore J. Zizza was the lucky winner of this brand new sedan.

Sitting behind the wheel of his new car, latest in a series of Chryslers he has owned, Zizza said, "This is the best Chrysler of the five that I've owned so far…it's a world-class car."

Added Chrysler's Washington Vice President Jodi Trapasso, "Chrysler has a long history with NIAF and we're proud to support them every year."

Ready for some football? Bidders certainly were at the Celebrity Auction where bids were flying through the air in tight spirals for a chance to win a two-ticket package to Super Bowl XLVI in Indianapolis. Bidders were pleasantly surprised when they discovered that, thanks to the generosity of Pepsi-Cola Company, not just one but TWO packages available to win. Dr. John Rosa and J.P. Rizzuto will be enjoying trips to cheer on their teams at Super Bowl XLVI. The Pepsi-Cola Company generously donated the all-inclusive trips which included airfare and hotel for the lucky winners.

Mary Campbell was the lucky winner of an opportunity to meet Andrea Bocelli at his concert on December 2 at the Verizon Center in Washington, D.C. With this package, she received private chauffer service, dinner at Café Milano, and a stay in the Presidential Suite of the Washington Hilton. Thanks to Moran Transportation Group, Café Milano, the Washington Hilton and Classic Enterprises, Mary is ready for a fantastic night!

A 12-day Culinary Tour of Italy, graciously donated by Perillo Tours, was awarded to Patrick Charbonneau. The Charbonneau family will enjoy tasting their way through cities like Modena, Perugia, Rome and more!

And this is only the tip of the iceberg! Attendees of the event enjoyed bidding and winning beautiful jewelry, exotic trips, couture fashion, and classic sports memorabilia. Everyone had a fantastic time and walked away with exciting items.

The full schedule of events and activities began early Friday. At NIAF headquarters, a block from the Washington Hilton, guests gathered for the unveiling ceremony of the NIAF Walk of Honor.

To further encourage excellence in education, during the Victoria J. Mastrobuono Education Luncheon Friday morning, Patricia Harrison and Matthew DiDomenico Sr., who also chairs NIAF's scholarship and grants committee, presented NIAF's eighth annual Teacher of the Year Award to Kerri Titone, Italian teacher of five years at Northport High School in Northport, N.Y., and member of the American Association of Teachers of Italian and the Long Island Language Teachers.

The Mastrobuono luncheon also included a tribute to the late Hon. Geraldine A. Ferraro. NIAF honoree Ohio Sen. Capri Cafaro spoke of the influence the politically pioneering Ferraro's career had on her own. The large turnout for the luncheon, including NIAF Executive Vice President Hon. Marie Garibaldi, NIAF Chairman Jerry Colangelo and House Minority Leader Nancy Pelosi, was clearly moved by the touching remembrance by former NIAF vice chairman Aileen R. Sirey, Ph.D., of her longtime close friend.

Later Friday, NIAF hosted the Glacier Vodka's Salute to the Martini, featuring The Radio King Orchestra. It was a full night of dining, partying and dancing, with a special performance by singer Christina Fontanelli.

Other events included a panel session entitled "The Italian American Vote—Does It Count?" featuring Tony Fratto, former deputy press secretary for President George W. Bush and Ruy Teixeira, senior fellow at the Center for American Progress; and the NIAF-Sbarro Heath Research Organization International Workshop on "New Frontiers in Cancer Prevention and Research," presented by NIAF Board Member Dr. Antonio Giordano, MD, with Dr. Leena Hilakivi-Clarke, MD, and Eva Surmacz, Ph.D.

At a NIAF Grant Recipient presentation, Dominic Candeloro and Fred Gardaphé Ph.D., authors of "Reconstructing Italians in Chicago" spoke of documenting and preserving the Italian experience in Chicago, through a variety of voices and media. Dropping in on the session was NIAF Chairman Jerry Colangelo, who played youth baseball with Candeloro growing up in Chicago Heights.

Between events, guests flocked to Expo Italia, a two-day exhibition showcasing the best of Italy with booths and presentations that featured, among others, Café Milano, DelGrosso, Mike's Deli, Peroni Nastro Azzurro beer, Vermeil Wines, Vespa scooters, and Uzo umbrellas. A center of activity at Expo Italia this year was the regulation-size bocce court constructed by The United States Bocce Federation. At one point, guests were treated to autographs by MLB great Mike Piazza who was talking baseball with author Lawrence Baldassaro, sporting his new book "Beyond DiMaggio: Italian Americans in Baseball." Special presentations included a session on cooking by Italian food-anthropologist Sergio Grasso and a book session with Emmy Award-winning actor Joe Pantoliano.

This year, NIAF awarded more than $1,000,000 for scholarships and cultural grants across the United States and Italy. Recognizing the younger generation, NIAF featured special seating at the Gala for younger guests and "The Hub," a lounge inside Expo Italia dedicated to NIAF Youth.

During the gala weekend, an official delegation from Calabria, Italy, including the Fondazione dei Calabresi nel Mondo, attended a special reception at the Foundation's headquarters to sign an agreement between the region and NIAF to further promote culture, scholarships, tourism and exhibitions of ancient treasures on October 29. In 2012, the region of Calabria will serve as the region of honor at NIAF's 37th Anniversary Awards Gala. Additionally NIAF also signed an agreement, "The Dream of Rome," with the city of Rome, and NIAF Italia. NIAF's president Joseph Del Raso joined the deputy mayor of Rome Sveva Belviso, and Paolo Catalfamo, president of NIAF Italia. This agreement will promote Italy's artifacts on display in Philadelphia, Miami, Chicago, Los Angeles, San Francisco and New York.