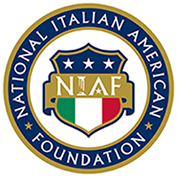 About

Support

Membership

Programs

Culture

U.S. Ambassador & Business Executive Peter Secchia To be Honored at Italian American Gala in Washington, D.C.

FOR IMMEDIATE RELEASE 

Contact:   Elissa Ruffino (NIAF) 202/939-3106 or elissa@niaf.org

---

(WASHINGTON, DC – September 26, 2005) Peter F. Secchia, chairman of the board at Universal Forest Products Inc., and managing partner of SIBSCO LLC (pictured below), will receive the National Italian American Foundation (NIAF) Special Achievement Award for International Affairs at the Foundation's 30th Anniversary Awards Gala, Saturday evening, October 15 at the Hilton Washington & Towers, Washington, D.C. The gala begins with a 6 p.m. reception followed by dinner at 7 p.m.

The NIAF Gala is one of the premier annual events in Washington, D.C. attracting more than 3,000 people from throughout the country and abroad. During the gala, Paul S. Otellini, president and CEO of Intel Corporation, and Michelle Peluso, president and CEO of Travelocity, will receive NIAF Special Achievement Awards in Business. General Peter Pace, the next chairman of the Joint Chiefs of Staff, will receive the NIAF Special Achievement Award for Military Service.

Actors Danny Aiello, Maria Bello, Dennis Farina, and Antonio Sabato, Jr. and singers Jay Black and Natalie Merchant will join prominent Italian American leaders in business, sports, and the arts at the gala. Popular entertainer Tony Danza will M.C. the evening. The dinner chair is Joseph J. Plumeri, Willis Group Holdings chairman and CEO.

In the 1980s, while at the helm of Universal Forest Products Inc, a $2.5 billion building products company, Mr. Secchia founded SIBSCO, a real estate management firm, to teach his four children business principles. From June 1989 though January 1993, Mr. Secchia served as the U.S. Ambassador to Italy and received numerous awards for his dedication to service including the "Cavaliere di Gran Croce" ("Knight of the Great Cross" – the highest award ever given a U.S. Ambassador by the Italian Government); the Boys' Towns (orphanage) of Italy Children of the World award; and the U.S. Department of State's "Distinguished Honor" award for having a major impact on U.S. foreign policy.

Over the years, Ambassador Secchia has been active in local and statewide charitable organizations and has dedicated his time and efforts to many charities, a few of which include the Grand Rapids Economic Club, Millennium Park (a major park and destination for families in Michigan); Grand Rapids Youth Commonwealth, and the Grand Rapids Rotary. He serves on the executive committee of the Gerald R. Ford Presidential Museum, the James Baker School at Rice University, and the George Herbert Walker Bush Presidential Museum at Texas A&M University. Ambassador Secchia also served on the NIAF board of directors and the Foundation's headquarters is named in his honor because of his generous support of the organization's programs. A graduate of Michigan State University with a degree in economics, Ambassador Secchia holds honorary doctorate degrees from several universities, including his alma mater. He currently resides in East Grand Rapids, Mich.

Dinner tickets begin at $400 per person. Attire: Black tie. Proceeds will benefit the NIAF Scholarship and Education Programs. For tickets or sponsor information, contact: Bonni Cellini at 202/939-3114 or bonni@niaf.org or register on-line at www.niaf.org.

The NIAF is a non-profit, non-partisan foundation dedicated to promoting the contributions of Italian Americans. Visit www.niaf.org to learn about NIAF programs and events.