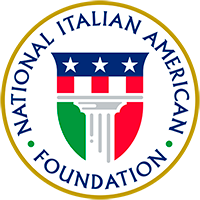 About

Join

Events

Programs

Partnerships

Culture

Sports Greats, Industry Leaders Honored in New York City

FOR IMMEDIATE RELEASE

Contact: Elissa Ruffino, 202-939-3106, elissa@niaf.org

________________________________________________________

*MARIO M. CUOMO AWARD IN PUBLIC SERVICE AWARDED AT NIAF GALA*

** SPECIAL TRIBUTE TO LATE JUDGE GARIBALDI BY FOUNDATION'S LEADERSHIP**

(Washington, D.C. – May 2,  2016) Sport legends Mike Piazza, 12-time MLB All-Star elected into the National Baseball Hall of Fame; and Luigi P. "Lou" Carnesecca, legendary coach of St. John's University's basketball team and inductee of the Naismith Basket Ball Hall of Fame, headlined the list of gala honorees with industry executives in business, finance, and real estate at the National Italian American Foundation (NIAF) annual New York Gala on April 28.

During the cocktail reception, guests were served the famous Bellini cocktail under the towering marble columns at the Italian Renaissance-inspired Cipriani 42nd Street.  They also viewed the sports memorabilia, fine jewelry and designer women's purses that were part of the silent auction. Radio personality Skeery Jones, of Z100's Elvis Duran and the Morning Show, led the live auction with two tickets to the Hollywood premier of "Devil in the White City" starring Leonardo DiCaprio and directed by Martin Scorsese. A NIAF dinner series with actor Paul Sorvino was also auctioned.

Besides welcoming honorees and guests, NIAF Chairman Joseph V. Del Raso introduced Monsignor Jamie J. Gigantiello,vicar for development for the Diocese of Brooklyn and administrator of St. Bernard Parish in Mill Basin, who gave the invocation.

credit for photos: Jay Isolini for the National Italian American Foundation

New York Gala Dinner Chairman Gerard S. LaRocca, a member of NIAF's Board of Directors and the Italian American Leadership Council, and chief administrative officer, Americas, Barclays Capital, thanked the Foundation's New York committee and the evening's sponsors for making the NIAF New York Gala into the institution it is today.

LaRocca introduced three women leaders serving on the Foundation's Board of Directors: Linda R. Carlozzi Esq.; Patricia de Stacy Harrison and Anita Bevacqua McBride. Together they spoke about the late Honorable Marie L. Garibaldi, NIAF executive vice president and former New Jersey Supreme Court Justice, whose passing in mid-January affected the Italian American community in New York and New Jersey.

"Judge Garibaldi was part of our family, she taught us about life and how to move through it with confidence and a compass," Harrison said, presenting a posthumous honor to their beloved colleague with a video highlighting her many accomplishments.

"She was a mentor and helped open the door for us," McBride added.

Carlozzi spoke about a scholarship to honor Judge Garibaldi's legacy that will be announced during the Foundation's 41st Anniversary Gala in October. "We lost an exceptional, elegant woman and we mourn her loss," Carlozzi said.

NIAF also presented the second-annual Mario M.Cuomo Award in Public Service to Joseph R. Guccione, managing director of Freeh Group International Solutions LLC. A video showcasing Cuomo's legacy as a man of conviction and role model for the Italian American community was presented to the more than 720 guests. The award recognizes Italian American public servants who are known for their passion, conviction and dedication to serving the Italian American community. "My parents instilled in me the values of public service to make a difference and improve communities," Guccione said. "My role models, in addition to Cuomo, were Judge Louis Freeh; Alphonse D'Amato, and the late Supreme Court Justice Antonin Scalia."

After dinner was served, this year's master of ceremonies, NIAF Celebrity Ambassador, entertainer and radio host Joe Piscopo, kicked off the awards ceremony with "New York, New York," a song made famous by Frank Sinatra. The guests applauded and he exclaimed, "Let's get this party started—give me three hours and I will tell you how great Italians are."

Piscopo recognized this year's honorees presenting the Foundation's Achievement Awards to New York industrial leaders Frank Bisignano, chairman and chief executive officer of First Data Corporation; Michael J. Inserra, Americas vice chairman at EY; and Arthur J. Mirante ll, principal and tri-state president at Avison Young, in business, financial services and real estate, respectively.

Bisignano, who had just returned home from his ancestral home in Italy the day before, remarked,"I am honored to come back from Italy and celebrate together with everyone—God bless America, God bless Italy, God bless NIAF."

When Inserra received his award, he spoke about his parents who instilled values in his everyday life.  He dedicated his award to his father.

"Tonight is a special evening honoring superstars in sports, business, real estate and finance," said Mirante. "The Italian culture we celebrate tonight was my childhood."

At the podium, Chris Mullin, head coach of St. John's Red Storm men's basketball, presented the  NIAF Special Achievement Award in Sports to Carnesecca. "This is my Italian father," Mullin said.  Carnesecca explained that, although he learned a lot as coach, what was important he learned from his father: "never have short arms, always put your $10 on the bar."

ESPN host Tony Reali presented Piazza with the NIAF Special Achievement Award in Sports. Reali recounted how he met Piazza in 1993 and described him as powerful, faithful and true. "I am so grateful and proud to be Italian and want to thank NIAF as an organization for its work," Piazza said.  "Please spread the word about NIAF, we need to continue to grow this organization,"

Before the guests dined on Italian specialties, including pan seared sea scallops, thinly sliced prosciutto with fresh mozzarella and baby arugula salad, opera singer Cristina Fontanelli sang the U.S. national anthem and "Inno di Mameli," Italy's national anthem.  As dinner was served, the Sicilian Tenors, including Aaron Caruso, Elio Scaccio and Sam Vitale, serenaded the guests with a selection of songs, including "O Sole Mio" and "Mistero," a tribute to Luciano Pavarotti.

Joining the honorees and guests were actors Michael Badalucco and Tony LoBianco; former MLB managers Ken Aspromonte and Bobby Valentine, MLB third baseman Bob Aspromonte; and Denver Nuggets Sr. Vice President Pete D'Alessandro. Italian dignitaries included Italy's Consul General in New York Francesco Genuardi and delegates from the Foundation's 2016 Region of Honor – Piemonte, Italy. At the podium, NIAF Board member Jeff Capaccio acknowledged Piemonte with a special video showcasing the region's rich history, art, beauty, industries and people.

To close the evening's festivities after a final course of ricotta cheese cake and espresso by Lavazza, NIAF's President and Chief Operating Officer John M. Viola recognized and thanked the sponsors, honorees and guests for their continued support and commitment to the Foundation. "We Italian Americans are the luckiest people in the world," said Viola. "God Bless America, Italy and all of us."

The NIAF New York Spring Gala proceeds support the Foundation's philanthropic and educational programs. NIAF thanks this year's Title Sponsor: First Data and Presenting Sponsors: Bank of America, Columbus Citizens Foundation, and SkyBridge Capital LLC.

The National Italian American Foundation (NIAF) is a non-profit dedicated to preserving the proud heritage of an estimated 25 million Americans of Italian descent, the nation's fifth largest ethnic group. NIAF's mission is to serve as a resource for the Italian American Community; to preserve the Italian American heritage and culture; to promote and inspire a positive image and legacy of Italian Americans; and to strengthen and empower ties between the United States and Italy.  Visit www.niaf.org.