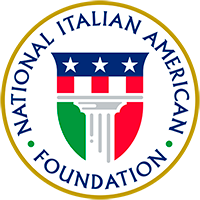 About

Join

Events

Programs

Culture

Support

Ferrero is a premier sponsor of NIAF. Learn More

Seven Notable Italian Americans have been Elected To NIAF's Board of Directors

FOR IMMEDIATE RELEASE

Contact:   Elissa Ruffino (NIAF) 202/939-3106 or elissa@niaf.org

---

CNBC's MARIA BARTIROMO, PEPSICO's MASSIMO d'AMORE,
BUSINESS STRATEGIST HON. MIKE FERGUSON
GENETICIST and PATHOLOGIST DR. ANTONIO GIORDANO
E! NEWS's GIULIANA DePANDI RANCIC,
CONAIR'S JULIAN RIZZUTO and UNIVISION'S JOE UVA
JOIN NIAF BOARD OF DIRECTORS

(WASHINGTON, D.C. — MARCH 14, 2011) Seven notable Italian Americans in the fields of communications, business and medicine have been elected to the National Italian American Foundation's (NIAF) Board of Directors during a March 11, 2011, meeting at the Wigwam Golf Resort & Spa in Litchfield Park, Ariz.

NIAF's newly elected members of the Board of Directors are: Maria Bartiromo, anchor of CNBC "Closing Bell with Maria Bartiromo"; Massimo F. d'Amore, CEO of PepsiCo Americas Beverages; Hon. Mike Ferguson, chairman and CEO of Ferguson Strategies LLC and former congressman of New Jersey; Dr. Antonio Giordano, president and founder of the Sbarro Health Research Organization; Giuliana DePandi Rancic, anchor and managing editor of E! News; Julian L. Rizzuto, international markets analyst for the Conair Corporation, and Joe Uva, president and CEO of Univision Communication Inc.

"The NIAF Board of Directors is proud to appoint such outstanding leaders in their fields to further strengthen the expertise of our board," said NIAF Chairman Jerry Colangelo.

Current members re-elected to NIAF's board are Robert V. Allegrini, vice president of corporate communications in the Americas at Hilton Hotels Corporation; Rocco B. Commisso, chairman and CEO of Mediacom Communications Corporation; Joseph M. DePinto, president and CEO of 7-Eleven Inc.; Joseph M. Della Ratta, CEO of Della Ratta Inc.; Matthew J. DiDomenico, Sr., president of John Matthew Inc. Realtors; Hon. Patricia de Stacy Harrison, president and CEO of the Corporation of Public Broadcasting; Hon. Anita Bevacqua McBride, executive in residence at American University and former chief of staff to First Lady Laura Bush, and Peter J. Striano, chairman and CEO of Unity International Group.

The NIAF Board of Directors includes some of the most prominent executives in the United States, including Linda R. Carlozzi, Esq., a partner of the New York City office of Jackson Lewis LLP; Joseph V. Del Raso, Esq., partner with Pepper Hamilton LLP; William C. Freda, vice chairman and U.S. managing partner of Deloitte LLP; Louis J. Freeh, former FBI director; Kenneth G. Langone, co-founder of Home Depot and president of Invemed Associates LLC; Gerard S. LaRocca, CEO of Barclays Capital Inc. and the New York branch manager of Barclays Bank PLC; Gen. Peter Pace, U.S. Marine Corps General (Ret.); and John F. Scarpa, co-founder of American Cellular Network Corporation.

The National Italian American Foundation (NIAF) is a non-profit, non-partisan foundation dedicated to promoting the contributions of Italian Americans. The Foundation has a wide range of programs that provide scholarships and grants, conferences and cultural seminars. Visit www.niaf.org.