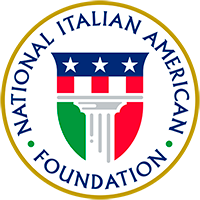 About

Join

Events

Programs

Culture

Support

Seattle Celebrates Italian Culture at Festa Luncheon

FOR IMMEDIATE RELEASE

Contact:   Elissa Ruffino (NIAF) 202/939-3106 or elissa@niaf.org

---

Seattle Celebrates Italian Culture at Festa Luncheon

Patricia de Stacy Harrison, National Italian American Foundation (NIAF) vice chair and CEO/President of the Corporation for Public Broadcasting, gave the keynote address during the 2009 Festa Italiana Luncheon at the Fairmont Olympic Hotel. The September 22 luncheon kicked off the 22nd Annual Festa Italiana in downtown Seattle, September 26-27, 2009.

Harrison affirmed that core Italian values such as: loyalty to family, courage, strong work ethic, love of life and food as the vehicle through which to share, connect and inspire–can help anyone no matter what their heritage get through tough times.


Harrison and Centioli with attendees

As part of the NIAF Frank J. Guarini Media Forum, Seattle's local and print and broadcast media attended the event to network with colleagues, learn more about NIAF's initiatives, and meet prominent local Italian Americans. This year CBS, ABC, and PBS affiliates were represented as well as the Seattle Times, Seattle Post-Intelligencer and KOMO radio. The journalists were hosted by Gerard Centioli, a NIAF area coordinator for the State of Washington and president and CEO of ICON LLC in Seattle. Julie Francavilla, morning and noon anchor at KIRO-TV (CBS), served as media host. In 2005, Francavilla gave the keynote address at the luncheon.

New to the program this year Pamela Pietrucci, an Italian student from the earthquake devastated town of L'Aquila, Italy, was invited to meet local community leaders. Pietrucci returned to Seattle to continue her Ph.D. degree in Communications at the University of Washington after a summer spent in L'Aquila supporting her family. Her family home was completely destroyed by the April 6 earthquake. She explained the current situation of Italians living in tents and the reconstruction efforts in L'Aquila. NIAF also invited another special guest Monique Mascio, a recipient of the Foundation's Student to Leaders (S2L) program in business.

Each year Festa Italiana and The Italian Club of Seattle honor an outstanding local Italian American with the annual Gill Centioli Memorial Award. This year's award was presented to Frank Isernio, founder and owner of Isernio's premier fresh sausage company in the Northwest, by Gill Centioli's daughter, Dorene Centioli-McTigue.