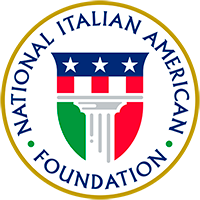 About

Join

Events

Programs

Culture

Support

Ferrero is a premier sponsor of NIAF. Learn More

Scholarships Now Available Through The National Italian American Foundation

FOR IMMEDIATE RELEASE

Contact: Elissa Ruffino 202-939-3106, elissa@niaf.org

   _______________________________________________________________________________                                                  

**Visit www.niaf.org/scholarships to Apply Online**

*Application deadline: April 30, 2015* 

(WASHINGTON, D.C. – February 2, 2015) Scholarships are now available to college students through the National Italian American Foundation (NIAF) for the 2015-2016 academic year.

Since NIAF's inception 40 years ago, the scholarship program has grown from four scholarships of $250 each to dozens of annual scholarships ranging in value from $2,500 to $10,000 each in the Italian language and culture, medicine, engineering, business, law, music, and other specialized fields.  Last year, the average scholarship to students in the United States was worth more than $6,000.

"Since 1975, NIAF has awarded millions of dollars in merit-based scholarships and cultural grants across the country. The high quality of our scholarship recipients and their admirable achievements is a direct reflection of the value we Italian Americans place on the importance of education," said NIAF Director of Programs Gabriella Mileti.

Scholarship applicants must be NIAF members or have a parent or guardian who is a NIAF member. Applicants must be enrolled or entering a college or university in the fall of 2015, and either must be of Italian descent, with at least one ancestor who has emigrated from Italy, or a student of any ethnic background majoring or minoring in the Italian language, Italian studies, Italian American studies or a related field.  NIAF scholarship recipients are selected based on academic merit and financial need. Students must have a minimum GPA of 3.5 to apply.

Contributors to the NIAF scholarship program include individuals, corporations and organizations throughout the United States and Italy.

Apply online for a 2015-2016 NIAF scholarship at www.niaf.org/scholarships.  Application deadline is April 30, 2015. NIAF scholarship winners will be notified June 1, 2015. 

For more information on establishing a NIAF scholarship, contact Gabriella Mileti at gmileti@niaf.org.

The National Italian American Foundation (NIAF) is a non-profit organization based in Washington, D.C., and dedicated to preserving the heritage of Italian Americans.   Visit www.niaf.org.