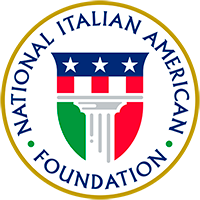 About

Join

Events

Programs

Culture

Support

Ferrero is a premier sponsor of NIAF. Learn More

Press Releases – 2001 Westchester Gala

FOR IMMEDIATE RELEASE

Contact:   Elissa Ruffino (NIAF) 202/939-3106 or elissa@niaf.org

---

    ITALIAN AMERICAN LEGISLATOR APPOINTED ACTING GOVERNOR

OF THE STATE OF NEW JERSEY

    (WASHINGTON, DC – February 13, 2001) The National Italian American Foundation (NIAF) congratulates Donald T. DiFrancesco on his appointment as acting governor of the State of New Jersey. He joins two Italian American governors: Argeo Paul Cellucci (R-MA) and George E. Pataki (R-NY).

    "The NIAF is proud of the three Italian Americans who serve as chief executives of the state where Italian Americans are an important portion of the population, with approximately 3 million Italian Americans in New York , 1.5 million in New Jersey and 900,000 in Massachusetts," said Frank Guarini, NIAF chairman. "We expect more Italian Americans of both parties to compete in future races for governor," added Guarini.

    NIAF is especially proud of all those Italian Americans in public service who provide a positive image of our shared heritage, " said Joseph R. Cerell, NIAF president.

    Twenty governors of Italian descent have served to date. Caesar Rodney of Delaware and William Paca of Maryland were the first two Italian Americans to serve after the American Revolution. Mississippi was the first state in the 20th century to elect an Italian American as its governor, Governor Andrew Houston Longino (1854-1942.) New York elected four Italian American governors: Al E. Smith; Charles Poletti; Mario Cuomo and George Pataki. Ella Grasso (1919-1981) of Connecticut was the first woman ever elected as governor and the first and only Italian American woman to be governor.

    Donald DiFrancesco has served as state senator from New Jersey's 22nd district since 1979. He also served as president of the state senate since 1992, and minority leader in 1982-1984. Di Francesco received his doctor of law from Seton Hall University and bachelor of science in business at Pennsylvania State University. A native of New Jersey , he resides in Scotch Plains, NJ.