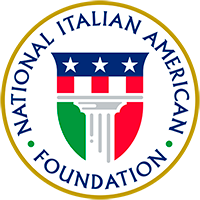 About

Join

Events

Programs

Culture

Support

Ferrero is a premier sponsor of NIAF. Learn More

President Barack Obama To Deliver Keynote Address At NIAF Gala

FOR IMMEDIATE RELEASE

Contact:   Elissa Ruffino (NIAF) 202/939-3106 or elissa@niaf.org

---

(WASHINGTON, D.C. – October 26, 2011) In keeping with our tradition of hosting the President of the United States, the National Italian American Foundation (NIAF) is proud to announce that President Barack Obama will deliver the keynote address at the 36th Anniversary Awards Gala on Saturday, October 29, 2011, at the Washington Hilton. The black-tie event begins with a 5 p.m. reception followed by dinner and an awards ceremony. Hon. Nancy Pelosi, Democratic Leader of the United States House of Representatives, will introduce President Obama to the more than 2,000 guests gathered to celebrate the rich cultural heritage of Italian Americans.

"We are honored to have President Obama address the largest gathering of Italian Americans in the country at the Foundation's annual gala. His presence is significant as we celebrate the rich culture of Italian Americans as well as commemorate the 150th Anniversary of Italy's Unification and National Italian American Heritage Month," stated John F. Calvelli, NIAF Secretary and Chair of the Government Affairs Committee.

United States Supreme Court Justice Samuel A. Alito, Jr., the Italian American Congressional Delegation of the 112th Congress of the United States including United States Representatives Michael Grimm, John Mica, Dana Rohrabacher as well as former senator Alfonse D'Amato, Hon. Louis Freeh, former director of the Federal Bureau of Investigation,(FBI), John Podesta, president and CEO of The Center for American Progress and the United States Ambassador to Italy Hon. David Thorne, and Italy's Ambassador to the United States, H.E. Giuliomaria Terzi di Sant'Agata will also attend the NIAF gala.

This year's NIAF gala honorees include Claudio Bozzo, president of Mediterranean Shipping Company (USA) Inc., Hon. Capri Cafaro, Minority Leader of the Ohio Senate; Dion DiMucci, Rock and Roll Hall of Famer; Hon. Frank J. Guarini, former United States congressman and NIAF chairman emeritus; Frank G. Mancuso, Sr., former chairman and CEO of Paramount Pictures and Metro-Goldwyn-Mayer Studio; Emma Marcegaglia, president of Confindustria; Paolo Scudieri, CEO of Adler Plastic S.p.A.; and Santo Versace, president of Gianni Versace S.p.A. and chairman of the Board of Fondazione Operation Smile Italia Onlus.

The event is open to credentialed media. All media planning to attend MUST pre-register by Friday, October 28 at 3 p.m. EST. Those credentialed will be notified by noon on Saturday, October 29 with a detailed schedule for the evening. To request media credentials, please contact Elissa Ruffino at elissa@niaf.org, or Gina Ghilardi gina@niaf.org at 202/797-4817 (Boundary Press Room at the Washington Hilton). Only pre-credentialed media for the event will be allowed entrance.

LOGISTICAL DETAILS FOR PLANNING PURPOSES ONLY:

Media Pre-set: 3:30PM – 4:30PM EDT (Media must enter the Washington Hilton at the T St. Entrance next to the parking garage. Live trucks must be parked and cabled in and ALL Equipment must be dropped in the International Ballroom at the site by 4:30PM; media will not have access to the site from 4:30 – 6:30PM EDT).

Sweep: 4:30- 6:30PM EDT

Media Entrance: Terrace Lobby Entrance to the Washington Hilton, off of T St. Media must take the escalator down one level to the International Ballroom entrance to go through security and get credentials, before entering the event space.

Media Access: 6:30PM EDT
Final Access: 7:30PM EDT (All members of the media must arrive before 7:30PM EDT. Those who arrive after 7:30PM EDT will NOT have access to cover the event).

Event Begins: 7:00PM EDT

Live Truck Parking: Live trucks must park on Columbia Rd. next to the Washington Hilton, at Columbia Rd. and Connecticut Ave.

Throw: 100 ft.
Cable Run: 500 ft.

Tickets are available for purchase to Saturday's black-tie gala and begin at $400 per person. Proceeds benefit NIAF's educational programs. For tickets or sponsor information, contact Jerry Jones at 202/387-0600 or jerry@niaf.org, or register online at www.niaf.org/gala.

The National Italian American Foundation (NIAF) is a non-profit organization dedicated to preserving and promoting the heritage and culture of Americans of Italian descent.