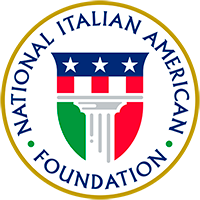 About

Join

Events

Programs

Culture

Support

Ferrero is a premier sponsor of NIAF. Learn More

Piazza D'italia Showcases in Nation's Capital During NIAF Convention Weekend in October * Wine and Food Tastings, Fashion Presentation, Cooking Demos*

FOR IMMEDIATE RELEASE Contact:   Elissa Ruffino (NIAF) 202/939-3106 or elissa@niaf.org

---

(WASHINGTON, D.C. – August 1, 2006) Piazza d'Italia, a two-day best of Italy exhibition, will be held October 20 and October 21, 2006 during the National Italian American Foundation (NIAF) Annual Convention in the Hilton Washington & Towers Exhibit Hall in Washington, D.C.

Wine and food tastings, a fashion presentation, celebrity guest appearances, cooking demonstration by Fabrizio Bottero, executive chef for Cuisinart and Waring's Professional Food Service Division, and musical performances are some of the events planned at Piazza d'Italia. The two-day exhibition will be held Friday, October 20 from 9 a.m. to 5 p.m. and Saturday, October 21 from 9 a.m. to noon.

Piazza d'Italia vendors can introduce Italian products and services to Italians, Italian Americans and others attending the Foundation's annual conventionweekend and awards gala, an event that attracts more than 3,000 people from 42 states and abroad.

Piazza d'Italia is sponsored by NIAF and the Ambassador to the United States,Giovanni Castellaneta, in cooperation with the Italian Trade Commission and the Italian Government Tourist Board.

Exhibit space is available on a first-come, first-serve basis. For more information, or to view a floor plan, visit www.niaf.org and click "Conventions and Activities," followed by "NIAF Exhibition." Contact Kristi Pappalardo at 202/939-3109 or kristina@niaf.org for specific questions.