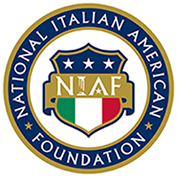 About

Support

Membership

Programs

Culture

Official Statement on the Nomination of Ronald Spogli To be the U.S. Ambassador To Italy

FOR IMMEDIATE RELEASE 

Contact:   Elissa Ruffino (NIAF) 202/939-3106 or elissa@niaf.org

---

Attribute to Dr. A. Kenneth Ciongoli, Chairman, National Italian American Foundation (NIAF) 

The National Italian American Foundation (NIAF) applauds President George W. Bush on his nomination of Ronald P. Spogli, a well respected Italian-American business leader in California, as the next United States Ambassador to the Republic of Italy.

The Foundation looks forward to working with the Ambassador-designate and to enhancing the already outstanding relationship between the U.S. and Italy.

The NIAF has enjoyed a close working relationship with the current Ambassador Mel Sembler and we look forward to continuing that relationship with the new ambassador.

Washington, DC
June 10, 2005

The National Italian American Foundation (NIAF) is a non-profit, non-partisan foundation dedicated to promoting the contributions of Italian Americans. The Foundation has a wide-range of programs that provide scholarships and grants, conferences and cultural seminars. Visit our website at www.niaf.org.