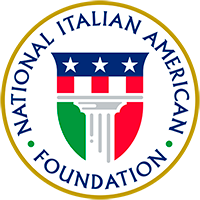 About

Join

Events

Programs

Culture

Support

NIAF Washington Women Network

FOR IMMEDIATE RELEASE

Contact:   Elissa Ruffino (NIAF) 202/939-3106 or elissa@niaf.org

---

(Washington, D.C.—July 28, 2008) The National Italian American Foundation (NIAF) women's forum met for its third dinner in July at the Foundation's headquarters. NIAF Vice President for the Mid-Atlantic Nancy Chistolini, along with more than 20 female council members and their Italian American friends, discussed specific initiatives for the remainder of 2008.


First "No Agenda" Dinner on January 23 at NIAF Headquarters

"Since our 'No Agenda' meeting in January 2008 the following goals have been approved for the group, fostering an open dialogue among the Foundation's female council members in the metropolitan Washington area and cities throughout the U.S.; celebrating of our rich Italian-American heritage through non-profit endeavors, publications, Web sites, meetings and events; and highlighting the accomplishments of women as they share their knowledge and expertise," Chistolini said.


Participants at the second meeting on March 23

For the Christmas holidays, the NIAF group plans to work with Childhelp to donate gifts to at-risk children. They will also provide the Italian Welfare League with names of Italian American children who are medically and financially challenged. Once a month, a profile featuring an individual forum participant will be included in NIAF News Monthly and on our Web site, www.niaf.org. The forum is developing a lecture series utilizing the women's expertise and will co-host an Italian American dinner for wounded soldiers at Walter Reed Army Medical Center with the Yellow Ribbon Fund. Some of the participants volunteer as advisors at The Women's Center ICAN program. Under discussion is a trip to Italy with the Foundation's 2008-2009 heritage tours to the region of Calabria.

The group is scheduled to meet at the end of September.


The NIAF group at the July 16 dinner

NIAF is a non-profit organization based in Washington, D.C., dedicated to preserving the heritage of Italian Americans. To learn about our programs/events, visit www.niaf.org.