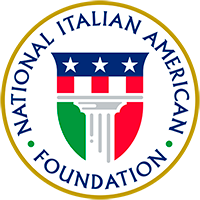 About

Join

Events

Programs

Culture

Support

Ferrero is a premier sponsor of NIAF. Learn More

NIAF Partners With the Washington Post and the Embassy of Italy To offer Summer Fellowships To Italy for School Principals and Supervisors

FOR IMMEDIATE RELEASE

Contact:   Elissa Ruffino (NIAF) 202/939-3106 or elissa@niaf.org

---

(WASHINGTON, DC — April 9, 2003) The National Italian American Foundation (NIAF) joins The Washington Post and the Embassy of Italy in sponsoring six fellowships to area school principals (grades K-12) and supervisors of foreign language programs of public school districts and private schools in the District of Columbia, Maryland, and Virginia with an interest in introducing Italian studies in their school or school district.

"Our partnership with The Washington Post and the Embassy of Italy is another step the NIAF is taking to promote the study of the Italian language," said Nancy Chistolini, NIAF board member and senior vice president of fashion and public relations for Hecht's. "Among our many educational initiatives in 2003, the Foundation is also sponsoring the first Teacher of the Year Award for excellence in Italian language and culture classroom education. On May 3, NIAF is hosting a free workshop, 'Teach the Teachers' at Harvard University for elementary and secondary school teachers to learn about Italian American history and culture to incorporate into their curriculums, "Chistolini added.

The six fellowships include a 13-day summer program organized by the Embassy of Italy-Education Office at three of Italy's universities, Università Bocconi in Milan, the Università per Stranieri di Siena and Istituto Regionale di Ricerca Educativa-Lombardia in Milan with lectures on Italian language and culture and cultural events. The summer program also includes most meals, lodging, transportation and instructional materials. Each award is valued at approximately $4,000. The summer fellowship in Milan is from June 22 through June 28 and continues to Siena from June 28 through July 5, 2003.

School principals and supervisors of foreign language programs in both private and public school districts in the following jurisdictions: District of Columbia, Maryland (Anne Arundel, Calvert, Charles, Frederick, Howard, Montgomery, Prince George's and St. Mary's counties); and Virginia (Alexandria, Arlington, Fairfax, Falls Church, Fauquier, Loudoun, Manassas, Manassas Park, Prince William and Stafford counties) are eligible to apply. All applicants must submit a completed application form, brief work history, essay, one passport size photo and a signed acceptance form. Application deadline: Friday, April 25, 2003. To request an application, call The Washington Post at 202/ 334-7969 or visit: www.washpost.com/education.

For more information about NIAF education and youth programs, contact: Serena Cantoni at serena@niaf.org or 202/939-3111.