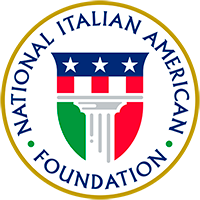 About

Join

Events

Programs

Culture

Support

Ferrero is a premier sponsor of NIAF. Learn More

NIAF Partners With Pirelli Tire For Second In Series Of Frank J. Guarini/Niaf Media Forums In NYC

FOR IMMEDIATE RELEASE

Contact:   Elissa Ruffino (NIAF) 202/939-3106 or elissa@niaf.org

---


NIAF Chairman Emeritus Frank J. Guarini with CEO of Pirelli NAFTA Region Paolo Ferrari at the Frank J. Guarini/NIAF Media Forum at the Pirelli New York Office on Fifth Avenue.

"Austerity vs. Growth: Is it time for growth policies in Italy?" was the topic of discussion at the Frank J. Guarini/NIAF Media Forum on July 25, 2013. Pirelli Tire LLC hosted the forum at its New York office on Fifth Avenue. Paolo Ferrari, CEO of Pirelli NAFTA Region, welcomed the guests and noted that this was the first of its kind at the showroom and how pleased he was to partner with the National Italian American Foundation (NIAF). With an overview of the $8 billion company with 22 factories and tremendous growth in areas such as Mexico and China, Ferrari spoke about the economic challenges currently facing Italy. He believes that without job opportunities, future planning, sound management and structural reform, Italy is losing the assets of its young people.

NIAF's Chairman Emeritus Frank J. Guarini joined Ferrari at the podium. Together they introduced the distinguished panelists: Marco Martella, U.S. representative for Banca d' Italia; Massimo Gaggi, author and U.S. correspondent for Corriere della Sera; and Fabio Schiantarelli, professor of economics at Boston College.


Pirelli showroom in New York City prepares to receive NIAF guests

Martella opened the dynamic and lively discussion and spoke about the many reasons for Italy's recession – its decline in foreign investments, decrease in loans, and a 6.1 percent drop in 2012 of its industrial production. Schiantarelli underscored the gap in labor productivity compared with other European countries, and the need for fiscal consolidation. He noted that since 1995 there has been no growth within Italy. Gaggi agreed with Martella and Schiantarelli that without growth policies, Italy's future looks bleak. Gaggi spoke about the lack of a strong, political will within Italy's government and increasing stubbornness and unwillingness for change as factors that have stifled Italy's potential.

Following the panel presentations, Ferrari asked for questions from the audience. A lively discussion followed with further analysis of Italy's growth problems. However, Italy's strength in the fashion, food and tourism sectors remains a positive indicator for Italy's future growth. Similarities of the problems facing the U.S. economy were also discussed.

The National Italian American Foundation (NIAF) is a non-profit organization dedicated to preserving and promoting the heritage of Italian Americans. Visit www.niaf.org.