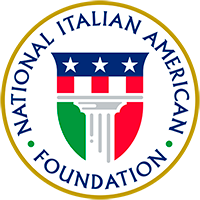 About

Join

Events

Programs

Culture

Support

NIAF Networks with Media in New York City

FOR IMMEDIATE RELEASE

Contact:   Elissa Ruffino (NIAF) 202/939-3106 or elissa@niaf.org

---

NIAF Networks With Media in New York City

CBS News Business Correspondent Alexis Christoforous was the keynote speaker at the launch of the NIAF/Frank J. Guarini Media Forum in New York on April 22, 2009. Christoforous discussed "Insights Into Your Money and the Economy," with more than 50 journalists and guests of Italian ancestry at The University Club in New York City.


Alexis Christoforous, CBS News Business Correspondent, and Salvatore M. Salibello, NIAF Executive Vice President

At the event, Christoforous was joined by media co-chairs Carla De Landri, senior broadcast producer for ABC News 20/20, and Fabrizio Maffei, president and CEO of RAI Corporation.

NIAF's Chairman Emeritus Frank J. Guarini welcomed the guests by exploring how the forums bring media professionals together to support the Foundation's mission of enriching the lives of our youth with scholarships, programs and grants. John Miseo, a Voyage of Discovery participant who traveled to Naples, Italy, joined scholarship recipients Tommaso Pizzi, a graduate student at Columbia University School of Business, and Ashley Louszko, a sophomore at Fordham University. They discussed opportunities gained though the NIAF award with Hon. Marie L. Garibaldi, chair of the Foundation's education committee.

Salvatore M. Salibello, NIAF executive vice president, encouraged the attendees to join NIAF's family. Michael Zampardi, NIAF vice president for the greater New York region, stressed the importance of reaching more young Italian American students through scholarships and grants by their support.

During a question and answer period following Christoforous' speech, representatives from Fox News Channel, Bloomberg News, The New York Post, CBS Early Show, HBO and Barron's Magazine had a lively discussion about the media's coverage of today's economy.


Jamie Colby, Correspondent/Anchor for Fox News Channel, and Lisa Salibello

NIAF media forums give professionals in the communications field an opportunity to foster working relationships with colleagues and learn about the Foundation's exciting youth initiatives. Through these events, NIAF cultivates an excellent rapport with members of the media, promotes Italian Americans and examines the important issues facing the Italian-American community today. In 2009, NIAF held media forums in Chicago, Phoenix, Los Angeles and San Francisco. Other cities will be announced in the next few months.