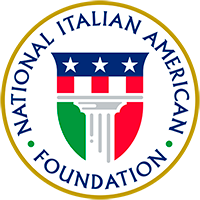 About

Join

Events

Programs

Culture

Support

NIAF Launches Frank J. Guarini Media Forums in far West Region

FOR IMMEDIATE RELEASE

Contact:   Elissa Ruffino (NIAF) 202/939-3106 or elissa@niaf.org

---

NIAF LAUNCHES FRANK J. GUARINI MEDIA FORUMS IN FAR WEST REGION

(WASHINGTON, DC – February 10, 2009) The National Italian American (NIAF) is proud to announce the establishment of the Frank J. Guarini/NIAF Media Forums this month in the Far West Region of the United States. NIAF Chairman Emeritus Frank J. Guarini generously funded this series of media forums in his name.

"It is critical to emphasize the mission and outstanding programs of NIAF by reaching out to media professionals through these forums," Guarini said.

"Frank's generous gift underscores NIAF's strong commitment to bring our mission to a greater audience," said Stephen Aiello, chairman of the NIAF public affairs committee and member of the board of directors.

The forums encourage communication professionals to share ideas and work together while promoting positive stories about Italian Americans, the rich culture of Italy and increasing awareness of the Foundation's programs.

A luncheon planned in Phoenix, Ariz., will kick off a series of media events and launch the Frank J. Guarini/NIAF Media Forums on February 24, 2009. The following day, a reception will be held in Los Angeles featuring CNN's Senior Political Analyst Bill Schneider as keynote speaker. More than 100 journalists of Italian ancestry, Italian correspondents and communication experts in the area, will attend the event.

NIAF Vice Chairman Joseph R. Cerrell will be joined by the Foundation's area coordinators including Vicky Carabini, Gerard Centioli, Doug DeLuca and Marcella Leonetti-Tyler.

The following evening, February 26 in San Francisco, Italy's Consul General Fabrizio Marcelli will a host a dinner for area journalists at the Italian Consulate's residence. NIAF Regional Vice President Jeff Capaccio will join Sonny Vaccaro, a sports marketing executive who pioneered grass roots marketing for Nike, Adidas and others, who will give the keynote address.

Similar events are planned in other major cities throughout the U.S.

The National Italian American Foundation (NIAF) is a non-profit organization based in Washington, D.C., and dedicated to preserving the heritage of Italian Americans. Visit www.niaf.org.