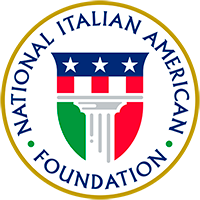 About

Join

Events

Programs

Culture

Support

Ferrero is a premier sponsor of NIAF. Learn More

NIAF Hosts Chicago Film Screening of PBS's "The Italian Americans" with Writer, Producer and Director John Maggio

For Immediate Release

Contact: Elissa Ruffino, elissa@niaf.org

---

(WASHINGTON, D.C.— JANUARY 29, 2015)  To celebrate the rich history and culture of Italian Americans with a  film that tells an honest and open story about the Italian American experience to a Chicago audience,  on January 28, Robert V. Allegrini, National Italian American Foundation (NIAF) regional vice president and member of the  Board of Directors, was joined by George Randazzo, founder and president of  The National Italian American Sports Hall of Fame (NIASHF), and Ron Onesti,  president and CEO of Onesti Entertainment Corporation, for a preview of the upcoming four-hour PBS documentary series, "THE ITALIAN AMERICANS."  The screening was held at the National Italian American Foundation Sports Hall of Fame in Chicago's Little Italy, and was part of the NIAF- Frank J. Guarini Media Forums.

"This film highlights the importance of Chicago to the rich history of Italian Americans," said Allegrini.

With Allegrini at the podium Randazzo added, "The film also brings back wonderful memories of growing up Italian."

Onesti welcomed community leaders, educators, the media and students, and explained how proud he was of his father, Albert Onesti, who was featured in the film and fought in WW II. "Tonight we share a common bond," said Onesti.  "We are in Chicago's Little Italy at a shrine to Italian American greats at the Hall of Fame; let our heritage shine tonight," he added.

The upcoming PBS documentary will air nationally from February 17 and 24, 2015, from 9 p.m. to 11 p.m. each evening. Narrated by acclaimed actor Stanley Tucci, "THE ITALIAN AMERICANS" reveals how Italian immigrants challenged the notion of the American melting pot – choosing instead to maintain their distinct culture and allegiance to family.

During the screening, the co-hosts were joined by keynote speaker, award-winning filmmaker John Maggio, the series' director, writer and producer. He explained how "THE ITALIAN AMERICANS" is a story of immigration and what gets lost in coming to America. "At one time, we were all strangers to America," Maggio added.

Following the screening, he fielded questions and discussed how he wanted to make a national film, hoping viewers would see themselves in the series. Many guests echoed sentiments after seeing the clips that this film is the best chance the community has had in the last 100 years to tell the Italian American story.

Guests also enjoyed Italian delicacies in the Tommy & Jo Lasorda Gallery prepared by Onesti. The series' corporate funder, Michael DelGrosso of DelGrosso Foods, provided posters and gift bags of sauce for guests.

To close the evening, Italy's Acting Consul General in Chicago, Marco Graziosi, complimented Allegrini for presenting the clips to Chicago's Italian American community.  Since Graziosi had served in many countries and was touched by stereotypes connected with the mafia, he asked Maggio if the documentary broke down any of these stereotypes.  Maggio hoped it did by portraying a more accurate and comprehensive view of Italian Americans.

The National Italian American Foundation (NIAF), a non-profit, non-partisan organization, has worked to preserve and promote the heritage and culture of Americans of Italian descent, the nation's fifth largest ethnic group. To learn more, visit www.niaf.org.