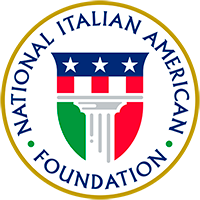 About

Join

Events

Programs

Partnerships

Culture

NIAF East Coast Gala April 14, 2008 – Media Advisory

FOR IMMEDIATE RELEASE

Contact:   Elissa Ruffino (NIAF) 202/939-3106 or elissa@niaf.org

---

MEDIA ADVISORY

EVENT: EAST COAST GALA

SPONSOR: The National Italian American Foundation (NIAF)

WHEN: Monday evening, April 14, 2008
6:30 p.m. Reception
7:30 p.m. Gala, Live Auction and Awards Program

WHERE: Marriott New York Marquis in Times Square
Broadway Ballroom 6th floor
1535 Broadway
New York, NY 10036
212-398-1900

Industry leaders Bob Greifeld, CEO of The NASDAQ OMX Group; the Kolaj Family of Famous Famiglia; Leonardo LoCasio, founder of Winebow; and Joanne Minieri, president and COO of Forest City Ratner Companies, will be honored at the National Italian American Foundation's (NIAF) East Coast Gala on Monday evening, April 14, in New York City.

Greifeld and Minieri will receive NIAF Special Achievement Awards in Business. The Kolaj Family will receive a NIAF Special Achievement Award for Humanitarian Service. LoCascio will receive a NIAF Lifetime Achievement Award.

Legendary singer Frankie Valli will present a scholarship in his name to Ashley Louszko, a freshman at Fordham University majoring in music performance. Valli received a NIAF Lifetime Achievement Award during the Foundation's 31st Anniversary Awards Gala in Washington, D.C., in 2006. Valli and The Four Seasons have performed at NIAF events over the years. Other notables who have established scholarships with NIAF in recent years include Alan Alda, Andrea Bocelli and the late maestro Luciano Pavarotti.

Multi platinum international recording artist Patrizio Buanne, one of Italy's hottest new singers, will perform three songs during the Foundation's gala. Famed actress Isabella Rossellini, Yankee legend Yogi Berra, Academy Award-nominee Danny Aiello and actor Tony Lo Bianco will be joined by prominent Italian American business and community leaders at the NIAF gala. Marc Corea, chairman of Tiro a Segno of New York Foundation, is the year's gala chairman.

This year's master of ceremonies is Alexis Christoforous, CBS news anchor and correspondent. The gala begins with a cocktail reception at 6:30 p.m., followed by an awards program honoring Italian-American leaders and showcasing New York's vibrant Italian-American community. Tickets begin at $400 per person. Attire: Business.

To purchase tickets, contact Carolyn Laurenzano at 202/939-3114 or carolyn@niaf.org. Media Contact: Elissa Ruffino at 202/939-3106 or elissa@niaf.org.

NIAF is a non-profit organization based in Washington, D.C., dedicated to preserving the heritage of Italian Americans. To learn about our programs/events, visit www.niaf.org.