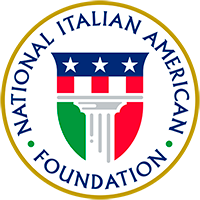 About

Join

Events

Programs

Culture

Support

Ferrero is a premier sponsor of NIAF. Learn More

NIAF Delegation Meets New Italian Leadership in Rome ** NIAF Hosts Roman Roundtable at Villa Taverna with U.S. Ambassador **

FOR IMMEDIATE RELEASE 

Contact:   Elissa Ruffino (NIAF) 202/939-3106 or elissa@niaf.org

---

(June 21 – Rome, Italy) A National Italian American Foundation (NIAF) delegation led by Chairman Dr. A. Kenneth Ciongoli traveled to Italy this week to meet with Italian public officials at a conference discussing Italy's future. "Roman Roundtable: The Future of Italy as Cultural and Intellectual Center of Western Civilization" was held in Rome on June 20 at Villa Taverna, residence of U.S. Ambassador to Italy Ronald P. Spogli. Prominent Italian and Italian-American scholars and cultural experts joined Ciongoli and Spogli at this conference.

While in Rome, NIAF officials met with newly elected representatives of the Italian government including the President of the Republic of Italy Giorgio Napolitano and Deputy Prime Minister and Minister of Culture and Tourism Francesco Rutelli, as well as Hon. Fausto Bertinotti, president of the Chamber of Deputies; Pier Ferdinando Casini, president of the Inter-Parliamentary Union; Hon.Massimo D'Alema, minister of foreign affairs; Hon. Franco Danieli, vice minister for Italians abroad; and Minister Gerardo La Francesca, director of cultural programs.

NIAF leadership also included Foundation Vice Chairman Joseph R. Cerrell and Executive Vice President Joseph V. Del Raso. Several NIAF board members joined them, including John F. Cavelli, Ronald W. Del Sesto, Arthur J. Furia and Francesco Nicotra, NIAF regional vice president for Italy, in addition to former board member Matthew J. DiDomenico, Sr.

Through the course of several informal meetings during their stay in Italy, NIAF representatives and Italian officials discussed ideas for expanding the friendship between Italy and the U.S. and the benefits of their alliance.

The Roman Roundtable brought together panelists from across the U.S. and Italy. They included:Dana Gioia, chairman of the National Endowment for the Arts; Prof. Jay Parini, Axinn Professor of English at Middlebury College in Vermont; Hon. Marcello Pera, former president of the Italian Senate; and Prof. Carlo Sartori, chairman of the board of RAI-SAT.

As part of the Roman Roundtable, NIAF hosted a business conference discussing the topic of private equity at Villa Taverna. Among the participants were Dott. Paolo Catalfamo, chairman of Investar Group and managing director of the American Chamber of Commerce in Italy; Del Raso; Bruno Ermolli, chairman of Sinergetica; Gabriele Galateri, president of Mediobanca; P. Kevin Kilroy, general partner at Baker Capital; Gregory McGowan, executive vice president, director, and general counsel for Templeton International; Dott. Gianfranco Mossetto, chairman of EstCapital SGR, SpA, and former CEO of Telecom Italia, SpA; Dott. Mario Resca, president of McDonald's Development Italy Inc.; Mark A. Sargent, dean of Villanova University School of Law and board member of NYSE Regulation Inc.; Steven Tadler, managing director of Advent International; Marco Tronchetti, chairman of Telecom Italia, SpA; and Spogli. Pepper Hamilton LLP sponsored the business roundtable.

Raffaele Bozzano, president of Rela Broker Servizi Assicurativi, a prominent insurance firm, hosted a dinner at Club Circolo Canottieri Aniene. Michele Giannattasio, NIAF regional coordinator for Basilicata, also hosted a dinner at Circolo Antico Tiro a Volo.