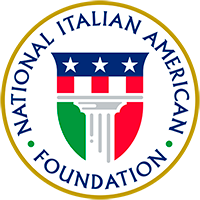 About

Join

Events

Programs

Culture

Support

Ferrero is a premier sponsor of NIAF. Learn More

NIAF Congratulates Lewis M. Eisenberg on His Nomination as Ambassador to the Italian Republic

FOR IMMEDIATE RELEASE                                                                       

CONTACT:
Danielle DeSimone
National Italian American Foundation
202-939-3122
desimone@niaf.org

---

(Washington, D.C. – July 12, 2017) The National Italian American Foundation (NIAF) congratulates Lewis M. Eisenberg on his nomination to be ambassador extraordinary and plenipotentiary of the United States to the Italian Republic.

"On behalf of the National Italian American Foundation, we want to extend our congratulations to Lewis Eisenberg, nominated by President Trump to serve as ambassador to the Italian Republic. The recipient of many deserved awards and honors, including Man of the Year by the National Conference for Community and Justice in New Jersey for his work on behalf of community and justice, 'Lew' Eisenberg will bring his renowned leadership qualities to this important post to ensure that the strong relationship between America and Italy will continue to grow," said Patricia De Stacy Harrison, co-chair of NIAF.

"NIAF, the nation's premier Italian American foundation, comprising men and women leaders of Italian American heritage, looks forward to working with Ambassador-designate Eisenberg here and in Italy," said Gabriel A. Battista, co-chair of NIAF.

Eisenberg is a successful financier, investor and philanthropist. Originally from Chicago, he earned his Bachelor's degree at Dartmouth College and his M.B.A at Cornell Johnson School of Business. As the co-founder and managing partner of Ironhill Investments in New York, he has a great deal of experience in engaging with State and local governments on complicated issues.

Eisenberg served as the chairman of the Port Authority of New York and New Jersey for six years and was named a founding board member of the Lower Manhattan Development Corporation. With this corporation, he chaired its 9/11 Victims' Families and Transportation Advisory Councils. He is an Emeritus Member of Cornell University's Johnson Graduate School of Management Advisory Council as well as a Life Member of the Cornell University Council.

---

The National Italian American Foundation (NIAF) is a non-profit, non-partisan organization dedicated to preserving, promoting and protecting the Italian American heritage and culture. To learn more about the Foundation and become a member, please visit www.niaf.org.