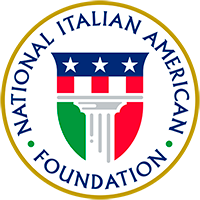 About

Join

Events

Programs

Culture

Support

NIAF Celebrates Italian American Heritage Month Free Walking Tours and Language Classes

FOR IMMEDIATE RELEASE

Contact:   Elissa Ruffino (NIAF) 202/939-3106 or elissa@niaf.org

---

(WASHINGTON, DC— September 16, 2004) This year marks the 28th anniversary of the designation of October as Italian American Heritage Month by the President. To celebrate, the National Italian American Foundation (NIAF), the premier ethnic organization for Italian Americans, is hosting a series of free beginner Italian language classes and/or walking tours to highlight Italian and Italian American contributions in eight U.S. cities. All tours and classes are free and open to the public and are offered on a first-come, first-served basis.

In Boston, Mass., NIAF has scheduled a series of four beginner Italian classes each Wednesday evening in October. The classes are taught by native Italian teachers at the Dante Alighieri Society in Cambridge.

A series of four beginner Italian language classes in Chicago, Ill. are planned at Italidea on Monday evenings beginning October 4.

In the Metropolitan D.C. area, a series of four beginner language classes will be offered on Wednesday evenings throughout October at the Italian Cultural Society, Friendship Heights in Chevy Chase, Md.

The Foundation is also hosting two walking tours in New York City on October 11 at 1:30 p.m., and October 24 at 10:30 a.m. The tours are provided by "I'll Take Manhattan." Four beginner Italian classes will also be conducted at the John D. Calandra Institute at Queens College/SUNY in New York City every Monday in October.

In Pittsburgh, Penn, NIAF will be hosting two tours on "The Strip," October 11 and October 23 at 10:30 a.m. In downtown Philadelphia, NIAF will host a series of four free beginner Italian classes Saturday mornings beginning October 9.

A series of five beginner Italian language classes are being offered in downtown San Francisco at the La Piccola Scuola Italiana on Saturday mornings from 10 a.m. until noon beginning October 2. Two walking tours in San Francisco, highlighting the history and contributions of Italian Americans in North Beach, are scheduled for October 11 and October 23 at 2 p.m. by North Beach Tours.

NIAF will host four beginner Italian language classes in St. Louis, Mo. at the Southwest Bank in downtown St. Louis each Thursday in October. On October 12 and October 30 at 10 a.m., NIAF will host walking tours of "The Hill" in the city.

All must register to receive class details. To register, go to www.niaf.org/october .

The National Italian American Foundation (NIAF) is a non-profit, non-partisan foundation dedicated to promoting the contributions of Italian Americans. The Foundation has a wide-range of programs that provide scholarships and grants, conferences and cultural seminars. Visit our website at www.niaf.org .