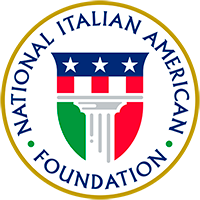 About

Join

Events

Programs

Culture

Support

NIAF Celebrates 160 Years of U.S.-Italy Diplomatic Relations

FOR IMMEDIATE RELEASE

CONTACT:
Natalie Wulderk
nwulderk@niaf.org
+1-202-939-3117

---

(Washington, D.C. – March 17, 2021) The National Italian American Foundation (NIAF) celebrates the 160th anniversary of diplomatic relations between the United States and Italy. As the leading Italian American organization in the United States, NIAF is committed to strengthening this important partnership between our two countries.

"The United States and Italy share a deep and enduring relationship, enhanced by people-to-people connections, a strong economic and security partnership, and a commitment to the values of democracy, freedom and the rule of law," said NIAF Chairman Patricia de Stacy Harrison. "Based in Washington, D.C., NIAF is comprised of leaders from business, industry, government, science, media and the arts. Together, we further U.S.-Italy relations at the highest levels of commerce, culture and government."

Since NIAF's establishment in 1975, the Foundation has worked to affirm this important relationship between the United States and Italy, working with the Italian Ambassador to the United States, the American Ambassador to the Republic of Italy, the leadership of the NIAF Board of Directors, as well as through its programs such as the NIAF Region of Honor, the Ambassador Peter F. Secchia Voyage of Discovery, the Fauci Fellowships, Fulbright partnerships, and the NIAF La Scala Scholarship, among others.

"This is an important anniversary," said Italy's Ambassador to the United States Armando Varricchio. "It is about our two countries, the friendship between our peoples, the strength of our communities, the values we share, and the inspiration we draw from each other in all fields."

To commemorate this anniversary, the Embassy of Italy has created the website www.italyus160.org that includes a virtual Guestbook comprised of video messages from exceptional Italians, Americans, and Italian Americans sharing their ideas and testimonials regarding the strong bond between the United States and Italy. Members of NIAF's leadership were invited to participate. To view NIAF Chairman Harrison's message, visit: https://bit.ly/3eOktFX. To view NIAF Vice Chair of Cultural Affairs Anita Bevacqua McBride's message, visit: https://bit.ly/38R4EdT.

---

The National Italian American Foundation (NIAF) is a non-profit, non-partisan organization dedicated to preserving, promoting and protecting the Italian American heritage and culture. To learn more about the Foundation and become a member, please visit www.niaf.org.