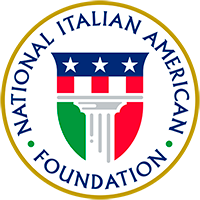 About

Join

Events

Programs

Culture

Support

NIAF 37th Anniversary Gala Weekend

FOR IMMEDIATE RELEASE

Contact:   Elissa Ruffino (NIAF) 202/939-3106 or elissa@niaf.org

---

SPONSOR: The National Italian American Foundation (NIAF)

WHEN: Friday, October 12, 2012
10 a.m. – 6 p.m. Events, 8 p.m. Evening Entertainment

Saturday, October 13, 2012
9 a.m.- 4 p.m. Events, 6 p.m. Reception, 7 p.m. Dinner and Awards

WHERE: The Washington Hilton
1919 Connecticut Ave. NW, Washington, D.C.

More than 2,000 guests from the United States and Italy will attend the National Italian American Foundation's 37th Anniversary Gala Weekend on October 12 and 13, 2012, at the Washington Hilton in the nation's capital. This year's Gala Weekend will be chaired by NIAF Board Member John F. Scarpa. Two-time Olympic Gold-Medalist and Goalkeeper for the United States Women's National Soccer Team Hope Solo leads the list of celebrities attending NIAF's 37th Anniversary Gala.

In keeping with our tradition of hosting the president of the United States, President Barack Obama has been invited to attend. Singer and songwriter Giada Valenti, who was born and raised in Venice, Italy, will sing "Fratelli d' Italia," Italy's national anthem. Actress and singer Christina Carlucci, a graduate of New York University Tisch School of Arts, will sing the U.S. national anthem.

This year's gala honorees include:
• Geno Auriemma, Head Coach of the Gold Medal-winning USA Basketball Women's National Team and Head Woman's Basketball Coach at the University of Connecticut
• Mark Del Rosso, Executive Vice President and Chief Operating Officer of Audi of America
• Giovanni Ferrero, Chief Executive Officer of The Ferrero Group
• Ralph Izzo, Chairman, President and CEO of the Public Service Enterprise Group Incorporated (PSEG)
• Letizia Moratti, President of Friends of San Patrignano
• Accademia Nazionale dei Lincei, the oldest science academy in the world

During NIAF's Gala Weekend, the Foundation will host its signature Celebrity Auction Luncheon. The weekend will also feature conferences on immigration and breast cancer, a movie screening of John Turturro's, "Passione," and wine tastings featuring a selection of wines and delicacies from Italy's Region of Calabria, the 2012 Region of Honor. Tickets to Saturday's black-tie gala begin at $400 per person. Proceeds benefit NIAF's educational programs. For tickets or sponsor information, contact Jerry Jones at 202-387-0600 or jerry@niaf.org, or register online at www.niaf.org/gala.

The National Italian American Foundation (NIAF) is a non-profit organization dedicated to preserving and promoting the heritage and culture of Americans of Italian descent. Visit www.niaf.org.