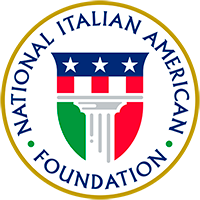 About

Join

Events

Programs

Culture

Support

NIAF 34th Anniversary Awards Gala and Annual Convention

FOR IMMEDIATE RELEASE

Contact:   Elissa Ruffino (NIAF) 202/939-3106 or elissa@niaf.org

---

FOR IMMEDIATE RELEASE CONTACT: Elissa Ruffino, 202/939-3106, elissa@niaf.org

MEDIA ADVISORY

EVENT: NIAF 34th Anniversary Awards Gala and Annual Convention

SPONSOR: The National Italian American Foundation (NIAF)

WHEN: Friday, October 23, 2009 —
9 a.m. Conferences, 8:30 p.m. Evening Entertainment
Saturday, October 24, 2009 —
9 a.m. Conferences, 6 p.m. Reception, 7 p.m. Dinner and Awards

WHERE: Hilton Washington
1919 Connecticut Avenue, NW, Washington, D.C. (202/483-3000)

More than 3,000 guests from the United States and Italy will attend the National Italian American Foundation's 34th Anniversary Awards Gala and Annual Convention on October 23 and 24, 2009 at the Hilton Washington in the nation's capital. Jimmy Kimmel, host of ABC's "Jimmy Kimmel Live!," will be this year's master of ceremonies.

In keeping with our tradition of hosting the President of the United States, President Barack Obama has been invited to attend. Among some of Foundation's past honorees and this year's invited guests are: Alan Alda, Tony Bennett, Yogi Berra, Nicolas Cage, Dr. Anthony Fauci, Rudy Giuliani, Sophia Loren, Tim McGraw, Al Pacino, Nancy Pelosi, Isabella Rossellini, Martin Scorsese, and Dick Vermeil.

This year's gala honorees include:
• Carla Gugino, actress in the HBO series, "Entourage;"
• Massimo F. d'Amore, CEO of PepsiCo Americas Beverages;
• Lidia Matticchio Bastianich, chef, restaurateur, cookbook author and Public Television cooking show host;
• Janet Napolitano, Secretary of the Department of Homeland Security;
• Antonello Venditti, Italian singer and songwriter.

During NIAF's convention weekend, the Foundation will host Piazza d'Italia, a two-day exhibition of Italy's Best, and a Celebrity Auction and Luncheon. Also part of the convention is a screening of the documentary "Pane Amaro: The Italian American Journey from Despised Immigrants to Honored Citizens" and a seminar focusing on the culture of food and wine.

Tickets to Saturday's black-tie gala begin at $400 per person. LM Wines will be the official wine sponsor for the gala dinner. Proceeds will benefit NIAF's educational programs. For tickets or sponsor information, contact Jerry Jones at 202/387-0600 or jerry@niaf.org, or register online at www.niaf.org.

The National Italian American Foundation (NIAF) is a non-profit organization dedicated to preserving and promoting the heritage and culture of Americans of Italian descent.