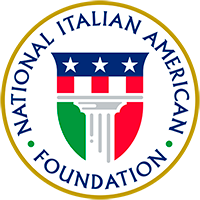 About

Join

Events

Programs

Culture

Support

Ferrero is a premier sponsor of NIAF. Learn More

NIAF 33rd Anniversary Awards Gala – Media Advisory #2

FOR IMMEDIATE RELEASE

Contact:   Elissa Ruffino (NIAF) 202/939-3106 or elissa@niaf.org

---

FOR IMMEDIATE RELEASE CONTACT: Elissa Ruffino, 202/939-3106, elissa@niaf.org

MEDIA ADVISORY

EVENT: NIAF 33rd Anniversary Awards Gala

SPONSOR: The National Italian American Foundation (NIAF)

WHEN: Saturday, October 18, 2008 6 p.m. Reception followed by 7 p.m. Dinner and Awards

WHERE: Hilton Washington & Towers 1919 Connecticut Avenue, NW, Washington, D.C. (202/483-3000)

Alan Alda, Giorgio Armani, Roberto Benigni, Tony Bennett, Yogi Berra, Andrea Bocelli, Nicolas Cage, Robert De Niro, Sophia Loren, Tim McGraw, Joe Montana, Al Pacino, Martin Scorsese, John Travolta, and Dick Vermeil were invited to join more than 3,000 guests from the United States and Italy to attend the National Italian American Foundation's 33rd Anniversary Awards Gala and Annual Convention on October 17 and 18, 2008 at the Hilton Washington & Towers in the nation's capital.

2008 NIAF Gala Honorees:
• Mark T. Bertolini, president of Aetna, will receive a NIAF Special Achievement Award in Business
• Joseph DePinto, president and CEO of 7-Eleven, Inc., will receive a NIAF Special Achievement Award in Business
• Gina Lollobrigida, legendary actress, will receive a NIAF Lifetime Achievement Award in Entertainment
• Wayne Pacelle, president and CEO of The Humane Society of the United States, will receive a NIAF Special Achievement Award for Humanitarian Service
• Gianmario Tondato da Ruos, CEO of Autogrill, S.p.A., will receive a NIAF US/Italy Friendship Award

As with most election years, we anticipate the attendance of the 2008 presidential candidates. This year comedian Tom Dreesen will be the master of ceremonies.

During NIAF's convention weekend, the Foundation will host
Piazza d'Italia, a two-day exhibition of Italy's Best and a Celebrity Auction and Luncheon. NIAF will host three conferences: "The Presidential Candidates Perspectives on the Future of Healthcare in America," "Energy: America's Challenge of the 21st Century," and "From Dante to Benigni: Italian Language and Culture in American Schools."

Dinner tickets begin at $400 per person. Attire: Black tie. Proceeds benefit NIAF educational programs and Gardens of Hope, a NIAF co-sponsored community garden project benefiting the homeless and those in inner-city shelters. For tickets or sponsor information, contact Carolyn Laurenzano at 202/939-3114 or carolyn@niaf.org, or register online at www.niaf.org.

NIAF is a non-profit organization based in Washington, D.C., dedicated to preserving the heritage of Italian Americans. To learn about our programs/events, visit www.niaf.org.