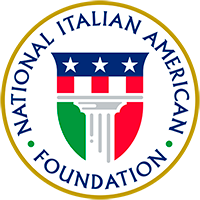 About

Join

Events

Programs

Culture

Support

Ferrero is a premier sponsor of NIAF. Learn More

NIAF 26th Anniversary Gala Awards Dinner

FOR IMMEDIATE RELEASE

Contact:   Elissa Ruffino (NIAF)    202/939-3106202/939-3106 or elissa@niaf.org

---

MEDIA ADVISORY

Event:   NIAF 26th Anniversary Gala Awards Dinner
sponsored by The National Italian American Foundation (NIAF)

When:   Saturday, October 20, 2001
6:00 P.M. reception, 7:00 P.M. dinner

Where:   The Washington Hilton Hotel
1919 Connecticut Avenue NW
Washington, DC 20009


(202/483-3000202/483-3000)

The NIAF gala awards dinner is one of the premier annual events in Washington, DC, attracting more than 3,100 people from throughout the country and abroad. Traditionally, the event has been attended by every U.S. president since 1975.

The Year 2001 NIAF Honorees are:
Nicolas Cage, actor
Domenico De Sole, president and CEO of Gucci Group NV.
Roger Enrico, vice chairman and CEO, PepsiCo, Inc.
Tommy Mottola, chairman and CEO, Sony Music Entertainment, Inc.

A special NIAF award will be presented to actor Christopher Reeve and his Italian American wife, Dana, for their outstanding work in spinal cord injury research.

Nicolas Cage will be the first inductee into the NIAF's new "Hall of Fame" for his work in the cinema.

President George W. Bush, members of the Italian American Congressional Delegation, and Italian American leaders in business, sports, entertainment and the arts are also expected to attend the event.

The year 2001 NIAF Gala Dinner chairman is United States Senator Rick Santorum of Pennsylvania.

The NIAF 26th Anniversary Awards Gala Dinner caps the Foundation's annual two-day convention (October 19 & 20), the largest annual formal gathering of Italian Americans in the U.S.

During the weekend, the NIAF will hold a CEO conference for leading Italian American business executives on Capitol Hill , Friday October 19. Alan Greenspan, chairman of the Board of Governors of the Federal Reserve System, will brief the executives during a private luncheon.

Dinner tickets begin at $350 each. Proceeds from the event will benefit the NIAF Scholarship and Education Programs and "Gardens of Hope," an inner city food program to benefit the homeless and those in shelters. For tickets, contact: Jerry Jones at ext 19 or gala@niaf.org.