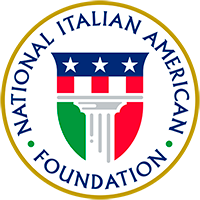 About

Join

Events

Programs

Culture

Support

Ferrero is a premier sponsor of NIAF. Learn More

Minority Leader Nancy Pelosi Presents Presidential Proclamation To Italy's Ambassador Terzi at NIAF Reception

FOR IMMEDIATE RELEASE

Contact:   Elissa Ruffino (NIAF) 202/939-3106 or elissa@niaf.org

---

MINORITY LEADER NANCY PELOSI PRESENTS PRESIDENTIAL PROCLAMATION TO ITALY'S AMBASSADOR TERZI AT NIAF RECEPTION
*United States Congress Issues Proclamation Celebrating Italy*

(WASHINGTON, D.C. – MARCH 18, 2011) Democratic Minority Leader Nancy Pelosi presented the Ambassador of Italy to the United States Hon. Giulio Terzi di Sant'Agata with the Presidential Proclamation – 150th Anniversary of the Unification of Italy at a National Italian American Foundation (NIAF) Congressional Reception in the historic Mike Mansfield Room of the U.S. Capitol on March 17, 2011. President Barack Obama proclaimed March 17, 2011, as a day to celebrate the 150th Anniversary of the Unification of Italy and to honor the courage, sacrifice and vision of the patriots who founded the Italian nation.

Congressman Pat Tiberi, co-chairman of the Italian American Congressional Delegation of the 112th U.S. Congress, also presented Ambassador Terzi with the Congressional Proclamation honoring Italy and the legacy of Giuseppe Garibaldi. "We stand together, Italy and America, and enjoy a wonderful relationship with the people of Italy," said Tiberi, who was joined by Senator Mike Enzi and Senator Mary Landrieu, Congressman Michael G. Grimm and Congressman Chip Cravaack.

At the podium, Ambassador Terzi spoke about receiving President Obama in Rome, Italy, and the sense of unity between our two nations that continues to inspire us all.

John F. Calvelli, NIAF secretary and a member of the Board, welcomed the guests to the private reception. He was joined by NIAF's leadership including Hon. Patricia de Stacy Harrison, a NIAF vice chair, Hon. Anita Bevacqua McBride, a member of board and Dr. John P. Rosa, NIAF executive vice president. Also attending were John Podesta, president and CEO of the Center for American Progress, Anthony J. Principi, senior vice president of Pfizer Inc., Patricia Sarcone of Hewlett Packard, and NIAF council members and guests.

March 17, 2011 was proclaimed a national holiday throughout Italy by President Giorgio Napolitano to celebrate this historic milestone. Cities across the U.S. have scheduled activities to commemorate Italy's unification. For a complete list visit http://bitly/eamp5y.

The National Italian American Foundation (NIAF) is a non-profit, non-partisan foundation dedicated to promoting the contributions of Italian Americans. The Foundation has a wide range of programs that provide scholarships and grants, conferences and cultural seminars. Visit www.niaf.org.