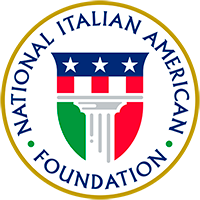 About

Join

Events

Programs

Culture

Support

Ferrero is a premier sponsor of NIAF. Learn More

Media Advisory

FOR IMMEDIATE RELEASE 

Contact:   Elissa Ruffino (NIAF) 202/939-3106 or elissa@niaf.org

---

:: MEDIA ADVISORY ::

EVENT:
NIAF 28th Anniversary Awards Gala
Sponsor:
The National Italian American Foundation (NIAF)
When:
Saturday, October 25, 2003
6:00 P.M. reception, 7:00 P.M. dinner
Where:
The Hilton Washington & Towers
1919 Connecticut Avenue, NW, Washington, DC (202/483-3000)
Contact:
Elissa Ruffino, (NIAF) 202/939-3106 or elissa@niaf.org

The Year 2003 National Italian American Foundation Honorees are:

Roberto Benigni, actor and director, who will receive the NIAF Special Achievement Award in Entertainment
Joseph Galli Jr., chief executive officer of Newell Rubbermaid Inc., who will receive the NIAF Special Achievement Award in Business
Larry W. Sonsini, chairman and CEO of the law firm of Wilson Sonsini Goodrich & Rosati PC, who will receive the NIAF Special Achievement Award in Commerce and Law
Thomas R. Tizzio, senior vice chairman of American International Group (AIG), who will receive the NIAF Lifetime Achievement Award for Humanitarian Service

Joining the NIAF gala honorees this year are singer Tony Bennett, and sports legend Yogi Berra, along with actors Tom Dreesen, Doris Roberts and Antonio Sabato, Jr. Italy's president of The Chamber of Deputies, Honorable Pierferdinando Casini, will address 3,000 prominent Italian and Italian Americans in politics, business and entertainment at the NIAF's 28th Anniversary Awards Gala. CNBC Anchor Ron Insana is this year's master of ceremonies.

During the gala awards convention weekend, NIAF will also feature conferences, exhibits, the traditional celebrity auction, and seminars on tourism and the Italian American vote. On Friday, October 24, attendees will have the opportunity to have candid discussions with children of some of the most famous Italian Americans of the past at the Children of the Greats conference. Molise is this year's sponsoring region from Italy.

Joe Piscopo, comedian & actor, will perform a "Tribute to Frank Sinatra," on Friday evening, October 24, at the International Ballroom at the Hilton Hotel from 8 pm to midnight.

Bolla Wines is the exclusive sponsor of wines during the NIAF 28th Anniversary convention weekend, including the gala dinner, the celebrity luncheon and auction, the awards luncheon, and a special wine tasting event on Friday, October 24 at 4:30 p.m. to 5:30 p.m.

Dinner tickets begin at $350 per person. Proceeds benefit the NIAF Scholarship and Education Programs. For tickets or sponsor information, contact: Bonni Cellini at 202/939-3114 orbonni@niaf.org or register on-line today!