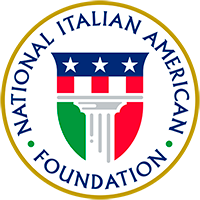 About

Join

Events

Programs

Culture

Support

Media Advisory: West Coast Gala

FOR IMMEDIATE RELEASE

Contact:   Elissa Ruffino (NIAF) 202/939-3106 or elissa@niaf.org

---

MEDIA ADVISORY

EVENT: West Coast Gala

SPONSOR: The National Italian American Foundation (NIAF)

WHEN: May 27, 2009
6 p.m. Cocktail Reception (Pavilion Room)
7 p.m. Gala, Live Auction and Awards Program

WHERE: The Fairmont San Francisco
950 Mason St.
San Francisco, CA 84108


John and Romana Bracco

The NIAF West Coast Gala will recognize the creative genius and generosity of prominent San Francisco Bay Area Italians. The gala begins with a 6 p.m. cocktail reception in the Fairmont's Pavilion Room, followed by dinner, a live auction and award.


Federico Faggin

This year's honorees include philanthropists John and Romana Bracco. They will receive a NIAF Special Achievement Award in Humanitarian Service. NIAF Special Achievement Awards in Business and Technology will be presented to captains of industry Federico Faggin, chairman emeritus of Synaptics, Inc., Giacomo Marini, founder and managing director of Noventi Ventures and Pierluigi Zappacosta, chairman of Digital Persona, Inc. and Faro Ventures (Italy).


Giacomo Marini

Jeffrey M. Capaccio, Esq., NIAF vice president for the far west region, will serve as dinner chairman. Sportscaster Tony Bruno, a guest commentator at ESPN-affiliate KNBR 680 and host of the national sports radio show "Into The Night With Tony Bruno," is this year's master of ceremonies.


Pierluigi Zappacosta

Gala tickets begin at $250 per person. For sponsorship and ticket information, contact Carolyn Laurenzano at 202/939-3114 or carolyn@niaf.org.

Media Contact: Elissa Ruffino at 202/939-3106 or elissa@niaf.org.

The National Italian American Foundation (NIAF) is a non-profit organization dedicated to preserving and promoting the heritage of Italian Americans.