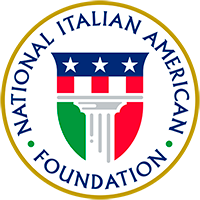 About

Join

Events

Programs

Culture

Support

Media Advisory-Ambassador's East Coast Gala

FOR IMMEDIATE RELEASE

Contact:   Elissa Ruffino (NIAF) 202/939-3106 or elissa@niaf.org

---

MEDIA ADVISORY

EVENT: AMBASSADOR'S EAST COAST GALA

SPONSOR: The National Italian American Foundation (NIAF)

WHEN: Tuesday evening, May 19, 2009
6 p.m. Cocktail Reception
7 p.m. Live Auction, Awards Program and Dinner

WHERE: New York Marriott Marquis
1535 Broadway
New York, NY10036
212-398-1900

Industry leaders Andrew J. Dolce, chairman of Dolce Hotels and Resorts; James M. Orsini, M.D., director of oncology at Clara Maass Medical Center; Natale S. Ricciardi, president of Pfizer Global Manufacturing (PGM) and senior vice president of Pfizer Inc; and Paul A. Sorvino, actor, director, singer, sculptor and best-selling author, are the 2009 recipients of the National Italian American Foundation (NIAF) Special Achievement Awards at the Ambassador's East Coast Gala. The event will be held at the New York Marriott Marquis on May 19, 2009 in New York City.

Popular Italian singer and songwriter Giada Valenti will perform both the Italian and U.S. national anthems. Rocco B. Commisso, chairman and CEO of Mediacom Communications Corporation, will serve as the gala's chairman; Commisso received a NIAF Lifetime Achievement Award at the Foundation's gala in 2006 and is a member of the NIAF Board of Directors. The gala is hosted by Italy's Ambassador to the United States H. E. Giovanni Castellaneta and Mrs. Castellaneta.

In honor of his 25 years of service to the Foundation, NIAF Board Member Emeritus Salvatore J. Zizza, will present a scholarship in his name to Laura Dolce. Dolce, a resident of Jackson Heights, N.Y., will be a senior at St. John's University this fall. Her major is criminal justice.

This year's master of ceremonies is Michael Gargiulo, co-anchor of NBC's "Today in New York." The gala begins with a 6 p.m. cocktail reception followed by an awards program honoring Italian-American leaders and showcasing New York's vibrant Italian-American community. Tickets begin at $400 per person. Attire: Business. For sponsorship and ticket information, contact Carolyn Laurenzano at 202/939-3114 or carolyn@niaf.org.

Media Contact: Elissa Ruffino at 202/939-3106 or elissa@niaf.org.

The National Italian American Foundation (NIAF) is a non-profit organization dedicated to preserving and promoting the heritage of Italian Americans.