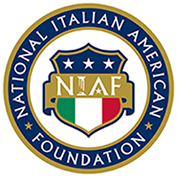 About

Support

Membership

Programs

Culture

Media Advisory

FOR IMMEDIATE RELEASE

Contact:   Elissa Ruffino (NIAF) 202/939-3106 or elissa@niaf.org

---

MEDIA ADVISORY

EVENT:         2003 ITALIAN AWARDS GALA

SPONSOR:    The Arizona Italian American Foundation

WHEN:         Saturday, May 10, 2003
6:30 P.M. Reception
7:30 P.M. Dinner and Dancing

WHERE:       The Ritz Carlton Hotel
24th Street and Camelback Road
Phoenix, Arizona (602/468-0700)

or Carla Consoli at 602/364-7044 or caconsoli@bryancave.com or


Two Italian Americans will be honored at the Arizona Italian American Foundation's Fifth Annual Awards Gala in Phoenix, AZ on Saturday evening, May 10, 2003. The honorees will receive the National Italian American Foundation's Arizona Italian Woman and Man of the Year awards in Community Service and Business, respectively.

The Year 2003 NIAF Honorees are:

Governor Janet Napolitano
Ed Zito, regional president, Comerica Bank

Honorary Dinner Chairman Jerry Colangelo, president and CEO of the Phoenix Suns, and NIAF board member; Carla A. Consoli, NIAF area coordinator and Anthony Bonacci, honorary vice consul to the Republic of Italy in Phoenix, will attend the event. Consoli will chair the gala. Jeffrey M. Capaccio, Esq.,NIAF vice president for the Far-West region will join prominent local Italian Americans in business, entertainment and government at the dinner.

This year's theme is Under the Tuscan Sun and will feature a raffle, live and silent auctions, entertainment, and dancing. A traditional Italian menu for the anticipated 400 attendees will be prepared by Ritz Carlton Executive Chef Robert Graham and his staff.

Dinner tickets are $200 per person. Attire: Black Tie. Proceeds to benefit the NIAF Jerry Colangelo Scholarship Fund, The Resource Center Italiano, West Valley Child Crisis Center and Boys Hope Girls Hope of Arizona, Inc. To purchase tickets, call 602/ 364-7044.