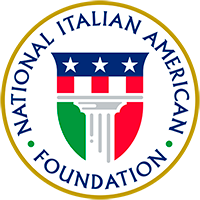 About

Join

Events

Programs

Culture

Support

Ferrero is a premier sponsor of NIAF. Learn More

Joseph V. Del Raso, Esq. to be Named Man of the Year

FOR IMMEDIATE RELEASE

Contact:   Elissa Ruffino (NIAF) 202/939-3106 or elissa@niaf.org

---

 National Italian American Foundation chairman receives prestigious
designation for outstanding dedication to the promotion of Italian culture

Il Circolo, the Italian Cultural Society of the Palm Beaches, has announced it will honor Joseph V. Del Raso, Esq. as Man of the Year at its annual gala at The Breakers in Palm Beach, Fla., on Sunday, March 2, 2014. The prestigious designation is awarded annually to an individual who promotes Italian culture through special accomplishments and outstanding qualities, civic affiliations and associations, and through their education and expertise.

Mr. Del Raso was elected last year as chairman of the National Italian American Foundation (NIAF), based in Washington, D.C., a nonprofit, nonpartisan educational foundation that promotes Italian American culture and heritage. Prior to that appointment, he served on the organizations board from 1989, as general counsel from 1999 through 2005, as executive vice president from 2005 to 2009 and as the foundation's most recent president from 2009 to 2013.

Mr. Del Raso is a partner at Pepper Hamilton LLP where he heads the firm's Investment Management Practice Group. He concentrates his practice in securities, with a special emphasis on matters arising under the Investment Company Act of 1940 and the related Investment Advisers Act of 1940. He has twice testified before the U.S. House of Representatives Financial Services Committee regarding regulations pertaining to corporate finance. He has been awarded many honors, including being conferred honorary knighthood by the Republic of Italy in 2005 and being appointed to the President's Commission on White House Fellowships in 2007. (Full bio: http://bit.ly/1kbDe4L)

Paul G. Finizio, Esq., president of Il Circolo, remarked, "There's no organization in the U.S. that has done more to promote Italian culture than NIAF and Joseph Del Raso's commitment has been a strong part of its mission. In that leadership position and beyond, he's demonstrated an outstanding dedication to Italy and Italian culture, including providing much-needed assistance after the Aquila earthquake in 2009. We're pleased to bestow him with this distinct honor."

"It is with great pride and deep appreciation that I accept this prestigious honor," said, Mr. Del Raso. "Our two foundations share the common goal of enthusiastically embracing our rich heritage and culture. I am personally touched by this honor because of my longtime ties to southern Florida."

Arthur J. Furia, Esq, who is honorary chair of this year's gala, serves as General Counsel to NIAF, as well as member of its board of directors and its executive committee. Among his other positions are State of Florida representative for the American Chamber of Commerce in Italy; member of the board for the Italy-America Chamber of Commerce, Southeast, since 1992; founding chairman of the Primo Carnera Foundation, a not-for-profit organization aimed to help disadvantaged children in Italy and the United States. Mr. Furia is a partner in Shutts & Bowen in Miami. (Full bio: http://bit.ly/1a3XGyd)

Gala co-chairpersons Albert B. Maggio, Esq. and Dolly Duke-Maggio, along with Mr. Furia, will present the award to Mr. Del Raso at the gala on March 2, 2014 at The Breakers in Palm Beach, Florida. This year's gala theme is Viva La Cultura Italiana, a tribute to the Italian Renaissance. Entertainment will include The Gino De Marco Orchestra, Lou Galterio, singing the Italian and American National Anthems, and a special performance by Roberto Iarussi, recipient of NIAF's first Andrea Bocelli Vocal Fellowship Award.

Information about tickets and sponsorship packages can be obtained by contacting Debi Rodi, development director, at 224.279.5920 or debirodi@aol.com.