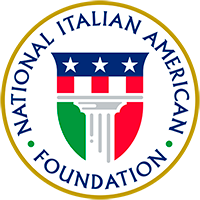 About

Join

Events

Programs

Culture

Support

Join NIAF for Unforgettable Evening at its Virtual 45th Anniversary Gala

FOR IMMEDIATE RELEASE

CONTACT:
Natalie Wulderk
nwulderk@niaf.org
+1-202-939-3117

---

Live Event, One Night Only | Saturday, October 31, 2020

(Washington, D.C. – October 23, 2020) The National Italian American Foundation (NIAF) will celebrate its 45th Anniversary Gala virtually on Saturday, October 31, 2020, and honor Dr. Anthony S. Fauci, director of the National Institute of Allergy and Infectious Diseases. The evening comprises a robust and special program, including the Foundation presenting Dr. Fauci with NIAF's 2020 Leonardo da Vinci Award for Leadership in Health and Science live during the Gala.

The evening's hosts are Maria Bartiromo, NIAF Board Member, two-time Emmy Award winner, and anchor of Mornings with Maria and Maria Bartiromo's Wall Street on Fox Business Network, and Sunday Morning Futures on Fox News Channel; and Joe Piscopo, NIAF celebrity Ambassador and radio show host.

Monsignor Peter J. Vaghi, from Little Flower Parish, in Bethesda, Md., will give the invocation, which will be followed by messages from the U.S. Ambassador Lewis M. Eisenberg and Italian Ambassador Armando Varricchio.

Remarks from NIAF Chairman The Honorable Patricia de Stacy Harrison, Knight of the Order of Merit of the Italian Republic, and NIAF Vice Chair of Fund Development Robert E. Carlucci, will include NIAF Chairman Harrison's exclusive interview with Dr. Fauci, which focuses on Dr. Fauci's Italian American heritage and its influence on his impressive public health career, along with discussing COVID-19.

Throughout the NIAF Gala evening, special video segments will include: PBS Frontline covering the COVID-19 pandemic in Italy; NIAF's mission and history; celebrity Chef Mary Ann Esposito's Fauci Fettucine recipe cooking demonstration; and special appearances from "Friends of Fauci" comprised of more than 40 celebrities. Some of the participating celebrities are Leonardo DiCaprio, Robert De Niro, Martin Scorsese, Anjelica Huston, Andrea Bocelli, Francis Ford Coppola, Al Pacino, Alan Alda, Michael Douglas, Patti LuPone, Joe Mantegna, Isabella Rossellini, John Turturro, Mario Andretti, Marisa Tomei, Mike Piazza, Franco Harris, Connie Francis, Leon Panetta, Frankie Valli, Lidia Bastianich, Dick Vermeil, Dion DiMucci, Giuliana DePandi-Rancic, Joe Russo, Anthony Russo, Bono, Dionne Warwick, and Neil Sedaka, among other surprise guests.

Entertainment for the evening will include Christina Carlucci, actress, dancer, singer and long-time NIAF supporter, to perform the U.S. National Anthem, and Marco Fiorante, Italian lyric tenor, to perform the Italian National Anthem. Operatic powerhouse The Sicilian Tenors will take the virtual stage as well as legendary singer Tony Bennett, for a heartfelt musical performance in tribute to Dr. Fauci.

NIAF is the nation's premier Italian American organization serving as a bridge between the United States and Italy, strengthening mutual understanding through governmental, economic and cultural ties. Education is the core of our mission as we provide scholarships and grants to institutions and high achieving students to further their education in all fields and connect to their heritage.

As a membership benefit, NIAF Sustaining Members and higher will receive a free invitation upon registration. Those who would like to register for our virtual Gala as a non-NIAF Member can purchase a ticket today and receive a one-year Sustaining Membership for supporting NIAF's Gala. For those who would prefer to remain a non-NIAF Member and still attend, the ticket price costs $100. Please note that this is a live event only; there will not be a recording of the Gala shared with the attendees or the public.

Please consider joining the Foundation and Dr. Fauci by registering for a virtual gala ticket. Only one registration link is needed per household and cannot be shared with anyone else. Deadline to register for the Gala is October 28 at midnight. For membership and registration details, visit: www.niaf.org/gala.

---

The National Italian American Foundation (NIAF) is a non-profit, non-partisan organization dedicated to preserving, promoting, and protecting the Italian American heritage and culture. To learn more about the Foundation and become a member, please visit www.niaf.org.