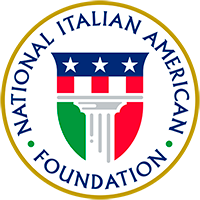 About

Join

Events

Programs

Culture

Support

Ferrero is a premier sponsor of NIAF. Learn More

Ieri, Oggi, Domani – Yesterday, Today, Tomorrow – Theme At Niaf Gala

FOR IMMEDIATE RELEASE

Contact: Elissa Ruffino (NIAF) 202/939-3106 or elissa@niaf.org

---

Appreciating the Past, Celebrating Heritage Today, Perpetuating Values for the Future

(WASHINGTON, D.C. – October 29, 2013) Maria Bartiromo, Emmy Award-winning journalist and CNBC Anchor, joined comedian and actor Joe Piscopo on stage to open the National Italian American Foundation's (NIAF) 38th Anniversary Awards Gala at the Washington Hilton on October 26, 2013. They co-hosted the evening to celebrate our rich Italian culture and heritage.

From the podium, NIAF Vice Chairman

Louis J. Freeh

, former director of the Federal Bureau of Investigation and chairman of Pepper Hamilton LLP and Freeh Group International Solutions, welcomed guests from across the United States and Italy to the annual black-tie dinner of the premier national organization for Italian Americans, NIAF. He reinforced the Foundation's mission to serve the community and further strengthen the ties between Italy and the United States.

Bartiromo and Piscopo entertained the enthusiastic guests with lots of good humor before they kicked off the awards ceremony. The first two of this year's honorees from Italy further strengthened the bridge between our two countries.

President and CEO of Bracco S.p.A. Diana Bracco received the NIAF Special Achievement Award in Philanthropy. "This NIAF award reflects my personal love for this country," added Bracco in her acceptance speech. She announced a $100,000 scholarship for research for Italian Americans or Italians residing in the United States. She also warmly invited all to the EXPO Milano 2015.

Roberto Colaninno

, chairman and CEO of Piaggio & C. S.p.A., accepted the NIAF Special Achievement Award in International Business. "My business story started in the United States," explained Colaninno. He described NIAF as an important partner with Italy.

One of NIAF's founding members, Louis Donatelli, founder and chairman Donatelli Development Inc., received the NIAF Special Achievement Award in Business. "I will remember this night – Viva Italia, Viva America," Donatelli added.

George Randazzo, founder and chairman of the National Italian American Sports Hall of Fame in Chicago, thanked the men and women of NIAF and its leader John Viola as he received the NIAF Italian American Community Leadership Award.

NIAF awarded the Foundation's Special Achievement Award in Entertainment to Paul Sorvino, award-winning actor and director. He joked that life is too short to go through it without being Italian. The Brooklyn native, who studied singing for years and, to this day has a tenor voice, delighted the audience with the globally known Neapolitan song, "O Sole Mio." Sorvino explained that his aunt Louisa's golden hair and smile, which shined as brightly as the sun, served as the inspiration for lyricist, Giovanni Capurro. The guests rose to their feet with a standing ovation as he sang several lines of the song.

Leon Panetta, former CIA Director and former Secretary of Defense, received the NIAF Special Achievement Award in Government. In his acceptance speech he explained the importance of making a difference in life. "I served in a number of offices in my public life. In every position that I served, there was one important lesson, which is if you're going to make a difference, you're going to have to fight for it," Panetta said.

To officially announce and welcome Italy's Region of Campania as the 2014 Region of Honor, Princess

Beatrice of Borbone

of the Two Sicilies joined NIAF Regional Vice President for Southern Italy

Alfonso Ruffo

and

Fulvio Martusciello

, Minister of Productive Activities, Economic Development of the region. At the gala dinner a selection of fine Italian wines were served from the region. Businesses throughout Campania also showcased their products and services during the NIAF weekend. Additionally, the region hosted a workshop about the Mediterranean diet, rediscovering ancient Roman recipes, and introducing these into today's diet.

Dignitaries from Italy included the President of the Italian Senate Pietro Grasso; Ambassador to the United States Claudio Bisogniero; Chairman of Confindustria Giorgio Squinzi; U.S. Representative of the Italian Senate Renato Turano; Representatives from Italy's Chamber of Deputies Francesca La Marca and Fuscia Angela Nissoli; and Italian Member of the European Parliament Elisabetta Gardini. They were joined by U.S. Supreme Court Justice Samuel A. Alito Jr.; Minority Leader Nancy Pelosi; Congressmen Lou Barletta, Michael Grimm, Tom Marino, and Pat Tiberi, co-chair of the Italian American Congressional Delegation of 113th Congress of the United States.

Guests rose to their feet when singer and songwriter Giada Valenti sang "Inno di Mameli," Italy's national anthem. Actress and singer Christina Carlucci, sang the U.S. national anthem. NIAF special guests also included ESPN's Tony Reali, 12-time MLB All-Star Mike Piazza, actor Tony Lo Bianco, and Miss D.C. Jessica Firth.

On Friday evening, NIAF launched its gala weekend with "Come Fly With Me," a Vegas-Style evening complete with casino tables, dancing to the popular music of the Radio King Orchestra, an open bar and food stations featuring Italian hors d'oeuvres. The Ronald Reagan Building was packed with guests rolling the dice, dancing to popular classics and enjoying Italian delicacies while checking out the selection of auction items.

NIAF auction chairman Dr. John Rosa was on hand to encourage guests to bid on one-of-a-kind items during the live and silent auctions. The excitement heightened during the live auction of the MP3 Hybrid Scooter by Piaggio that switches between electric and two hybrid modes with a press of a button. The lucky owner will be the first in the United States to own one of these innovative scooters.

Popular weekend events included "Carnera: The Walking Mountain" a movie screening of the Italian film about Primo Carnera, Italy's only heavyweight champion of the world. The screening was followed by a meet-and-greet with the film's lead actor Andrea Iaia. Also part of the weekend, authors Linda Barrett Osbourne and Paolo Battaglia discussed their perspective on Italians in America followed by book signing and sale of the new release, "Explorers Emigrants Citizens" A Visual History of the Italian American Experience from the Collections of the Library of Congress.

NIAF also hosted its signature wine tasting and sit-down luncheon featuring wines from across Italy with a sommelier on hand to lead guests through a spectrum of Italian wines.

The weekend also featured a conference, "Surgery and Biotechnology," a panel discussion on the current advances in medicine with Antonio Giordano, M.D., Ph.D., president and founder of Sbarro Health Research Organization Inc., and a NIAF Board Member, and other notable speakers. The event was held in recognition of October as Breast Cancer Awareness Month, and in conjunction with the College of Science and Technology at Temple University.

NIAF's President and COO John M. Viola hosted "NIAF – Ieri, Oggi, Domani," an engaging panel discussion with special guests from the Italian American Studies Association (IASA) focusing on the current state of the Italian American community and its challenges as we move toward the Foundation's 40th anniversary. Viola was joined by the Foundation's Chairman Joseph V. Del Raso, board leaders John F. Calvelli, Patricia de Stacy Harrison and Dominic Massaro; as well as John D. Calandra Institute of Queens College Dean Anthony Tamburri; St. John's University Vice President Joseph Sciame; and California State University Professor Clorinda Donato. Tamburri called upon all to engage in behavioral cultural philanthropy by supporting and attending all local events and activities featuring Italian Americans.

NIAF also hosted a conference: Elections: When (and Where) Italian Americans Make a Difference, in conjunction with IASA to discuss the 21st Century Italian American Experience.

NIAF Central, a gathering spot showcasing the best of Italy and Italian Americans, included: Mike's Deli, the original Arthur Avenue Italian Deli, with David Greco serving sandwiches and Italian delicacies; Perillo Tours showcasing NIAF's 2014 Heritage Travel Program; genealogist Aliza Giammatteo of Roots in the Boots, Peroni Nastro Azzurro served samples of Italy's finest beer; and Pepe Mastro Dolciere offered cookies and chocolate-covered Italian pastries to everyone with a sweet tooth. Guests also relaxed and explored many products displayed by companies from the Region of Campania along the lower concourse level of the hotel.

To conclude the gala, Del Raso reinforced the evening's theme – Ieri, Oggi, Domani – "to respect and appreciate our past with the sacrifices made by our ancestors, but to enjoy and be proud of our great heritage today. For tomorrow, we need to work hard to guarantee that our legacy is perpetuated." He turned the podium over to the Foundation's president John M. Viola who recognized the Voyage of Discovery participants who volunteered during the gala weekend. He thanked them for their work and dedication to our mission. Viola congratulated Marianna Manganiello of Mt. Vernon, N.Y., first place winner of the NIAF 2013 "Italianità" Photo Contest. The winning photo titled "My Very Own Geppetto," was displayed on the screen. NIAF flew Marianna and her guest to Washington and provided them with tickets to the weekend events.

Viola also thanked the Caputo and Gianturco families for their support of NIAF and their investment in the future of our Foundation.

Immediately following the gala, guests then proceeded to attend the popular Chairman's After Hours Event featuring performances by Piscopo and others.

Proceeds from NIAF's Anniversary Weekend events will benefit NIAF's educational programs. Mark your calendars for October 18-19, 2014 when we celebrate NIAF's 39thAnniversary Weekend in Washington, D.C.

NIAF thanks this year's Title sponsors, the Region of Campania and Piaggio, and all of its generous sponsors.

NIAF's 38th Anniversary Awards Gala was featured on media outlets throughout the United States and Italy.
Enjoy the select clips that capture the Foundation's extraordinary dinner. Mark your 2014 calendars for next year's gala, October 18- 19, 2014!

RAI television, TG1 in Italy, reports on NIAF's Gala on its popular show "Notte"

Italics: NIAF's 38th Anniversary Gala

NIAF is a non-profit organization based in Washington, D.C., and dedicated to preserving the heritage of Italian Americans. Visit www.niaf.org.