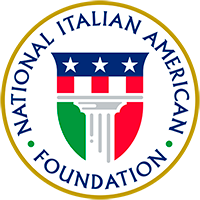 About

Join

Events

Programs

Culture

Support

Ferrero is a premier sponsor of NIAF. Learn More

Former New Jersey Congressman Frank Guarini To Receive NIAF Lifetime Achievement Award

FOR IMMEDIATE RELEASE

Contact:   Elissa Ruffino (NIAF) 202/939-3106 or elissa@niaf.org

---

* House Minority Leader, White House Officials at Gala*

(WASHINGTON, D.C. – October 5, 2011) Hon. Frank J. Guarini, former U.S. Congressman and NIAF Chairman Emeritus, will be honored at the National Italian American Foundation's (NIAF) 36th Anniversary Awards Gala in Washington, D.C. Guarini will receive the NIAF Lifetime Achievement Award in Leadership on October 29, 2011, at the Washington Hilton. The gala begins with a 6 p.m. reception followed by dinner and an awards ceremony.

The President of Italy Hon. Giorgio Napolitanohas been invited to join House Minority Leader Nancy Pelosi as well as senior White House and Administration officials, including the President's Cabinet members, at the black-tie gala. Celebrities Frankie Avalon, Anna Maria Alberghetti, Dana Brunetti, Giuliana DePandi-Rancic, Deana Martin, Joe Pantoliano and Mike Piazza will also attend the dinner. Maria Bartiromo,, Emmy Award-winning journalist and a member of the NIAF Board of Directors, will serve as the gala's mistress of ceremonies.

Honorees joining Guarini include Claudio Bozzo,, president of the Mediterranean Shipping Company (USA) Inc.; Hon. Capri Cafaro,, minority leader of the Ohio Senate; Dion DiMucci,, rock and roll hall of famer; Frank G. Mancuso Sr.,, former chairman and CEO of the Paramount Pictures and Metro-Goldwyn-Mayer Studio; Emma Marcegaglia,, president of Confindustria; Paolo Scudieri, CEO of Adler Plastic S.p.A.; and Hon. Santo Versace, president of Gianni Versace S.p.A. and chairman of the Board of Fondazione Operation Smile Italia Onlus.

Throughout his seven terms as a U.S. Representative, Guarini served on the Ways and Means Committee and was a senior member of the Trade, Internal Revenue Laws and Social Security Subcommittees. He also was a senior member of the Budget Committee and principal sponsor of the Educational Assistance Act. Guarini represented the United States abroad as a delegate to the North Atlantic Treaty Organization and as the U.S. Representative to the United Nations General Assembly.

Guarini has been the recipient of numerous awards and distinctions as well as the dedicatee of several buildings, including the Jersey City Main Post Office, the New Jersey City University library, and the residence for the College President of Saint Peter's College, as well as John Cabot University's campus in Rome, Italy. In addition to many other awards, Guarini received Italy's highest decoration, the Knight of the Grand Cross of the Order of Merit of the Republic of Italy.

Following his tenure as a member of the House of Representatives, Guarini has pursued real estate development projects and has served on a number of associations. He has served as NIAF chairman, president and a member of the Foundation's Board of Directors since 1988. At NIAF, Guarini championed the preservation of our heritage through the study of the Italian language and the reinstatement of the College Board's Advanced Placement Program (AP) in Italian Language and Culture.

Guarini holds a Bachelor of Arts from Dartmouth College, a Juris Doctor and Master of Law Degrees from New York University, and studied at The Hague Academy of International Law. After graduate school, Guarini began practicing law and eventually came to represent Hudson County in the New Jersey State Senate. As a naval officer in the Pacific Theatre during World War 2, Guarini received the Naval Commendation Medal and three Battle Stars.

The NIAF gala is one of the premier annual events in the nation's capital, attracting more than 3,000 guests from the United States and Italy. Tickets to Saturday's black-tie gala begin at $400 per person. Proceeds benefit NIAF's educational programs.

For tickets or sponsor information, contact Jerry Jones at 202-387-0600 or jerry@niaf.org, or register online at www.niaf.org/gala.

The National Italian American Foundation (NIAF) is a non-profit organization dedicated to preserving and promoting the heritage and culture of Americans of Italian descent.