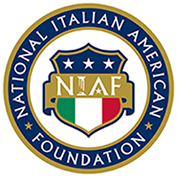 About

Support

Membership

Programs

Culture

Chairman of Empire State Development Corp Ambassador Gargano Joins NIAF Board of Directors

FOR IMMEDIATE RELEASE 

Contact:   Elissa Ruffino (NIAF) 202/939-3106 or elissa@niaf.org

---

(WASHINGTON, DC— March 15, 2005) Joseph Moglia, CEO of Ameritrade Holding Corporation, has been elected to the board of directors of the National Italian American Foundation (NIAF). The elections were held March 11 during the Foundation's board meeting at the Waldorf-Astoria in New York City.

"Joe Moglia's business expertise and financial acumen will further strengthen the unique composition of the NIAF board. The Foundation is also proud to honor him with a NIAF Special Achievement Award in Business at its annual East Coast Gala in New York City on April 13," NIAF Chairman Dr. A. Kenneth Ciongoli said.

Mr. Moglia became CEO of Ameritrade Holding Corporation in March 2001, and has strengthened the company by leading it through seven successful acquisitions while focusing on the priorities of clients, shareholders and associates. Ameritrade develops and provides brokerage products and services tailored to meet the varying investing and portfolio management needs of individual investors and institutional distribution partners. He joined Ameritrade from Merrill Lynch, where he served as senior vice president and head of the Investment Performance and Product Group for Merrill's Private Client division.

He is a member of the Board of Directors of AXA Financial Inc, and Creighton University, and also sits on the STRATCOM Consultation Committee.

Prior to entering the financial services industry, Moglia was the defensive coordinator for Dartmouth College's football team. He coached various teams for 16 years, authored a book on football, and wrote 11 articles that were published in national coaching journals. He holds a master's degree in economics from the University of Delaware and a bachelor's degree in economics from Fordham University.

Others elected to the NIAF board of directors are: Lucio Caputo, president of the International Trade Center; Hon. Charles Gargano, chairman of Empire State Development Corp. and vice chairman of the Board of Commissioners of The Port Authority of New York and New Jersey; Joseph J. Plumeri, chairman and CEO of The Willis Group; and Ronald L. Zarrella, chairman and CEO of Bausch & Lomb.

The National Italian American Foundation (NIAF) is a non-profit, non-partisan foundation dedicated to promoting the contributions of Italian Americans. The Foundation has a wide-range of programs that provide scholarships and grants, conferences and cultural seminars. Visit our website atwww.niaf.org.