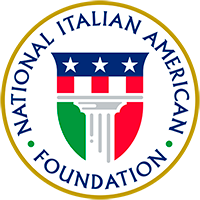 About

Join

Events

Programs

Partnerships

Culture

Celebrating Italian Culture, Strength of Family Ties at NIAF Gala

FOR IMMEDIATE RELEASE

Contact: Elissa Ruffino, 202-939-3106, elissa@niaf.org

_____________________________________________________________

(WASHINGTON, D.C. – November 5, 2014) The National Italian American Foundation's 39th Anniversary Awards Gala celebrated the rich heritage and culture of Italian Americans and Italians as well as poignant memories of ancestors who immigrated to America to create today's community. NIAF Board member and Emmy Award-winning Fox News Anchor and Global Markets Editor Maria Bartiromo, and NIAF Celebrity Ambassador, actor, entertainer and radio host Joe Piscopo, co-hosted the NIAF Gala at the Washington Hilton on October 25, 2014. They welcomed guests from across the United States and Italy to the annual black-tie dinner.

From the podium, Piscopo reinforced the Foundation's mission to serve the community and further strengthen the ties between Italy and the United States. Bartiromo spoke about the hard work and love of family. "These two traits, we celebrate tonight," she added. Together, they entertained the enthusiastic guests with lots of good humor before they kicked off the awards ceremony.

This year's honorees from Italy further strengthened the bridge between our two countries. Before 1,200 guests, Pasqualino Monti, president of the Port Authority of Rome Civitavecchia, received The Special Achievement Award in International Business. He described NIAF as an important partner with Italy.  He was joined by Fabrizio Francesco Vinaccia, institutional affairs senior vice president of MBDA Italia S.p.A., who received the NIAF Italy-America Friendship Award. One of NIAF's longtime supporters and a native son of Sicily, Pino Cicala, founder and editor of AMICO and Antenna Italia Radio-TV, immigrated to the United States in I955 and continues to spread the Italian culture throughout the nation's capital. Cicala received the NIAF Special Achievement Award in Community Leadership.

NIAF awarded the Foundation's Special Achievement Award in Entertainment to John Turturro, noted actor, writer and director. "I've always believed that to know who you are you have to understand where you came from," Turturro said during his acceptance speech. "My parents' and grandparents' work ethic and approach to life was instilled in me at a very early age. It was through Italian cinema that I experienced the world that my family came from."

Honorees joining Turturro included Daniel D'Aniello, co-founder and chairman of The Carlyle Group, a global-asset management firm specializing in private equity, who received a NIAF Special Achievement Award in Business. In his acceptance speech, D'Aniello explained how he knew the word "feminism" before it was invented, because his grandmother had a simple business plan for him.  D' Aniello spoke about all the good luck he has experienced in his life. "Thanks to all my paesani that showed up tonight," he added.

"We believe in giving back to our community, we are responsible for our colleagues," was the message from David Cordani, president and CEO of Cigna Corporation, a global health service company.  NIAF awarded Cordani with the Foundation's Special Achievement Award in Business and Health.

When Susan Molinari, vice president of Public Policy and Government Relations at Google, came to the podium, she exclaimed, "Mom, Joe Piscopo is introducing me!" Molinari received the NIAF Special Achievement Award in Public Service.  "It's the Italian side from Calabria, where the public service side of my story begins—my dad is my role model and hero."

After the awards ceremony, NIAF Executive Vice President John F. Calvelli introduced the community partnership between NIAF and the groundbreaking documentary film series, "The Italian Americans." The audience viewed clips from the four-hour series which will air nationally on PBS stations on February 17 and 24, 2015.

Dignitaries from Italy at the Gala included United States Ambassador to Italy John R. Phillips, Italy's Ambassador to the United States Claudio Bisogniero, Italy's Minister of Economic Development Federica Guidi and United States Consul General in Milan, Ambassador Philip T. Reeker.

Italy's Region of Lombardia President Roberto Maroni led the delegation from Lombardia, the NIAF 2015 Region of Honor. He was joined by the region's Councilwoman of Education Valentina Aprea. Minister Guidi and President Maroni toasted our two countries and look forward to promoting the "Made in Italy" brand. They warmly invited all to Expo Milano 2015 in May. Businesses throughout Lombardia also showcased their products and services at NIAF Central during the NIAF Gala Weekend. Additionally, the region's dignitaries were hosted at a global economic forum on Friday, October 24.

From the United States special guests included actor Tony Lo Bianco, award-winning writer and producer John Maggio, and author Maria Laurino.

Guests rose to their feet when Catherine Altomare sang "Inno di Mameli," Italy's national anthem and the U.S. national anthem. During the Gala dinner a selection of fine Italian wines were served from throughout Italy that complimented Risotto Milanese and Veal Milanese with arugula.

During the NIAF Gala Weekend beginning Friday morning, October 24, NIAF hosted the NIAF– Regione Lombardia Global Economic Forum. Dignitaries from Italy gave an overview of the 2015 World Expo in Milano and explored its theme "Feeding the Planet, Energy for Life." Panelists also discussed entrepreneurship in an Italian and American cross-border context.

In the afternoon, NIAF opened its headquarters for an open house for guests to leave a legacy footprint by recording family memories with the Memoro Project. The open house was also an opportunity to meet the staff and learn about the exciting new programs as the Foundation unveils its new state-of-the-art learning center.

Friday evening, NIAF hosted "The Wildest Comes to Washington" Casino Night featuring live music by Louis Prima Jr. and The Witnesses. Casino tables, dancing, an open bar and food stations featured Italian hors d'oeuvres. NIAF auction chairman John P. Rosa was on hand to encourage guests to bid on one-of-a-kind items during the live and silent auctions. Guests exchanged their winnings for raffle tickets to win exciting prizes.

Popular weekend events included a premier screening of film clips from "The Italian Americans." The screening was followed by a panel moderated by Calvelli and included NIAF Vice Chair Patricia de Stacy Harrison, NIAF President John M. Viola, the film's writer and producer John Maggio, companion book author Maria Laurino, and John D. Calandra Institute of Queens College Dean Anthony Tamburri, discussing different aspects of the film project.

NIAF also hosted its signature wine tasting featuring wines from across Italy including Veneto with a sommelier on hand to lead guests through a spectrum of Italian wines. Wines were also provided by Patrizia Marin of Marco Polo Experience.

The weekend also featured a medical conference, "Bioinnovation: Towards New Treatment of Disease in Biopharma and Academia," with a panel discussion about the current advances in medicine with Antonio Giordano, M.D., Ph.D., president and founder of Sbarro Health Research Organization Inc., and a NIAF Board Member, and other notable speakers. Mario Ammirati, neurosurgeon and medical researcher at Ohio State University, received the 2014 Giovan Giacomo Giordano NIAF Award for Ethnics and Creativity in Medical Research.

Also part of the weekend, John M. Viola hosted "NIAF – Ieri, Oggi, Domani," an engaging panel discussion with special guest George Guida from the Italian American Studies Association (IASA). The discussions focused on the current state of the Italian American community and its challenges as we move toward the Foundation's 40th anniversary. Viola and Guida were joined by the Foundation's Chairman Joseph V. Del Raso, board leaders Calvelli, and Harrison; as well as Anthony Tamburri; and Professor of English and Italian American Studies at Queens College Fred Gardaphé.

NIAF also hosted a conference and breakfast in conjunction with IASA to discuss if anti-defamation matters to the modern Italian American community.

NIAF Central, a gathering spot showcasing the best products and services of Italy and Italian Americans, included Mike's Deli, the original Arthur Avenue Italian Deli, with David Greco serving complimentary old-fashioned sandwiches and Italian delicacies as a NIAF thank you lunch to its Gala guests. Peroni Nastro Azzurro served samples of Italy's finest beer; Lavazza, Italy's favorite coffee, served espresso at NIAF Central as well as coffee to guests on Friday and Saturday evening. Guests also relaxed and enjoyed many products displayed by companies from the Region of Lombardia along the lower concourse level of the hotel.

To conclude the Gala program, NIAF Chairman Joseph V. Del Raso joined the Foundation's President John M. Viola to thank the Board of Directors and staff for their dedication. Del Raso also saluted Dr. Anthony S. Fauci, one of the Foundation's honoree in 1994, for his work tackling the recent health crisis facing those in Africa and in the United States.

Del Raso turned the podium over to the Foundation's President who recognized this year's Title sponsors, the Region of Lombardia and Maida Vale Design Inc., as well as all of its generous sponsors, including Colavita, DelGrosso Foods, Italian American groups across the country and student volunteers.

NIAF planned a surprise to close the evening with a special guest from the television show, "America's Got Talent." Guests rose to their feet with a standing ovation when contestant Frank Dimitri, sang "I Got the World on a String."

Immediately following the Gala, guests proceeded to attend the Foundation's famed After Hours Party featuring performances by Piscopo, Ciro Di Lorenzo, and others.

Proceeds from NIAF's 39th Anniversary Weekend will benefit the Foundation's educational programs. Mark your calendars for October 16-17, 2015, when the Foundation celebrates a milestone, NIAF's 40th Anniversary Weekend, at the Marriott Wardman Park Hotel in Washington, D.C.

View Video Coverage from our friends at Italics!

NIAF 2014 Gala Recap

Ieri, Oggi, Domani – Panel Discussion

Does Anti-Defamation Matter to the Modern Italian American Community?

NIAF is a non-profit organization based in Washington, D.C., and dedicated to preserving the heritage of Italian Americans. Visit www.niaf.org.