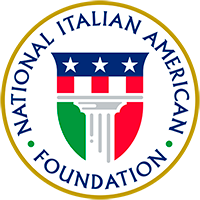 About

Join

Events

Programs

Culture

Support

Captains of Industry To be Honored at Ambassador's Gala

FOR IMMEDIATE RELEASE

Contact:   Elissa Ruffino (NIAF) 202/939-3106 or elissa@niaf.org

---

CAPTAINS OF INDUSTRY TO BE HONORED AT AMBASSADOR'S GALA

(WASHINGTON, D.C. – May 11, 2009) Industry leaders Andrew J. Dolce, chairman of Dolce Hotels and Resorts, James M. Orsini, M.D., director of medical oncology at Clara Maass Medical Center, Natale S. Ricciardi, president of Pfizer Global Manufacturing (PGM) and senior vice president of Pfizer Inc, and Paul A. Sorvino, actor, director, singer, sculptor and best-selling author, will be honored at the National Italian American Foundation's (NIAF) Ambassador's East Coast Gala on May 19, 2009 in New York City. Held at the New York Marriott Marquis, the gala begins with a cocktail reception at 6 p.m. followed by an awards program, live auction and dinner.

Popular Italian singer and songwriter Giada Valenti will perform both the Italian and U.S. national anthems. Rocco B. Commisso, chairman and CEO of Mediacom Communications Corporation, will serve as the gala's chairman; Commisso received a NIAF Lifetime Achievement Award at the Foundation's gala in 2006 and is a member of the NIAF Board of Directors. The gala is hosted by Italy's Ambassador to the United States H.E. Giovanni Castellaneta and Mrs. Castellaneta. Michael Gargiulo, co-anchor of NBC's "Today in New York," is this year's master of ceremonies.

Dolce began his career in the meetings and hospitality industry while working for the American Management Association. He also served as executive vice president for Harrison Conference Services and had been responsible for the development and operation of the Houstonian, the first integrated hotel, conference center, spa and fitness center in Houston, Texas. Dolce started Dolce International in 1981 and now has 23 properties throughout the United States, Canada and Europe.

Orsini is a member of the board of trustees and former president of the medical staff at the Clara Maass Medical Center. He has worked under world-renowned breast surgeon Dr. Umberto Veronese and medical oncologist Dr. Giovanni Bonadonna at Italy's Milan Cancer Center. Orsini guided the publication of one of the first medical reports on the treatment of node-negative breast cancer with systemic chemotherapy. His commitment to oncology led to the opening of the first dedicated oncology unit at the Clara Maass Medical Center in New Jersey.

Ricciardi joined Pfizer in 1972, directly from college, as a night shift supervisor at the Brooklyn plant. He holds the positions of president, Pfizer Global Manufacturing and senior vice president, Pfizer Inc. He joined the Pfizer Executive Leadership Team (ELT) and became Pfizer Continuous Improvement (CI) Sponsor in September 2007. Ricciardi was named president of PGM in 2004. He had been responsible for Pfizer's U.S. manufacturing operations since 1999, after four years as vice president of manufacturing for Pfizer's Animal Health Group.

Sorvino made his Broadway debut in the 1964 musical "Bajour" and six years later appeared in his first film "Where's Poppa?" He earned a 1973 Tony Award nomination for Best Actor (Dramatic) for his performance as Phil Romano in Broadway's 1973 Pulitzer Prize-winning drama "That Championship Season." Sorvino also had roles in NBC's prize-winning television series "Law & Order," Oliver Stone's "Nixon" and the 1996 film "Romeo + Juliet" where he performed opposite Leonardo DiCaprio and Claire Danes.

Gala tickets begin at $400 per person. Attire: Business. For sponsorship and ticket information, contact Carolyn Laurenzano at 202/939-3114 or carolyn@niaf.org.

The National Italian American Foundation (NIAF) is a non-profit organization dedicated to preserving and promoting the heritage and culture of Americans of Italian descent.