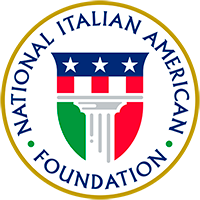 About

Join

Events

Programs

Culture

Support

Ferrero is a premier sponsor of NIAF. Learn More

Applications Now Open for NIAF Italian American Museum Fellowship

 FOR IMMEDIATE RELEASE

Contact: Elissa Ruffino, 202-939-3106, elissa@niaf.org

---

*Deadline to Apply Online: August 1, 2016*

 (Washington, D.C. — July 12, 2016)   The National Italian American Foundation (NIAF) is seeking two museum fellows to curate an Italian American exhibit for the Foundation's new museum at its headquarters, located at the Ambassador Peter F. Secchia Building, 1860 19th Street NW, Washington, DC. The full-semester fellowships will begin August 22, 2016, and will end December 2, 2016. Fellows will receive a stipend of $1,500 each to supplement the cost of travel and living expenses while in Washington, D.C.

"NIAF is incredibly proud of our Italian American Museum Fellowship program as it creates an opportunity for student leaders to not only gain incredible and diverse experiences in their field, but also affords an opportunity for our community to tell its story through the eyes of its young people," NIAF President John M. Viola said.  "We think this is a truly unique program and we look forward to some wonderful candidates."

The NIAF Fellows will lead the project from beginning to end, utilizing the Foundation's materials and Italian American artifacts to create an exhibit with a constructed narrative. The Fellows will also create a sample of this exhibit for the NIAF 41st Anniversary Gala Weekend, October 14-16, 2016.  During the NIAF Gala Weekend, the Fellows will serve as docents for over 2,000 guests attending Expo Italiana at the Washington Marriott Wardman Park Hotel.  The full exhibit at the Foundation's headquarters will be on display until the next round of fellowships begins in August 2017.

The NIAF Italian American Museum Fellowship schedule requires a minimum of 15 hours per week at the NIAF headquarters. Fellows will be expected to meet deadlines set forth by Foundation supervisors and work with a mentor who will answer questions and offer guidance.

Applicants must meet the following criteria: a junior or senior in college, majoring in one of the following fields: art, art history, international studies, history or Italian studies; a graduate student pursuing a degree in art, art history, international studies, history, Italian studies or museum studies; or a recent graduate (no longer than a year out of school) who pursued a degree in art, art history, international studies, history, Italian studies or museum studies.

To apply for the fellowship, please visit www.niaf.org/museum .

Applicants must provide two references who are current/former employers, supervisors, or current/former professors. Please do not include family members.

Applicants also must email a resume and unofficial copy of their college transcript to museum@niaf.org. Preference will be given to students who have museum, gallery and/or curatorial experience

Please note that NIAF cannot guarantee that Fellows will receive school credit for their fellowship. Fellows who are interested in receiving college credit should contact their university career center and an academic advisor.

The National Italian American Foundation (NIAF) is a non-profit organization based in Washington, D.C., and dedicated to preserving the heritage of Italian Americans.   Visit www.niaf.org.