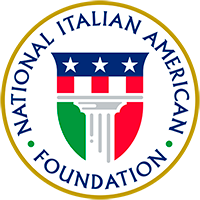 About

Join

Events

Programs

Culture

Support

Actor Paul Sorvino To be Honored at Ambassador's Gala in New York City

FOR IMMEDIATE RELEASE

Contact:   Elissa Ruffino (NIAF) 202/939-3106 or elissa@niaf.org

---

ACTOR PAUL SORVINO TO BE HONORED AT AMBASSADOR'S GALA IN NEW YORK CITY

(WASHINGTON, D.C.— May 12, 2009) Paul Sorvino, actor, director, singer, sculptor and best-selling author, will receive a National Italian American Foundation (NIAF) Special Achievement Award in Entertainment at the NIAF Ambassador's East Coast Gala on May 19, 2009 in New York City. Held at the New York Marriott Marquis, the gala begins with a cocktail reception at 6 p.m. followed by an awards program, live auction and dinner.

"To be honored by Italians and Italophiles is a wonderful thing. Italians have made outstanding contributions to the world and I am so proud of my heritage." Sorvino said.

Honorees joining Sorvino include Andrew J. Dolce, chairman of Dolce Hotels and Resorts, James M. Orsini, director of medical oncology at Clara Maass Medical Center, Natale S. Ricciardi, president of Pfizer Global Manufacturing (PGM) and senior vice president of Pfizer Inc.


Paul Sorvino, Actor, Director, Singer, Sculptor and Best-selling Author

Popular Italian singer and songwriter Giada Valenti will perform both the Italian and U.S. national anthems. Rocco B. Commisso, chairman and CEO of Mediacom Communications Corporation, will serve as the gala's chairman; Commisso received a NIAF Lifetime Achievement Award at the Foundation's gala in 2006 and is a member of the NIAF Board of Directors. The gala is hosted by Italy's Ambassador to the United States H.E. Giovanni Castellaneta and Mrs. Castellaneta.

Sorvino began his career as a copywriter where he worked with John Margeotes, founder of Margeotes, Fertitta and Weiss. While attending The American Musical and Dramatic Academy, he decided to go into theater. He made his Broadway debut in the 1964 musical "Bajour" and six years later appeared in his first film "Where's Poppa?"

He earned a 1973 Tony Award nomination for Best Actor (Dramatic) for his performance as Phil Romano in Broadway's 1973 Pulitzer Prize-winning drama "That Championship Season." Sorvino also had roles in NBC's prize-winning television series "Law & Order," Oliver Stone's "Nixon" and the 1996 film "Romeo + Juliet" where he performed opposite Leonardo DiCaprio and Claire Danes.

Born and raised in Brooklyn, N.Y., Sorvino is of Neapolitan descent. He founded the Paul Sorvino Asthma Foundation in 1993 with a goal of building asthma centers for children and adults across the U.S.

Gala tickets begin at $400 per person. Attire: Business. For sponsorship and ticket information, contact Carolyn Laurenzano at 202/939-3114 or carolyn@niaf.org.

The National Italian American Foundation (NIAF) is a non-profit organization dedicated to preserving and promoting the heritage and culture of Americans of Italian descent.