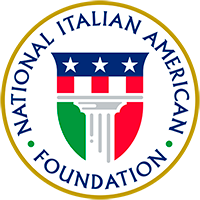 About

Join

Events

Programs

Partnerships

Culture

80 High Schools Students Attend NIAF Educational workshops in New York City & Washington,D.C ** National Italian American Foundation (NIAF) Students To Leaders Program**

FOR IMMEDIATE RELEASE 

Contact:   Elissa Ruffino (NIAF) 202/939-3106 or elissa@niaf.org

---

(WASHINGTON, DC – JULY 10, 2003) Eighty Italian American students were recently selected to participate in the Students to Leaders (S2L) Program, educational workshops for junior and senior high school students, sponsored by the National Italian American Foundation (NIAF). The program is in its second year.

More than 500 high school students of Italian ancestry applied to the Foundation's S2L Program. These NIAF all expenses-paid mentoring workshops in New York City and Washington, DC will help participants develop leadership skills in the areas of business and finance or government and public policy.

Forty students will participate in the Business/Finance S2L Workshop in New York City July 12-16, 2003, for an in-depth look at the center of international business and finance. During the four-day summit in New York City, students will meet with: Lawrence Auriana, founder and portfolio co-manager, Federated Kaufmann Fund; Lauri Rhodes, vice president, Saks Fifth Avenue; and executives at Hill & Knowlton, a leading international communications consultancy. Students will also attend a Wall Street briefing at the New York Stock Exchange (NYSE).

In Washington, DC July 19 -23, another 40 students will attend the Government/Public Policy S2L Workshop to explore the political world of today. In the nation's capital, students will meet with United States Representatives John Mica of Florida and Tim Ryan of Ohio and Patricia De Stacy Harrison, assistant secretary of state for educational and cultural affairs in the United States Department of State. They will also attend meetings at the Motion Picture Association of America, the Embassy of Italy and the White House and engage in an interactive leadership and team building session.