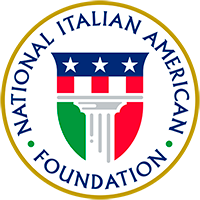 About

Join

Events

Programs

Culture

Support

Ferrero is a premier sponsor of NIAF. Learn More

NIAF's 2014 New York Gala Review

Beneath the towering Renaissance-inspired marble columns at the legendary Cipriani 42nd Street in New York City, NIAF held another highly successful springtime bash on Thursday, April 3, 2014—its annual New York Gala honoring Italian American captains of industry.

More than 500 guests attending the elegant event (which sold out for the third consecutive year) celebrated the heritage and culture of the Italian American community and saluted four distinguished Italian Americans: Joseph Brancato of the global design firm Gensler; Carmine Di Sibio of EY (Ernst & Young LLP); Mary Ann Esposito, renowned chef and television culinary personality; and Lt. Gen. USMC (ret.) Frank Libutti of PS&S Global LLC.

2014 Honoree Video

The evening kicked off with a cocktail reception featuring the famous Bellini (a sparkling cocktail made with Prosecco and peach nectar that Giuseppe Cipriani, founder of Harry's Bar in Venice, Italy, invented in the 1930s).

From the podium, NIAF's Chairman Joseph V. Del Raso, Esq., welcomed guests and honorees to the Foundation's annual dinner. "I know I speak for everyone at NIAF when I say we are thrilled to have all of you here this evening," Del Raso said.

Italics Recap of the New York Gala

i-Italy's Recap of the New York Gala

Del Raso also spoke about the NIAF Ernest L. Pellegri grant of $500,000 that was awarded to the University of Maryland. "We are so proud of their project, 'Between Washington and Ancient Rome: The NIAF Pellegri Program on Roman Antiquity and its Legacy in America,'" that will support the study of Latin and ancient Roman archeology and civilization and its impact on America today, he said, adding, "It's the perfect marriage of our cultural heritage back to the antiquity of Rome."

The gala's mistress of ceremonies, Alexis Christoforous, CBS news correspondent, greeted guests with an explanation of her own heritage considering her family name: "Buona sera i miei amici! You're probably wondering. I am proud of my Greek and especially my Italian heritage tonight," she said.

Christoforous also thanked gala chairman Gerard S. LaRocca, a member of NIAF's Board of Directors, and chief administrative officer of Americas, Barclays Capital, for making the NIAF gala a spectacular event and the Foundation's New York committee for its support of NIAF's mission in New York.

Before the guests dined on Italian cuisine (fresh Burrata with marinated pear tomatoes and micro basil, Wagyu strip loin steak with fresh herb melange sauce, served with grilled yellow polenta and broccolini), Bishop Nicholas DiMarzio of the Diocese of Brooklyn gave the invocation and singer and songwriter Michael Barimo sang the U.S. national anthem and "Inno di Mameli," Italy's national anthem.

You are invited to view NIAF's official photographs at
"NIAF NY GALA 2014" gallery
at the Kenneth Rictor Photography website.
To order prints, click the BUY button while looking at the photo you like.

Christoforous started the awards ceremony introducing the evening's first honoree Carmine Di Sibio, global managing partner—Client Services at EY, who received NIAF's Special Achievement Award in Financial Services. NIAF recognized his 28-year career in the industry. He spoke about his strong Italian roots as well as his father who was born in Trigento, outside of Naples. "It's important for all of us to remain connected to Italy," he said, adding that "it really is refreshing to go back to Italy, and to do business with Italy…. I encourage everyone to go back."

Joseph Brancato, managing partner at Gensler, received NIAF's Special Achievement Award in Real Estate and Design for his work in improving people's lives by making cities more livable, more efficient, and more engaging. Brancato told the story of how his Italian heritage influenced his life and made his achievements in architecture possible, including how his uncle, high school teacher and professor at the University of Maryland—all Italian Americans—had an impact on his successful career. "My Italian American heritage had a lot to do with my formative years.…this award is so meaningful to me," he said.

Chef Mary Ann Esposito's hit culinary TV program Ciao Italia is America's longest running cooking programs on television. For her authentic cooking style and passion, she received NIAF's Special Achievement Award in Culinary Arts. "Food is the connector…and without it there is no history, there is no social history, no cultural history. Food is the common denominator of our lives," Esposito said. Today, she said, her cooking show helps to bring "a positive image of Italians to the rest of the world."

Lt. Gen. USMC (ret.) Frank Libutti, CEO and president of PS&S Global LLC, the environmental remediation and alternative and renewable energy firm, received NIAF's Special Achievement Award in Military Service. Libutti dedicated 35 years of his life to a career in the military.  "When I am honored, I am humbled," said Libutti. "I want to share with you a very sophisticated expression I learned in the Marines. Hoorah! What a night!" He added: "I'm damn proud of my service to my beloved country and am equally proud of my Italian heritage. Clearly, Italian Americans have imprinted their values and talents on the very fabric of our country…."

NIAF's President and Chief Operating Officer John M. Viola spoke about the energy, spirit and passion in the room was indicative of "that something in our heritage that keeps all of us so aware, so protective and so dedicated to our culture." And he called on honorees and guests to take the experience of the evening with them into their communities and homes. "If everyone goes out and shares the experience you had tonight with your Italian American friends and family, it makes us a stronger community, a more prosperous neighborhood and a more supportive family," he said. "That is how we will keep our culture alive."

Joining the honorees and guests were Italy's Consul General in New York, Natalia Quintavalle; actor Tony Lo Bianco;New York City's Deputy Commissioner, James Gennaro of the Department of EnvironmentalConservation; representatives from Italy's Lombardy region, NIAF 2015 Region of Honor, as well as NIAF's Vice Presidents in the Greater New York region Susan Paolercio and Nicholas R. Caiazzo.

To close the evening's festivities, Louis Prima Jr. and The Witnesses, an eight-piece brass-infused swing band, came to the stage and performed some of their famous songs including, "Jump, Jive, and Wail" and "Just a Giglio." Louis Prima Jr. is the son of the legendary Louis Prima.

The NIAF New York Gala proceeds support the Foundation's philanthropic and educational programs. NIAF thanks this year's presenting sponsor EY (Ernst & Young LLP) and all of its gala sponsors.

A Big Thank You To Our Sponsors!