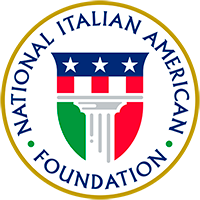 About

Join

Events

Programs

Culture

Support

Ferrero is a premier sponsor of NIAF. Learn More

NIAF Night in New York 2010 Review

Singing legend Frankie Valli joined the former Chicago cast of the hit show "Jersey Boys" along with crooner Jerry Vale, baseball's Rick Cerone and Lee Mazzilli, NBA's Mike D'Antoni, actors Michael Badalucco and Dan Lauria and culinary notables Lidia Matticchio Bastianich and Buddy Valastro at the National Italian American Foundation's (NIAF) – A Night in New York.

Valli received a standing ovation from more than 500 guests at the cabaret-style evening at the Hilton New York on May 26, 2010. At the podium, Valli, a past NIAF gala honoree, presented the Foundation's Special Achievement Award to Joseph J. Grano, Jr., chairman and CEO of Centurion Holdings LLC and one of America's financial captains of industry. Grano thanked Valli for his friendship and applauded NIAF as a voice in the nation's capital for Italian Americans. Upon receiving his award, Grano noted the importance of first-generation Italian Americans who benefited from the hard work of their parents.

NIAF Regional Vice President Michael A. Zampardi, the event's gala chairman, opened up the bidding with several exclusive auction items. They included a chance to be a bat boy/girl for a New York Yankees' game, tickets to the opening night performance of the Broadway play "Lombardi," a Super Bowl XLV package and a special "Cake Boss" experience with Buddy Valastro at Carlo's Bakery.

After the live auction, NIAF President Joseph V. Del Raso, Esq. applauded the Foundation's leadership for their efforts and saluted the strong family values of Italian Americans today.

The curtain rose and the former cast of Chicago's "Jersey Boys" performed a medley of tunes as the guests danced in their seats to "Walk Like a Man," "Dawn," "Oh! What a Night" and many more. The songs they sang were a tribute to Grano and Valli for their foresight and hard work, which supported hundreds of performers who bring the show and Valli's story to audiences across the United States. Italian singing sensation Alfio, a strong supporter and friend to NIAF, also performed a selection of songs. He has performed numerous times at NIAF's events.