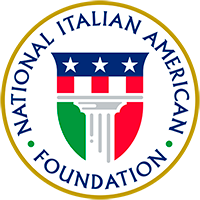 About

Join

Events

Programs

Partnerships

Culture

38th Anniversary Gala 2013 Review

From the dais looking out into the audience of about 1,200 at the NIAF 38th Anniversary Gala in the Washington Hilton Hotel's International Ballroom, masters of ceremonies Maria Bartiromo and Joe Piscopo told guests how "incredibly delighted" they were to be at the event where so many people were celebrating the heritage, legacy and rich culture of Italian Americans.

Bartiromo, the Emmy Award-winning journalist and CNBC Anchor, told a brief story of her family starting with her grandfather coming to America in 1919, then added, "So that is my history and why I'm so proud to be with you because the Italian American identity and culture and tradition is the fabric of who I am."

Piscopo, the actor and comedian famous for his work on Saturday Night Live, beloved for his Frank Sinatra impersonation, drew applause when he asked, "Any Jersey in the house?"

To kick off the events, all stood as singer and songwriter Giada Valenti sang a heartfelt Italian National Anthem and young actress and singer Christina Carlucci proudly sang the U.S. National Anthem. Reverend Ezio Marchetto, pastor of The Holy Rosary Church in Washington, D.C., gave the invocation.

In his opening remarks, Gala Chairman and NIAF Vice Chairman Louis J. Freeh welcomed guests from across the country and from Italy to the annual black-tie dinner, acknowledging the evening's distinguished honorees, and reiterating NIAF's mission to serve the community.

The former director of the Federal Bureau of Investigation and chairman of Pepper Hamilton LLP and Freeh Group International Solutions, Freeh also welcomed President of the Italian Senate Pietro Grasso, who along with Hon. Claudio Bisogniero, Italy's ambassador to the United States, spoke about the importance of continuing to strengthen the ties between the two allies—Italy and the United States.

The pre-dinner awards ceremony presenting NIAF's 2013 Honorees started with a series of videos about the lives and achievements of each honoree on the ballroom's gigantic screens. As Piscopo said, each of the honorees "remind of us what can be done with hard work and perseverance"—the work ethic handed down by parents and grandparents.

The first two of this year's honorees was President and CEO of Bracco S.p.A. Diana Bracco, who received the NIAF Special Achievement Award in Philanthropy. "This NIAF award reflects my personal love and deep admiration for this country," said Bracco in her acceptance speech, announcing a $100,000 scholarship for research for Italian Americans or Italians residing in the United States. She also warmly invited all to the EXPO Milano 2015.

Bartiromo and Piscopo paced the evening's agenda perfectly, interspersing humor and thoughts about their Italian American family history with the introductions of the honorees. The second honoree, also from Italy, was Roberto Colaninno, chairman and CEO of Piaggio & Co. S.p.A., who accepted the NIAF Special Achievement Award in International Business. "All my business story started in the United States," said Colaninno, explaining how U.S. business connections and billion-dollar investment partners were responsible for his success. "Think big," he advised, "It's possible to do the big things in the world!"

One of NIAF's founding members, Louis Donatelli, founder and chairman Donatelli Development Inc., received the NIAF Special Achievement Award in Business. Announcing that he and his wife, Ann, had just completed their trip to the Amalfi Coast for the 47th time! Speaking of his family and of his years with NIAF, Donatelli ended his comments with: "I will remember this night … Viva Italia, Viva America!"

Then, Piscopo introduced the next honoree singing a couple lines from the song "My Kind of Town (Chicago is…)": George Randazzo, Founder and Chairman of the National Italian American Sports Hall of Fame in Chicago, who received the NIAF Italian American Community Leadership Award. Expressing his pride in NIAF for "all the important work that they do, because I'm proud to be an Italian," Randazzo talked about the early years founding the IASHF and the lessons he learned, specifically to "follow your heart…"

NIAF awarded the Foundation's Special Achievement Award in Entertainment to Paul Sorvino, award-winning actor and director. He joked that life is too short "to go through it not being Italian." The Brooklyn native, who studied singing for years and, to this day has a beautiful tenor voice, aroused the audience to a standing ovation singing the globally known Neapolitan song, "O Sole Mio." The song's lyricist Giovanni Capurro, he said, wrote it after being inspired by his aunt Louisa's golden hair and smile shinning in the sunshine.

Next, Leon Panetta, former CIA Director and former Secretary of Defense, received the NIAF Special Achievement Award in Government. Paneta talked his childhood in California, his parents and family, and "living the American dream" and making contributions that "made the country great"—the Italian American story. And he offered a lesson he had learned in public office: "I served in a number of offices in my public life. In every position that I served, there was one important lesson, which is if you're going to make a difference, you're going to have to fight for it."

To officially announce Italy's Region of Campania as the 2014 Region of Honor, Princess Beatrice of Borbone of the Two Sicilies joined NIAF Regional Vice President for Southern Italy Alfonso Ruffo andFulvio Martusciello, Minister of Productive Activities, Economic Development of the region on stage. As they spoke of Campania, guests sipped a selection of fine Italian wines from the region.

Every October, NIAF's Anniversary Gala brings together NIAF members, friends, notable guests and distinguished honorees to celebrate their Italian heritage. This year's guests included: Supreme Court Justice Samuel A. Alito Jr.; Minority Leader of the U.S. House of Representatives LeaderNancy Pelosi; Deputy Secretary of Department of Defense John Porcari; Deputy Director of National Intelligence for Intelligence Integration Robert Cardillo; U.S. Congressman and Co-Chair of the Italian American Congressional Delegation Pat Tiberi; U.S. Congressman Lou Barletta; U.S. Congressman Tom Marino; U.S. Congressman Michael Grimm; Board Member of the National Museum and Library Service John Frances Coppola; 12-time MLB All-Star Mike Piazza; ESPN Host of "Around the Horn" Tony Reali; actor Tony Lo Bianco; Miss District of Columbia Jessica Firth.

Also among the Gala guests were colleagues, friends and dignitaries from Italy supporting the foundation's unique mission of helping to strengthen business and government ties between Italy and the United States. This year, which happens to be the Year of Italian Culture in the United States, NIAF welcomed an Italian delegation that included Chairman of Confindustria Giorgio Squinzi; U.S. Representative of the Italian Senate Renato Turano; Representatives from Italy's Chamber of Deputies Francesca La Marca and Fuscia Angela Nissoli; and Italian Member of the European Parliament Elisabetta Gardini.

Following the Awards presentations, NIAF Chairman Joseph V. Del Raso spoke of the Foundation and the theme of the Gala—Ieri, Oggi, Domani (Yesterday, Today, Tomorrow) which embodies the NIAF principles of appreciating the past and the sacrifice of our ancestors, celebrating heritage today and perpetuating values for the future. Del Raso then turned the podium over "to the future," NIAF President John M. Viola, who acknowledged donors and sponsors—and specifically the Caputo and Gianturco families for their support of NIAF and their investment in the future of our Foundation. "What we do here is often times underestimated," he said, "but it takes a lot of work and a lot of contributions to move our community forward…"

A Big Thank You To Our Sponsors!

As dinner was served, guests watched a new eight-minute PBS video focusing on the good works of NIAF. On the menu were Campania-inspired dishes including Grilled Eggplant Parmigiano Reggiano, De Cecco Penne Pasta with Ricotta Salata, Spinach, Artichokes with La Famiglia DelGrosso Roasted Garlic Sauce, Steak alla Pizzaiola with La Famiglia DelGrosso Arrabbiata Sauce, and Halibut Acqua Pazza Dinner wines were generously donated by Mastroberardino and Colavita's Terlato Wines.

At the end of the day, the place to be and be seen was the popular Chairman's After Hours party. Immediately following the gala dinner, guests loosened their loosened their black ties and kicked off their high heels to have some fun at the Hilton's expansive District Line Bar. And, to the delight of the 200 or so partiers, around midnight, Joe Piscopo, his voice sounding great, took the mic and belted out Sinatra-like renditions of "New York, New York" (with NIAF President John M. Viola aptly handling some lyrics) and "My Kind of Town."

Proceeds from NIAF's Anniversary Weekend events will benefit NIAF's educational programs. Mark your calendars for October 18-19, 2014, when we celebrate NIAF's 39th Anniversary Weekend in Washington, D.C.

On Friday evening, October 25, NIAF launched its Gala weekend at the Ronald Reagan Building on Pennsylvania Avenue, a block from the White House. The "Come Fly With Me" theme translated into a lively and energetic Vegas-Style event complete with casino tables, dancing to the popular big-band sound the Radio King Orchestra, an open bar and extensive food stations featuring an array of Italian hors d'oeuvres. The Atrium was packed with guests playing at the tables and checking out the huge selection of items on display for the life and silent auctions later that evening.

NIAF auction chairman Dr. John Rosa was on hand to encourage guests to bid on one-of-a-kind items ranging from a Safari vacation in Africa and trips to Italy to an innovative MP3 Hybrid Scooter by Piaggio—the first in the United States! After the games, players cashed their chips in for raffle tickets: Winners included Bailey Harman who won the Vespa, Tony Randazzo who won the stay at the Hotel Jerome, and Michael Fava who won the Hawaiian Village vacation.

Starting Saturday morning, the lineup of events for Gala guests began with networking breakfast featuring a panel discussion about the Italian American experience. Nearby, businesses throughout Campania showcased their products and services and the region hosted a workshop about the Mediterranean diet, rediscovering ancient Roman recipes, and introducing these into today's diet.

Another popular detour for wandering guests was the screening of "Carnera: The Walking Mountain," a movie about Primo Carnera, Italy's only heavyweight champion of the world. The screening was followed by a meet-and-greet with the film's charming (and tall) lead actor Andrea Iaia, who travelled from Italy to be at the Gala.

Also part of the weekend, authors Linda Barrett Osbourne and Paolo Battaglia discussed their perspective on Italians in America followed by book signing and sale of their new release, "Explorers Emigrants Citizens" A Visual History of the Italian American Experience from the Collections of the Library of Congress.

NIAF also hosted its signature Wine Tasting Luncheon featuring wines from across Italy with sommelier Brian Freedman on hand to lead guests through a spectrum of exceptional Italian wines, ranging from lush bodied Costa D'Amalfi Furore Blanco to a Barbera D'asti Nizza and a sublime La Collina dei Ciliegi l'amarone!

The weekend also featured a conference "Surgery and Biotechnology," a panel discussion on the current advances in medicine with Antonio Giordano, M.D., Ph.D., president and founder of Sbarro Health Research Organization Inc., and a NIAF Board Member, along with other panel members, held in recognition of October as Breast Cancer Awareness Month.

NIAF's President and COO John M. Viola hosted "NIAF — Ieri, Oggi, Domani," and lively panel discussion with special guests from the Italian American Studies Association (IASA) focusing on the current state of the Italian American community and its challenges as we move toward the Foundation's 40th anniversary. Viola was joined by the Foundation's Chairman Joseph V. Del Raso, board leaders John F. Calvelli, Patricia de Stacy Harrison and Dominic Massaro; as well as John D. Calandra Institute of Queens College Dean Anthony Tamburri; St. John's University Vice PresidentJoseph Sciame; and California State University Professor Clorinda Donato. Tamburri called upon all to engage in behavioral cultural philanthropy by supporting and attending all local events and activities featuring Italian Americans.

NIAF Central, sort of the neighborhood street corner of the Gala weekend, showcased the best of Italy and Italian Americans, including: Mike's Deli, the original Arthur Avenue Italian Deli, with David Greco serving Italian sandwiches and tasty morsels; Perillo Tours showcasing NIAF's 2014 Heritage Travel Program; genealogist Aliza Giammatteo of NIAF's exclusive genealogy partner Roots in the Boots, Peroni Nastro Azzurro served samples of Italy's finest beer; Antica Distilleria Petrone'sdisplay of Italian liquor; and Pepe Mastro Dolciere offered cookies and chocolate-covered Italian pastries to everyone with a sweet tooth.

Proceeds from NIAF's Anniversary Weekend events will benefit NIAF's educational programs. Mark your calendars for October 18-19, 2014, when we celebrate NIAF's 39th Anniversary Weekend in Washington, D.C.