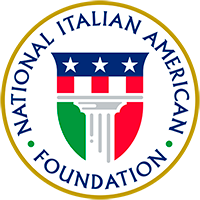 About

Join

Events

Programs

Culture

Support

Ferrero is a premier sponsor of NIAF. Learn More

35th Anniversary Gala 2010 Review

Rancic, DeVito and other celebs join more than 2,000 guests at NIAF gala – October 23, 2010

Giuliana DePandi Rancic, anchor and managing editor of E! News and star of the Style Network show "Giuliana & Bill," delivered a powerful message for Italian American youth – "Don't 'Jersey Shore' us," she said during the National Italian American Foundation's (NIAF) 35th Anniversary Awards Gala at the Washington Hilton, October 23, 2010.

As the evening's emcee, she recounted her days as a NIAF student volunteer at the annual galas. While speaking, she stressed the importance of achieving one's dreams while staying true to one's heritage. Deriding "Jersey Shore," she encouraged Italian American youth to celebrate education and culture.

To further support NIAF's committment to education and youth programs, Patricia de Stacy Harrison, a NIAF vice chair and president and CEO for the Corporation for Public Broadcating (CPB), kicked off the evening with the announcement of a $2.6 million bequest from the estate of the late Victoria J. Mastrobuono, the largest philanthropic gift in the Foundation's history. Then Harrison invited to the podium Jerry Colangelo, the man who brought home the gold for the USA Basketball Team, the chairman of the board of USA Basketball and NIAF's own board chairman. Colangelo welcomed the more than 2,000 guests at the Foundation's black-tie gala and focused on the importance of family, faith and friends – "It's what we stand for at NIAF." He was joined by Board Members Robert E. Carlucci, NIAF's gala dinner chairman, and NIAF's President Joseph V. Del Raso, Esq., who called on the next generation of Italian American leaders to stand proud.

United States President Barack Obama, who was unable to join the Foundation at the dinner, recognized the numerous achievements that Italian Americans have made to our great nation in a video.

Golden Globe-and Emmy-winning actor Danny DeVito presented Aurelio De Laurentiis, Italian film producer and president of SSC Napoli Soccer Club, with the NIAF United States-Italy Friendship Award. DeVito is also a recipient of the NIAF's 1993 Special Achievement Award in Arts and Entertainment. De Laurentiis called DeVito a genuine friend who has always been there for him and asked all to remember that "love is the engine of the world."

Tom Izzo, head coach of men's basketball at Michigan State University, came to the podium to receive the NIAF Lifetime Achievement Award in Sports from Hon. Peter F. Secchia, a former member of the NIAF board of directors and former U.S. Ambassador to Italy. Izzo spoke about how his grandfather taught him the importance of a strong work ethic.

"Do for others before you do for yourself – words my mother taught me," said NIAF honoree Dr. Thomas M. Scalea, physician-in-chief at the University of Maryland R Adams Cowley Shock Trauma Center, when Peter G. Angelos, an American trial lawyer and majority owner of the Baltimore Orioles, presented the Foundation's Special Achievement Award in Science and Medicine.

Jim Walton, president of CNN Worldwide, presented Joe Uva, president and CEO of Univision Communications, Inc., with the NIAF One America Award. Uva dedicated his award to his four grandparents, his parents, his children and wife of 32 years. "Today, immigrants are braver and more determined and drive this country's success – they are not part of the problem but are the solution," Uva explained.

This year's NIAF Special Achievement Award in International Business was awarded to Dott. Fulvio Conti, CEO of Enel, Italy's largest power company. John Podesta, president and CEO of the Center for American Progress, presented the award. Christopher J. Nassetta, president & CEO of Hilton Worldwide, received the Foundation's Special Achievement Award in Business. He thanked the seven fabulous women in his life, his daughters and wife of 20 years, and the 600,000 Hilton team members.

During the evening, NIAF also celebrated Italian culture in the U.S. and recognized Conair Corporation and RAI's 50-year presence in America. Paolo Garimberti, president of RAI-Radiotelevisione Italiana, received the 2010 NIAF Recognition Award for the company's dedication to quality programming and commitment to sharing Italian culture with the U.S. In a video, Lee Rizzuto, chairman of Conair Corporation, singled out his parents Julian and Josephine who started one of the largest, most successful and respected consumer products company 50 years ago in Brooklyn, N.Y.

NIAF Secretary John F. Calvelli introduced "It Happened in Italy," a documentary based on Elizabeth Bettina's book. Calvelli recognized a group of Jewish Holocaust survivors who were present at the gala to pay homage to Italians and Italian Americans. The guests rose to their feet in applause.

Notables in attendance included Supreme Court Justices Samuel Alito, Jr., and Antonin Scalia, noted chef Lidia Bastianich, Mike Piazza,12-time MLB all-star, actors Michael Badalucco, Dion, Linda Fiorentino, Joe Pantoliano, Antonio Sabato, Jr. and Annabella Sciorra. H.E. Giulio Terzi di Sant'Agata, ambassador of Italy to the U.S., in addition to sports and television personalities including ESPN's Tony Reali and Sal Paolantonio and Univision's Fernando Fiore.

This year NIAF awarded more than $1,000,000 for scholarships and cultural grants across the U.S. and Italy. Recognizing the younger generation, NIAF organized its 14th annual youth gala, which attracted young Americans of Italian descent from across the United States

Headlining for NIAF's Friday Night Entertainment, actor Robert Davi presented "Davi Sings Sinatra: A Tribute to Sinatra, The Great American Songbook and America."

NIAF Gala Committee Member Dr. John P. Rosa encouraged guests to bid on one-of-a-kind auction items during the Foundation's Auction Showcase. Paul J. Chiapparone, a NIAF vice chair, accepted the keys to a FIAT Prima Edizione Cinquecento automobile.

To further encourage excellence in education, Frank A. Campione, a teacher of Italian language at Nottingham High School in Hamilton Township, N.J. and Ocean County College in Toms River, N.J., was the recipient of the eighth annual NIAF Teacher of the Year Award. Matthew J. DiDomenico, Sr., NIAF senior executive director, presented the award to Campione, a resident of Freehold Township, N.J., during the National Council Network/Youth Networking Breakfast.

Other weekend events included Expo Italia, a two-day exhibition showcasing the best of Italy, an Auction Showcase, the Victoria J. Mastrobuono Education Luncheon on education and health issues with Nick Valvano, CEO of The V Foundation, and actor Joe Pantoliano, founder and president of No Kidding, MeToo!, a Sports Roundtable with ESPN's Tony Reali and Sal Paolantonio and Univision's Fernando Fiore. The convention also featured a screening of the documentaries "Crimebuster: A Son's Search For His Father," and "Journey of Hope: Joe Leone's L'Aquila Earthquake Relief Fund," a conference on breast cancer awareness, "Let's Talk About It!" and "Indulge in the Real Flavors of Italy without a Ticket! – Italian Wine and Food Seminar" presented by the Italian Trade Commission.

Rancic closed the evening by inviting all to attend the Chairman's After Hours Event featuring a performance by famed Italo-Australian singer ALFIO immediately following the gala.